Note: Supplemental materials are not guaranteed with Rental or Used book purchases.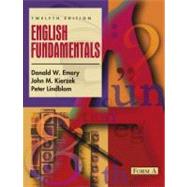 Questions About This Book?
What version or edition is this?
This is the edition with a publication date of 8/1/2000.
What is included with this book?
The New copy of this book will include any supplemental materials advertised. Please check the title of the book to determine if it should include any CDs, lab manuals, study guides, etc.
Summary
For more than eight decades "English Fundamentals" hasoffered lucid and strong explanations to reach to students. Beginning with the fundamental elements of the sentence, the authorsintroduce the basic system of the language and in progressive lessons explore more complex structures and relationships. Solid explanations and a progressive structure move students from the basic level of the sentence to the more complex. KEY TOPICS: Solid, clear explanations; an abundance of exercises; numerous diagnostic and progress tests. Developmental Writing: Grammar.
Table of Contents
Preface
vii
Part 1 Basic Sentence Patterns
1
(56)

| | |
| --- | --- |
| | Lessons, Practice Sheets, and Exercises |

| | |
| --- | --- |
| | The Simple Sentence; Subjects and Verbs |

1
(8)
5
(2)
7
(2)

| | |
| --- | --- |
| | Verbs, Adjectives, Adverbs, and Prepositions |

9
(14)
15
(2)
17
(4)
21
(2)

| | |
| --- | --- |
| | Basic Sentence Patterns with Intransitive Verbs |

23
(8)
27
(2)

| | |
| --- | --- |
| | Sentence Patterns with Intransitive Verbs |

29
(2)

| | |
| --- | --- |
| | Basic Sentence Patterns with Transitive Verbs |

31
(8)

| | |
| --- | --- |
| | Complements of Transitive Verbs |

35
(2)
37
(2)

| | |
| --- | --- |
| | Forms of the Verb; Auxiliary Verbs |

39
(8)

| | |
| --- | --- |
| | Auxiliary Verbs; Basic Sentence Patterns |

43
(2)
45
(2)

| | |
| --- | --- |
| | Alterations of Basic Sentence Patterns |

47
(10)

| | |
| --- | --- |
| | Alterations of Basic Sentence Patterns: Passive Verbs; Questions |

53
(2)

| | |
| --- | --- |
| | Alterations of Basic Sentence Patterns: Passive Verbs; Questions |

55
(2)
Part 2 Clauses and Phrases
57
(68)

| | |
| --- | --- |
| | Lessons, Practice Sheets, and Exercises |

| | |
| --- | --- |
| | Coordination: Compound Sentences |

57
(10)

| | |
| --- | --- |
| | Coordination: Compound Sentences |

61
(2)

| | |
| --- | --- |
| | Coordination: Compound Sentences |

63
(4)

| | |
| --- | --- |
| | Subordination: Adverb Clauses |

67
(12)
73
(2)
75
(4)

| | |
| --- | --- |
| | Subordination: Adjective Clauses |

79
(10)
83
(2)
85
(4)

| | |
| --- | --- |
| | Subordination: Noun Clauses |

89
(14)
95
(2)
97
(2)
99
(4)

| | |
| --- | --- |
| | Subordination: Gerund and Infinitive Phrases |

103
(10)

| | |
| --- | --- |
| | Gerund and Infinitive Phrases |

107
(2)

| | |
| --- | --- |
| | Gerund and Infinitive Phrases |

109
(4)

| | |
| --- | --- |
| | Subordination: Participial and Absolute Phrases |

113
(12)

| | |
| --- | --- |
| | Participial and Absolute Phrases |

117
(2)

| | |
| --- | --- |
| | Participial and Absolute Phrases |

119
(2)

| | |
| --- | --- |
| | Verbal Phrases; Complements in Phrases |

121
(4)
Part 3 Sentence Building
125
(38)

| | |
| --- | --- |
| | Lessons, Practice Sheets, and Exercises |

125
(10)
129
(2)
131
(2)
133
(2)

| | |
| --- | --- |
| | Misplaced Modifiers; Dangling Modifiers |

135
(12)
139
(2)
141
(2)
143
(2)
145
(2)
147
(8)
151
(2)
153
(2)

| | |
| --- | --- |
| | Parallel Structure; Comparisons |

155
(8)

| | |
| --- | --- |
| | Parallel Structure; Comparisons |

159
(2)

| | |
| --- | --- |
| | Parallel Structure; Comparisons |

161
(2)
Part 4 Punctuation
163
(40)

| | |
| --- | --- |
| | Lessons, Practice Sheets, and Exercises |

163
(10)
167
(2)
169
(2)

| | |
| --- | --- |
| | Commas and Semicolons to Separate |

171
(2)
173
(10)
177
(2)
179
(2)

| | |
| --- | --- |
| | Commas and Semicolons: All Uses |

181
(2)
183
(10)
189
(2)
191
(2)

| | |
| --- | --- |
| | End Marks; Summary of Punctuation Rules |

193
(10)
197
(2)
199
(2)
201
(2)
Part 5 Usage
203
(70)

| | |
| --- | --- |
| | Lessons, Practice Sheets, and Exercises |

| | |
| --- | --- |
| | Using Verbs Correctly: Principal Parts; Tense |

203
(14)

| | |
| --- | --- |
| | Using Verbs Correctly: Principal Parts; Tense |

209
(4)

| | |
| --- | --- |
| | Using Verbs Correctly: Principal Parts; Tense |

213
(4)

| | |
| --- | --- |
| | Using Verbs Correctly: Subject-Verb Agreement |

217
(8)

| | |
| --- | --- |
| | Using Verbs Correctly: Subject-Verb Agreement |

221
(2)

| | |
| --- | --- |
| | Using Verbs Correctly: Subject-Verb Agreement |

223
(2)

| | |
| --- | --- |
| | Using Pronouns Correctly: Reference; Agreement |

225
(10)

| | |
| --- | --- |
| | Using Pronouns Correctly: Reference; Agreement |

231
(2)

| | |
| --- | --- |
| | Using Pronouns Correctly: Reference; Agreement |

233
(2)

| | |
| --- | --- |
| | Using Pronouns Correctly: Case |

235
(12)

| | |
| --- | --- |
| | Using Pronouns Correctly: Case |

241
(2)

| | |
| --- | --- |
| | Using Pronouns Correctly: Case |

243
(2)

| | |
| --- | --- |
| | Using Pronouns Correctly: Reference and Case |

245
(2)

| | |
| --- | --- |
| | Using Modifiers and Prepositions Correctly |

247
(10)

| | |
| --- | --- |
| | Using Modifiers Correctly |

251
(4)

| | |
| --- | --- |
| | Using Modifiers and Prepositions Correctly |

255
(2)
257
(16)
265
(4)
269
(4)
Part 6 Spelling and Capitalization
273
(32)

| | |
| --- | --- |
| | Lessons, Practice Sheets, and Exercises |

| | |
| --- | --- |
| | Spelling Rules; Words Similar in Sound |

273
(10)

| | |
| --- | --- |
| | Spelling Rules; Words Similar in Sound |

279
(2)

| | |
| --- | --- |
| | Spelling Rules; Words Similar in Sound |

281
(2)
283
(8)
287
(2)
289
(2)
291
(14)
295
(2)
297
(2)
299
(2)
301
(2)
303
(2)
Part 7 Writing Paragraphs and Essays
305
(50)

| | |
| --- | --- |
| | An Overview of College Writing |

305
(12)
317
(8)

| | |
| --- | --- |
| | Writing Effective Paragraphs |

325
(18)
343
(12)
Part 8 Progress Tests
355
(75)

| | |
| --- | --- |
| | Subjects and Verbs; Parts of Speech |

357
(2)
359
(2)
361
(2)
363
(2)
365
(2)
367
(2)
369
(2)

| | |
| --- | --- |
| | Commas and Semicolons: Compound Units |

371
(2)
373
(2)
375
(2)
377
(2)
379
(2)

| | |
| --- | --- |
| | Modifiers: Appropriate Use |

381
(2)
383
(2)

| | |
| --- | --- |
| | Spelling Rules; Words Similar in Sound |

385
(2)
387
(2)
389
(2)
391
(2)

| | |
| --- | --- |
| | General Review: Proofreading |

393
(2)

| | |
| --- | --- |
| | General Review: Proofreading |

395
(35)
Appendixes

| | |
| --- | --- |
| | Appendix A Sentence Combining |

397
(4)

| | |
| --- | --- |
| | Appendix B Diagnostic Tests |

401
(22)

| | |
| --- | --- |
| | Appendix C Answer Key to Practice Sheets |

423
(7)
Index
430