Note: Supplemental materials are not guaranteed with Rental or Used book purchases.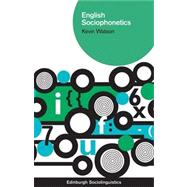 English Sociophonetics
ISBN13:
9780748636150
by
Watson, Kevin
Edinburgh University Press
This title is currently not available.
Summary
Sociophonetics is the multifaceted subfield of linguistics in which phonetics, phonology, and sociolinguistics interact. Understanding the key questions addressed in sociophonetics requires a firm grasp of articulatory and acoustic phonetics together with a comprehension of the workings of phonology and an appreciation of sociolinguistic variation, including subtle phonetic differences that index a range of speaker identities. This book takes an integrated approach to issues of phonetics, phonology, and sociolinguistics. Assuming little prior knowledge of linguistics, the book begins with a consideration of English varieties, geographically and socially, before introducing the technical terminology and theoretical concepts of auditory and acoustic phonetics. An examination of phonology follows, investigating "phonology" in particular and what kind of information it stores. A crucial component examines how phonological variation can be represented in cognition and how such variation impacts linguistic theory. The volume also engages with the principles of language change and examines how sociophonetics can contribute to "applied" fields, such as speech technology and forensic speech science. Throughout the book, illustrations provide usable data from both standard and non-standard varieties of English in Britain, the United States, Australia, and elsewhere. Written in a lively, accessible style and aimed at undergraduate students of phonetics, phonology, and sociolinguistics, this book provides the necessary background to allow readers to engage with sociophonetic literature and the confidence to embark on research of their own.