Note: Supplemental materials are not guaranteed with Rental or Used book purchases.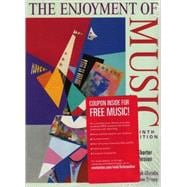 The Enjoyment of Music: An Introduction to Perceptive Listening
ISBN13:
9780393978797
by
CHEVIGNY PAUL
Questions About This Book?
What version or edition is this?
This is the 9th edition with a publication date of 1/1/2003.
What is included with this book?
The Used copy of this book is not guaranteed to include any supplemental materials. Typically, only the book itself is included.
Summary
With nearly three million copies sold over eight editions, The Enjoyment of Music is the best-selling music appreciation text of all time. Spanning the Middle Ages through the twenty-first century, the text offers a thorough introduction to the elements of music, a broad overview of the history of musical styles, and fascinating cultural contexts and perspectives. The Ninth Edition of this classic text features a stunning new design, exciting new repertory, and an unmatched ancillary and media package.
Table of Contents
Listening Guides
xvi
Cultural Perspectives
xviii
Preface: The Enjoyment of Music Package
xix

| | |
| --- | --- |
| | PART 1 The Materials of Music |

| | |
| --- | --- |
| | UNIT I The Elements of Music |

4
(37)
4
(9)

| | |
| --- | --- |
| | Music and Today's Listener: The State of the Art |

| | |
| --- | --- |
| | Some Practical Suggestions |

13
(5)

| | |
| --- | --- |
| | Characteristics of Melody |

| | |
| --- | --- |
| | Listening Activity: Melody |

18
(5)

| | |
| --- | --- |
| | Listening Activity: Rhythm |

23
(4)

| | |
| --- | --- |
| | The Organization of Harmony |

| | |
| --- | --- |
| | Consonance and Dissonance |

| | |
| --- | --- |
| | Listening Activity: Harmony |

27
(5)

| | |
| --- | --- |
| | Musical Texture and the Listener |

| | |
| --- | --- |
| | Listening Activity: Texture |

32
(5)

| | |
| --- | --- |
| | Structure and Design in Music |

| | |
| --- | --- |
| | Two-Part and Three-Part Form |

| | |
| --- | --- |
| | The Building Blocks of Form |

| | |
| --- | --- |
| | Listening Activity: Musical Form |

| | |
| --- | --- |
| | Musical Expression: Tempo and Dynamics |

37
(4)

| | |
| --- | --- |
| | Tempo and Dynamics as Elements of Musical Expression |

| | |
| --- | --- |
| | Listening Activity: Tempo and Dynamics |

| | |
| --- | --- |
| | UNIT II Musical Instruments and Ensembles |

41
(31)

| | |
| --- | --- |
| | Voices and Musical Instruments I |

41
(4)

| | |
| --- | --- |
| | The Voice as a Model for Instrumental Sound |

| | |
| --- | --- |
| | The World of Musical Instruments |

| | |
| --- | --- |
| | Listening Activity: Voices |

45
(10)

| | |
| --- | --- |
| | Listening Activity: Western Instruments |

55
(10)

| | |
| --- | --- |
| | Instrumental Chamber Ensembles |

| | |
| --- | --- |
| | Concert, Jazz, and Rock Bands |

| | |
| --- | --- |
| | The Role of the Conductor |

| | |
| --- | --- |
| | Benjamin Britten's The Young Person's Guide to the Orchestra |

| | |
| --- | --- |
| | Style and Function of Music in Society |

65
(7)

| | |
| --- | --- |
| | The Roles of Music around the World |

| | |
| --- | --- |
| | Musical Styles in History |

| | |
| --- | --- |
| | Listening Activity: Musical Styles |

| | |
| --- | --- |
| | PART 2 Medieval and Renaissance Music |

| | |
| --- | --- |
| | Timeline: Medieval/Renaissance Era |

72
(22)

| | |
| --- | --- |
| | The Culture of the Middle Ages |

72
(4)

| | |
| --- | --- |
| | Sacred Music in the Middle Ages |

76
(10)

| | |
| --- | --- |
| | Life in the Medieval Cloister |

| | |
| --- | --- |
| | The Music of Hildegard of Bingen |

| | |
| --- | --- |
| | Chant as Music for Worship |

| | |
| --- | --- |
| | The Rise of Polyphony: The Notre Dame School |

| | |
| --- | --- |
| | Hildegard of Bingen: Alleluia, O virga mediatrix |

| | |
| --- | --- |
| | Notre Dame School Organum: Gaude Maria virgo |

| | |
| --- | --- |
| | Secular Music in the Middle Ages |

86
(8)

| | |
| --- | --- |
| | Guillaume de Machaut and the French Ars Nova |

| | |
| --- | --- |
| | Opening Doors to the East |

| | |
| --- | --- |
| | Machaut: Puis qu'en oubli |

94
(22)
94
(6)

| | |
| --- | --- |
| | The Arts in the Renaissance |

| | |
| --- | --- |
| | Musicians in Renaissance Society |

| | |
| --- | --- |
| | Renaissance Musical Style |

| | |
| --- | --- |
| | When the Old World Meets the New World |

100
(8)

| | |
| --- | --- |
| | The Motet in the Renaissance |

| | |
| --- | --- |
| | Josquin des Prez and the Motet |

| | |
| --- | --- |
| | Ave Maria. . . virgo serena |

| | |
| --- | --- |
| | The Late Renaissance Mass |

| | |
| --- | --- |
| | Palestrina and the Pope Marcellus Mass |

| | |
| --- | --- |
| | Renaissance Secular Music |

108
(8)

| | |
| --- | --- |
| | Music in Court and City Life |

| | |
| --- | --- |
| | From Renaissance to Baroque |

114
(2)

| | |
| --- | --- |
| | PART 3 More Materials of Music |

| | |
| --- | --- |
| | UNIT V The Organization of Musical Sounds |

116
(10)
116
(5)

| | |
| --- | --- |
| | The Miracle of the Octave |

| | |
| --- | --- |
| | The Formation of Major and Minor Scales |

| | |
| --- | --- |
| | Aspects of the Major-Minor System |

121
(5)

| | |
| --- | --- |
| | The Key as a Form-Building Element |

| | |
| --- | --- |
| | Listening Activity: Musical Key |

| | |
| --- | --- |
| | UNIT VI The Baroque and the Arts |

126
(11)
126
(5)

| | |
| --- | --- |
| | Music and the Religious Spirit in the New World |

| | |
| --- | --- |
| | Main Currents in Baroque Music |

131
(6)

| | |
| --- | --- |
| | Origins of the Monodic Style |

| | |
| --- | --- |
| | The Rise of the Virtuoso Musician |

| | |
| --- | --- |
| | The Doctrine of the Affections |

| | |
| --- | --- |
| | UNIT VII Vocal Music of the Baroque |

137
(23)
137
(6)

| | |
| --- | --- |
| | Henry Purcell: His Life and Music |

| | |
| --- | --- |
| | Handel and Late Baroque Opera |

| | |
| --- | --- |
| | Barbara Strozzi and the Italian Secular Cantata |

143
(4)

| | |
| --- | --- |
| | Bach and the Sacred Cantata |

147
(7)

| | |
| --- | --- |
| | Cantata No. 80: A Mighty Fortress Is Our God |

154
(6)

| | |
| --- | --- |
| | Handel: His Life and Music |

| | |
| --- | --- |
| | UNIT VIII Instrumental Music of the Baroque |

160
(20)

| | |
| --- | --- |
| | The Baroque Sonata and Concerto |

160
(8)

| | |
| --- | --- |
| | The Rise of Instrumental Music |

| | |
| --- | --- |
| | Antonio Vivaldi: His Life and Music |

| | |
| --- | --- |
| | The Baroque Suite and Other Instrumental Forms |

168
(12)

| | |
| --- | --- |
| | Handel and the Orchestral Suite |

| | |
| --- | --- |
| | The Fugue and Its Devices |

| | |
| --- | --- |
| | Bach's Prelude and Fugue in C minor |

| | |
| --- | --- |
| | To the Age of Enlightenment |

176
(4)

| | |
| --- | --- |
| | The Rococo and the Age of Sensibility |

| | |
| --- | --- |
| | PART 5 More Materials of Form |

180
(10)

| | |
| --- | --- |
| | The Development of Musical Ideas |

180
(3)

| | |
| --- | --- |
| | Listening Activity: Thematic Development |

183
(7)

| | |
| --- | --- |
| | The Multimovement Cycle as a Whole |

| | |
| --- | --- |
| | Listening Activity: Hearing Larger Forms |

| | |
| --- | --- |
| | PART 6 Eighteenth-Century Classicism |

| | |
| --- | --- |
| | UNIT X The Classical Spirit |

190
(9)
190
(3)
193
(6)

| | |
| --- | --- |
| | Elements of Classical Style |

| | |
| --- | --- |
| | Concert Life in the Americas: Then and Now |

| | |
| --- | --- |
| | UNIT XI Classical Chamber Music |

199
(10)

| | |
| --- | --- |
| | Eighteenth-Century Chamber Music Style |

199
(2)
201
(8)

| | |
| --- | --- |
| | UNIT XII The Classical Symphony |

209
(20)

| | |
| --- | --- |
| | The Nature of the Symphony |

209
(3)

| | |
| --- | --- |
| | The Movements of the Symphony |

212
(6)

| | |
| --- | --- |
| | Symphony No. 94 in G major (Surprise) |

| | |
| --- | --- |
| | Beethoven and the Symphony in Transition |

218
(11)

| | |
| --- | --- |
| | The Composer Heard 'round the World |

| | |
| --- | --- |
| | Symphony No. 5 in C minor |

| | |
| --- | --- |
| | UNIT XIII The Eighteenth-Century Concerto and Sonata |

229
(10)
229
(4)

| | |
| --- | --- |
| | The Movements of the Concerto |

| | |
| --- | --- |
| | Mozart's Piano Concerto in G major, K. 453 |

| | |
| --- | --- |
| | Famous Women Virtuosos of the Eighteenth Century |

233
(6)

| | |
| --- | --- |
| | The Movements of the Sonata |

| | |
| --- | --- |
| | East Meets West: Turkish Influences on the Viennese Classics |

| | |
| --- | --- |
| | Beethoven's Piano Sonata in C minor, Op. 13 (Pathetique) |

| | |
| --- | --- |
| | UNIT XIV Choral Music and Opera in the Classical Era |

239
(15)

| | |
| --- | --- |
| | Sacred Choral Music and Opera |

239
(15)

| | |
| --- | --- |
| | Mozart's Comic Opera The Marriage of Figaro |

| | |
| --- | --- |
| | From Classicism to Romanticism |

252
(2)

| | |
| --- | --- |
| | PART 7 The Nineteenth Century |

| | |
| --- | --- |
| | UNIT XV The Romantic Movement |

254
(8)

| | |
| --- | --- |
| | The Spirit of Romanticism |

254
(3)
257
(5)

| | |
| --- | --- |
| | UNIT XVI Nineteenth-Century Art Song |

262
(11)
262
(2)
264
(5)

| | |
| --- | --- |
| | Robert Schumann and the Song Cycle |

269
(4)

| | |
| --- | --- |
| | UNIT XVII The Nineteenth-Century Piano Piece |

273
(11)

| | |
| --- | --- |
| | The Piano and Its Literature |

273
(2)

| | |
| --- | --- |
| | The Short Lyric Piano Piece |

275
(4)

| | |
| --- | --- |
| | Nocturne in C minor, Op. 48, No. 1 |

| | |
| --- | --- |
| | Clara Schumann: Pianist and Composer |

279
(5)

| | |
| --- | --- |
| | UNIT XVIII Romantic Program Music |

284
(15)

| | |
| --- | --- |
| | The Nature of Program Music |

284
(2)

| | |
| --- | --- |
| | Varieties of Program Music |

| | |
| --- | --- |
| | Berlioz and the Program Symphony |

286
(5)
291
(8)

| | |
| --- | --- |
| | A Czech Nationalist: Bedrich Smetana |

| | |
| --- | --- |
| | Music, Folklore, and Nationalism |

| | |
| --- | --- |
| | UNIT XIX Absolute Forms in the Nineteenth Century |

299
(18)
299
(6)

| | |
| --- | --- |
| | The Nature of the Symphony |

| | |
| --- | --- |
| | Dvorak's Influence on African-American Art Music |

| | |
| --- | --- |
| | Brahms and the Late Romantic Symphony |

305
(4)

| | |
| --- | --- |
| | Symphony No. 3 in F major |

309
(3)

| | |
| --- | --- |
| | The Nature of the Concerto |

| | |
| --- | --- |
| | Virtuosity and the Concerto |

| | |
| --- | --- |
| | Felix Mendelssohn and the Concerto |

| | |
| --- | --- |
| | The Rise of Classical Composition in America |

312
(5)

| | |
| --- | --- |
| | Amy Cheney Beach and Music in New England |

| | |
| --- | --- |
| | Women and Music: A Feminist Perspective |

| | |
| --- | --- |
| | UNIT XX Choral and Dramatic Music in the Nineteenth Century |

317
(39)
317
(3)

| | |
| --- | --- |
| | Brahms's A German Requiem |

320
(6)

| | |
| --- | --- |
| | The Development of National Styles |

326
(9)

| | |
| --- | --- |
| | Wagner and the Music Drama |

335
(6)

| | |
| --- | --- |
| | Puccini and Late Romantic Opera |

341
(8)

| | |
| --- | --- |
| | Looking East to Japanese Culture |

| | |
| --- | --- |
| | Japanese Kouta: Hakusen no (A White Fan) |

| | |
| --- | --- |
| | Tchaikovsky and the Ballet |

349
(7)

| | |
| --- | --- |
| | Ballet---Past and Present |

| | |
| --- | --- |
| | Peter Ilyich Tchaikovsky: His Life and Music |

| | |
| --- | --- |
| | Part 8 The Twentieth Century |

| | |
| --- | --- |
| | Timeline: Post-Romanticism, Impressionism, and Early Twentieth Century |

354
(2)

| | |
| --- | --- |
| | Germanic Post-Romanticism |

| | |
| --- | --- |
| | UNIT XXI The Impressionist and Post-Impressionist Eras |

356
(10)

| | |
| --- | --- |
| | Debussy and Impressionism |

356
(10)

| | |
| --- | --- |
| | The Impressionist Painters |

| | |
| --- | --- |
| | Claude Debussy: His Life and Music |

| | |
| --- | --- |
| | The Paris World Exhibition of 1889: A Cultural Awakening |

| | |
| --- | --- |
| | Prelude to ``The Afternoon of a Faun'' |

| | |
| --- | --- |
| | UNIT XXII The Early Twentieth Century |

366
(20)

| | |
| --- | --- |
| | Main Currents in Early-Twentieth-Century Music |

366
(3)

| | |
| --- | --- |
| | The Reaction against Romanticism |

| | |
| --- | --- |
| | New Elements of Musical Style |

369
(4)

| | |
| --- | --- |
| | The New Rhythmic Complexity |

| | |
| --- | --- |
| | Texture: Dissonant Counterpoint |

| | |
| --- | --- |
| | Stravinsky and the Revitalization of Rhythm |

373
(7)

| | |
| --- | --- |
| | Schoenberg and the Second Viennese School |

380
(6)

| | |
| --- | --- |
| | UNIT XXIII Twentieth-Century Nationalism |

386
(22)
386
(8)

| | |
| --- | --- |
| | Bela Bartok: His Life and Music |

| | |
| --- | --- |
| | Bartok---A Folk-Song Collector |

394
(14)

| | |
| --- | --- |
| | Popular Music in Late-Nineteenth-Century America |

| | |
| --- | --- |
| | Music and the Patriotic Spirit |

| | |
| --- | --- |
| | Aaron Copland: His Life and Music |

| | |
| --- | --- |
| | Silvestre Revueltas and Art Music Traditions in Mexico |

| | |
| --- | --- |
| | Copland Looks West and South of the Border |

| | |
| --- | --- |
| | Revueltas: His Life and Music |

| | |
| --- | --- |
| | Homenaje a Federico Garcia Lorca |

408
(50)

| | |
| --- | --- |
| | Ragtime, Blues, and Early Jazz |

408
(9)

| | |
| --- | --- |
| | Blues and New Orleans Jazz |

| | |
| --- | --- |
| | Billie Holiday: Billie's Blues |

417
(11)

| | |
| --- | --- |
| | Duke Ellington and the Big Band Era |

| | |
| --- | --- |
| | Bebop and Later Jazz Styles |

| | |
| --- | --- |
| | George Gershwin and the Merger of Classical and Jazz Styles |

| | |
| --- | --- |
| | David Baker and the Spiritual as Art Song |

| | |
| --- | --- |
| | Through This Vale of Tears |

428
(12)

| | |
| --- | --- |
| | The Development of American Musical Theater |

| | |
| --- | --- |
| | Leonard Bernstein and the Broadway Musical |

| | |
| --- | --- |
| | Dance Music from Latin America and the Caribbean |

| | |
| --- | --- |
| | Bernstein's West Side Story |

| | |
| --- | --- |
| | Rock and the Global Scene |

440
(18)

| | |
| --- | --- |
| | The Eclecticism of the 1970s |

| | |
| --- | --- |
| | Think of Me, by BeauSoleil |

| | |
| --- | --- |
| | Timeline: Later Twentieth Century |

458
(58)
458
(12)

| | |
| --- | --- |
| | The Arts since the Mid-Twentieth Century |

| | |
| --- | --- |
| | Toward Greater Organization in Music |

| | |
| --- | --- |
| | Toward Greater Freedom in Music |

| | |
| --- | --- |
| | The Postwar Internationalism |

| | |
| --- | --- |
| | Canada's Vision for a Global Culture |

| | |
| --- | --- |
| | American Voices in the Postwar Era |

| | |
| --- | --- |
| | Virtuoso Women Singers of the Twentieth Century |

| | |
| --- | --- |
| | Contemporary Composers Look to World Music |

470
(14)

| | |
| --- | --- |
| | Multicultural Influences in Contemporary Society |

| | |
| --- | --- |
| | George Crumb and Avant-Garde Virtuosity |

| | |
| --- | --- |
| | Ancient Voices of Children |

| | |
| --- | --- |
| | Gyorgy Ligeti's Etudes for Piano |

| | |
| --- | --- |
| | Music from Eastern Africa |

| | |
| --- | --- |
| | Ensiriba ya munange Katego |

| | |
| --- | --- |
| | An Introduction to Chinese Traditional Music |

| | |
| --- | --- |
| | Abing's The Moon Reflected on the Second Springs |

484
(11)

| | |
| --- | --- |
| | The Role of Music in Film |

| | |
| --- | --- |
| | Music in the Silent Film Era |

| | |
| --- | --- |
| | Tan Dun: His Life and Music |

| | |
| --- | --- |
| | Farewell, from Crouching Tiger, Hidden Dragon |

495
(8)

| | |
| --- | --- |
| | The Technological Revolution |

| | |
| --- | --- |
| | Important Figures in Electronic Music |

| | |
| --- | --- |
| | Artificial Intelligence: The Composer's New Tool |

| | |
| --- | --- |
| | Paul Lansky's Notjustmoreidlechatter |

503
(13)

| | |
| --- | --- |
| | Joan Tower's For the Uncommon Woman |

| | |
| --- | --- |
| | Minimalism and Post-Minimalism |

| | |
| --- | --- |
| | Arvo Part and Spiritual Minimalism |

| | |
| --- | --- |
| | Cantate Domino canticum novum |

| | |
| --- | --- |
| | John Adams and Post-Minimalism |

| | |
| --- | --- |
| | Roadrunner, from Chamber Symphony |

516
1
(5)
6
(23)
Credits
29
(4)
Index
33