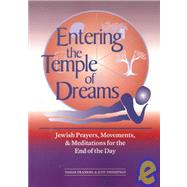 Entering the Temple of Dreams : Jewish Prayers, Movements, and Meditations for the End of the Day
by
Frankiel, Tamar
Questions About This Book?
What version or edition is this?
This is the edition with a publication date of 6/1/2000.
What is included with this book?
The New copy of this book will include any supplemental materials advertised. Please check the title of the book to determine if it should include any CDs, lab manuals, study guides, etc.
Summary
Drawing on kabbalistic teachings, prayer, the Bible and midrash, provides a framework for new thinking about how body, mind and soul can work together to provide spiritual insight in our lives as we prepare for sleep.
Table of Contents
Preface
11
(15)
The Creation of the Sacred Dream
15
(2)

| | |
| --- | --- |
| | The ``Other World'' of Sleep |

17
(17)

| | |
| --- | --- |
| | The Soul as Night Traveler |

18
(4)
22
(7)

| | |
| --- | --- |
| | Recovering the Sweetness of Sleep |

29
(5)

| | |
| --- | --- |
| | A Ceremony for Dreaming: Shema al Mitah |

32
(2)

| | |
| --- | --- |
| | Hashkivenu: Meeting with the Angels |

34
(14)

| | |
| --- | --- |
| | Protection on Our Journeys |

36
(2)

| | |
| --- | --- |
| | Inviting an Angelic Presence |

38
(3)

| | |
| --- | --- |
| | Creating a Sukkah of Peace |

41
(7)

| | |
| --- | --- |
| | Movement and Meditation for the Hashkivenu |

41
(7)

| | |
| --- | --- |
| | Hareni Mochel: Healing the Spirit through Forgiveness---The Gift of Rafael |

48
(28)

| | |
| --- | --- |
| | Forgiving, and Pursuing Justice |

50
(3)

| | |
| --- | --- |
| | Spiritual Dimensions of Forgiveness |

53
(2)

| | |
| --- | --- |
| | A Personal Story about Struggling to Forgive |

55
(3)

| | |
| --- | --- |
| | Untangling Ourselves from Pain |

58
(3)

| | |
| --- | --- |
| | Compassion Brings Us Freedom |

61
(3)
64
(12)

| | |
| --- | --- |
| | The Forgiveness Prayer with Mediations |

66
(10)

| | |
| --- | --- |
| | Shema: Listening to Infinity---The Gift of Michael |

76
(24)

| | |
| --- | --- |
| | How the Shema Guards Our Doorways |

78
(1)

| | |
| --- | --- |
| | Listening for God's Voice |

79
(4)

| | |
| --- | --- |
| | The Awesome Shema of Rabbi Akiva |

83
(4)
84
(3)

| | |
| --- | --- |
| | The Shema and the Land of Promise |

87
(2)

| | |
| --- | --- |
| | Unifying the Higher and Lower Worlds |

89
(4)
93
(7)

| | |
| --- | --- |
| | Movement and Meditation for the Shema |

97
(3)

| | |
| --- | --- |
| | Bircat Cohanim: Mighty Ones of Blessing---The Gift of Gavriel |

100
(22)

| | |
| --- | --- |
| | The Gift of Blessing in Our Lives |

103
(1)

| | |
| --- | --- |
| | Blessings Increase Life's Goodness |

104
(4)
108
(1)

| | |
| --- | --- |
| | Blessings Encircle Us with Light |

109
(4)

| | |
| --- | --- |
| | The Blessing of Being Seen |

113
(1)

| | |
| --- | --- |
| | Becoming a Kingdom of Priests |

114
(8)

| | |
| --- | --- |
| | Urim and Tummim Meditation |

117
(5)

| | |
| --- | --- |
| | Hamapil: Seeing in the Dark---The Gift of Uriel |

122
(27)
124
(3)

| | |
| --- | --- |
| | Judaism's Dreaming Tradition |

127
(5)

| | |
| --- | --- |
| | Dreaming as a Way of Seeing |

132
(3)

| | |
| --- | --- |
| | Understanding the Process of Dreaming |

135
(1)

| | |
| --- | --- |
| | Dreams Follow Their Interpretation |

136
(4)
140
(1)
141
(4)

| | |
| --- | --- |
| | The Bedtime Shema: Short Version |

145
(4)
Appendix A: The Shema
149
(4)
Appendix B: Holy Verses to Soothe Us at Night
153
(2)
Appendix C: Charting the Patterns of Your Dreams
155
(4)
Notes
159
(18)
Glossary
177
(6)
Recommended Readings
183