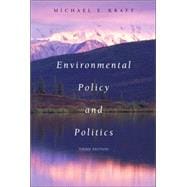 Summary
Concise and yet thorough, Environmental Policy and Politics is an interdisciplinary, engaging, and up-to-date examination of environmental, natural resource, and energy policy and politics. Drawing from work within environmental science, policy analysis, and political science, this text critically assesses the key strengths and weaknesses of policymaking processes today, as well as the promise of new policy approaches. Arguing that strong public support is necessary for achieving environmental policy goals, the Third Edition stresses the opportunities available to all citizens to influence environmental politics at every level of government.
Table of Contents
Preface
p. vii
Environmental Problems and Politics
p. 1
Judging the State of the Environment
p. 28
The Policy-Making Process and the Environment
p. 65
U.S. Politics and the Evolution of Environmental Policy
p. 94
Environmental Protection Policy: Controlling Pollution
p. 121
Energy and Natural Resource Policies
p. 168
Evaluating Environmental Policy
p. 216
Environmental Policy and Politics for the Twenty-First Century
p. 251
References
p. 284
Index
p. 305
Table of Contents provided by Ingram. All Rights Reserved.