Note: Supplemental materials are not guaranteed with Rental or Used book purchases.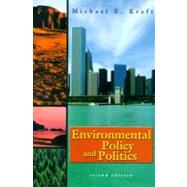 Environmental Policy and Politics: Toward the 21st Century
ISBN13:
9780321042569
by
Kraft, Michael E.
Summary
This up-to-date and readable text is a concise yet thorough examination of environmental, natural resource and energy policy and politics, primarily within the United States. Drawing from work within environmental science, policy analysis, and political science, it critically examines the key strengths and weaknesses of policy-making processes today, as well as the promise of new policy approaches. It offers extensive coverage of the nature of environmental problems and historical developments in environmental policy. The overriding theme of Environmental Policy and Politics, Second Edition, is that democratic approaches to policy-making and policy change are likely to be the most effective over time, based on strong public support. In that vein, the book stresses the opportunities available to citizens to shape environmental policies at all levels of government.
Table of Contents
| | |
| --- | --- |
| | List of Tables, Figures, and Boxes |

x
Preface
xi

| | |
| --- | --- |
| | Environmental Problems and Politics |

1
(25)

| | |
| --- | --- |
| | Environmental Policy and Politics |

3
(2)

| | |
| --- | --- |
| | Perspectives on Environmental Problems |

5
(4)

| | |
| --- | --- |
| | Scientific Knowledge and Its Use |

6
(1)
6
(2)

| | |
| --- | --- |
| | Environmental Values and Ethics |

8
(1)

| | |
| --- | --- |
| | The Role of Government and Politics |

9
(2)

| | |
| --- | --- |
| | Democracy, Politics, and Environmental Policy |

11
(1)

| | |
| --- | --- |
| | Defining Environmental Policy |

12
(3)
12
(1)

| | |
| --- | --- |
| | The Breadth of Environmental Policy |

13
(1)

| | |
| --- | --- |
| | Interdisciplinary Approaches to Environmental Policy |

14
(1)

| | |
| --- | --- |
| | Environmental Problems and Public Policy |

15
(7)

| | |
| --- | --- |
| | Defining the Problems: The Nature of Environmental Risks |

15
(4)

| | |
| --- | --- |
| | Coping with Environmental Risks |

19
(3)
22
(1)
23
(1)
24
(2)

| | |
| --- | --- |
| | Judging the State of the Environment |

26
(32)
27
(7)

| | |
| --- | --- |
| | Gains in Air Quality and Remaining Problems |

28
(2)

| | |
| --- | --- |
| | The Case of Southern California |

30
(1)
31
(1)
32
(1)

| | |
| --- | --- |
| | CFCs and the Stratospheric Ozone Layer |

32
(2)
34
(4)

| | |
| --- | --- |
| | Pollution of Surface Waters |

34
(3)
37
(1)

| | |
| --- | --- |
| | Toxic Chemicals and Hazardous Wastes |

38
(5)

| | |
| --- | --- |
| | Toxic Chemicals and Health Effects |

38
(3)

| | |
| --- | --- |
| | Handling of Hazardous Wastes |

41
(1)

| | |
| --- | --- |
| | Contaminated Federal Facilities |

42
(1)
43
(1)

| | |
| --- | --- |
| | Solid Waste and Consumer Waste |

43
(2)

| | |
| --- | --- |
| | Energy Use and Climate Change |

45
(2)

| | |
| --- | --- |
| | The Scope of Energy Problems |

45
(1)

| | |
| --- | --- |
| | Fossil Fuels and the Threat of Climate Change |

46
(1)

| | |
| --- | --- |
| | Biological Diversity and Habitat Loss |

47
(4)

| | |
| --- | --- |
| | Biodiversity Loss and Implications |

48
(2)

| | |
| --- | --- |
| | Policy Actions and Effects |

50
(1)
51
(3)

| | |
| --- | --- |
| | Population and Sustainable Development |

51
(1)

| | |
| --- | --- |
| | Growth Rates and Projected Population Increase |

52
(2)
54
(1)
55
(3)

| | |
| --- | --- |
| | The Policy-Making Process and the Environment |

58
(23)

| | |
| --- | --- |
| | The Policy-Making Process and the Environment |

59
(8)
60
(5)

| | |
| --- | --- |
| | Patterns in Environmental Policy Making |

65
(2)

| | |
| --- | --- |
| | Agenda Setting and Environmental Policy Change |

67
(3)

| | |
| --- | --- |
| | Problems, Policies, and Politics |

67
(1)

| | |
| --- | --- |
| | Policy Entrepreneurs and Policy Change |

68
(2)

| | |
| --- | --- |
| | Characteristics of U.S. Government and Politics |

70
(8)

| | |
| --- | --- |
| | Constitutional and Political Features |

70
(1)

| | |
| --- | --- |
| | Institutional Fragmentation and Policy Gridlock |

71
(5)

| | |
| --- | --- |
| | The Benefits of Dispersed Power |

76
(2)
78
(1)
79
(2)

| | |
| --- | --- |
| | U.S. Politics and the Evolution of Environmental Policy |

81
(21)

| | |
| --- | --- |
| | Natural Resources and Environmental Policies in Historical Perspective |

81
(5)

| | |
| --- | --- |
| | The Settlement and ``Conquest'' of Nature |

82
(1)

| | |
| --- | --- |
| | The Conservation Movement and Advances in Public Health |

83
(1)

| | |
| --- | --- |
| | From the New Deal to the Environmental Movement |

84
(2)

| | |
| --- | --- |
| | The Modern Environmental Movement and Policy Achievements |

86
(11)

| | |
| --- | --- |
| | The Role of Environmental Interest Groups |

89
(3)

| | |
| --- | --- |
| | Public Opinion and the Environment |

92
(3)

| | |
| --- | --- |
| | Environmental Issues in Election Campaigns |

95
(2)

| | |
| --- | --- |
| | Political Reaction in the 1980s and 1990s |

97
(2)
99
(1)
100
(2)

| | |
| --- | --- |
| | Environmental Protection Policy: Controlling Pollution |

102
(41)

| | |
| --- | --- |
| | The Contours of Environmental Protection Policy |

103
(17)
103
(4)
107
(4)

| | |
| --- | --- |
| | The Safe Drinking Water Act |

111
(1)

| | |
| --- | --- |
| | The Resource Conservation and Recovery Act |

112
(2)

| | |
| --- | --- |
| | The Toxic Substances Control Act |

114
(1)

| | |
| --- | --- |
| | The Federal Insecticide, Fungicide, and Rodenticide Act |

115
(2)

| | |
| --- | --- |
| | The Comprehensive Environmental Response, Compensation, and Liability Act |

117
(3)

| | |
| --- | --- |
| | The Institutional Context of Policy Implementation |

120
(8)

| | |
| --- | --- |
| | The EPA's Organization, Budget, and Staff |

121
(4)
125
(2)

| | |
| --- | --- |
| | Political Support and Opposition |

127
(1)

| | |
| --- | --- |
| | Setting Environmental Standards |

128
(3)

| | |
| --- | --- |
| | Environmental Goals and Objectives |

128
(1)

| | |
| --- | --- |
| | Environmental Quality Criteria |

128
(2)

| | |
| --- | --- |
| | Setting Quality Standards |

130
(1)
131
(1)

| | |
| --- | --- |
| | Balancing Statutory Goals and Costs |

131
(3)

| | |
| --- | --- |
| | Adopting and Enforcing Regulations |

134
(5)

| | |
| --- | --- |
| | Administrative Rule Making |

134
(2)

| | |
| --- | --- |
| | Compliance and Enforcement |

136
(1)
137
(2)
139
(1)
140
(3)

| | |
| --- | --- |
| | Energy and Natural Resource Policies |

143
(42)

| | |
| --- | --- |
| | The Vagaries of Energy Policy: Goals and Means |

144
(3)
146
(1)

| | |
| --- | --- |
| | Shifting Energy Priorities |

146
(1)

| | |
| --- | --- |
| | The Energy Policy Cycle: 1973-1989 |

147
(2)

| | |
| --- | --- |
| | Carter's National Energy Plan and Conservation Gains |

147
(2)

| | |
| --- | --- |
| | Reagan's Nonpolicy on Energy |

149
(1)

| | |
| --- | --- |
| | Energy Policy for the Twenty-First Century |

149
(6)

| | |
| --- | --- |
| | The Bush Administration's National Energy Strategy |

150
(2)

| | |
| --- | --- |
| | The Clinton Administration Tries Its Hand |

152
(2)

| | |
| --- | --- |
| | State and Local Energy Initiatives |

154
(1)

| | |
| --- | --- |
| | Natural Resources and Policy Change |

155
(17)

| | |
| --- | --- |
| | Environmental Stewardship or Economic Development? |

155
(2)

| | |
| --- | --- |
| | The Environmentalist Challenge to Resource Development |

157
(2)

| | |
| --- | --- |
| | Natural Resource Policies and Agencies |

159
(1)

| | |
| --- | --- |
| | Managing the Nation's Forests |

160
(5)
165
(2)
167
(3)

| | |
| --- | --- |
| | BLM Lands and the Sagebrush Rebellion |

170
(1)

| | |
| --- | --- |
| | Other Protected Lands and Agencies |

171
(1)

| | |
| --- | --- |
| | Environmental Impacts and Natural Resources Decision Making |

172
(6)

| | |
| --- | --- |
| | The Endangered Species Act |

172
(4)

| | |
| --- | --- |
| | The National Environmental Policy Act |

176
(2)

| | |
| --- | --- |
| | The Changing Natural Resources Policy Agenda |

178
(1)
179
(2)
181
(4)

| | |
| --- | --- |
| | Evaluating Environmental Policy |

185
(32)

| | |
| --- | --- |
| | Approaches to Environmental Policy Evaluation |

187
(3)
188
(1)

| | |
| --- | --- |
| | Process and Institutional Evaluation |

189
(1)
190
(4)

| | |
| --- | --- |
| | Environmental Protection Policies |

190
(2)

| | |
| --- | --- |
| | Natural Resource Policies |

192
(1)

| | |
| --- | --- |
| | The Need for Data Assessment and Public Dialogue |

193
(1)

| | |
| --- | --- |
| | Costs, Benefits, and Risks |

194
(5)

| | |
| --- | --- |
| | Comparing Risks and Setting Priorities |

196
(1)

| | |
| --- | --- |
| | Controversies over Cost-Benefit Analysis and Risk Assessment |

197
(1)

| | |
| --- | --- |
| | Environmentalists' Use of Economic Analysis |

198
(1)

| | |
| --- | --- |
| | Jobs, the Economy, and the Environment |

199
(3)

| | |
| --- | --- |
| | Employment, Business Costs, and Environmental Policy |

199
(2)

| | |
| --- | --- |
| | Seeking Common Ground: Toward Environmental Sustainability |

201
(1)

| | |
| --- | --- |
| | Reforming Environmental Regulation |

202
(6)

| | |
| --- | --- |
| | The Case for Policy Alternatives |

203
(2)

| | |
| --- | --- |
| | Assessing New Policy Approaches |

205
(3)

| | |
| --- | --- |
| | New Directions in Energy and Natural Resources Policy |

208
(6)
208
(1)
209
(1)
210
(1)

| | |
| --- | --- |
| | Government Purchasing Power |

211
(1)
212
(2)
214
(1)
214
(3)

| | |
| --- | --- |
| | Environmental Policy and Politics for the Twenty-First Century |

217
(26)

| | |
| --- | --- |
| | Environmental Goals and Policy Choices |

218
(1)

| | |
| --- | --- |
| | An Evolving Policy Agenda |

219
(4)

| | |
| --- | --- |
| | Improving Environmental Policies and Institutions |

219
(2)

| | |
| --- | --- |
| | A New Culture at the EPA and Other Federal Agencies? |

221
(1)
222
(1)

| | |
| --- | --- |
| | Toward Sustainable Development |

223
(11)

| | |
| --- | --- |
| | The President's Council on Sustainable Development |

224
(1)
225
(1)
225
(1)
226
(2)

| | |
| --- | --- |
| | Suburban Sprawl and Smart Growth |

228
(1)

| | |
| --- | --- |
| | Ecosystem Health and Biodiversity |

229
(2)

| | |
| --- | --- |
| | International Environmental Policy |

231
(2)

| | |
| --- | --- |
| | Environmental Science and Policy Research |

233
(1)

| | |
| --- | --- |
| | Business and the Environment |

234
(3)

| | |
| --- | --- |
| | The Greening of Industry? |

234
(2)
236
(1)

| | |
| --- | --- |
| | Democracy and the Environment |

237
(3)

| | |
| --- | --- |
| | Grassroots Environmentalism and Public Education |

237
(1)

| | |
| --- | --- |
| | Environmental Information and the Internet |

238
(2)
240
(1)
241
(2)
References
243
(21)
Abbreviations
264
(2)
Selected Environmental Web Sites
266
(3)
Index
269