Note: Supplemental materials are not guaranteed with Rental or Used book purchases.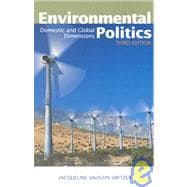 Environmental Politics Domestic and Global Dimensions
ISBN13:
9780312255909
by
Vaughn, Jacqueline
Questions About This Book?
What version or edition is this?
This is the 3rd edition with a publication date of 8/3/2000.
What is included with this book?
The New copy of this book will include any supplemental materials advertised. Please check the title of the book to determine if it should include any CDs, lab manuals, study guides, etc.
Related Products
Summary
This comprehensive and balanced text examines the history, organizations, interest groups, and processes that shape domestic and global environmental politics.
Table of Contents
Preface
vii
About the Author
xv
Introduction
1
(10)

| | |
| --- | --- |
| | A Historical Framework for Environmental Protection |

11
(24)

| | |
| --- | --- |
| | Germination of an Idea: From the Colonial Period to 1900 |

12
(3)

| | |
| --- | --- |
| | Progressive Reforms and Conservationism: 1900-1945 |

15
(2)

| | |
| --- | --- |
| | Recreation and the Age of Ecology: Post-World War II to 1969 |

17
(1)

| | |
| --- | --- |
| | Another View, Another Voice: |

| | |
| --- | --- |
| | The Hudson River Fishermen's Association |

18
(2)

| | |
| --- | --- |
| | Earth Days and Deregulation: 1970-1988 |

20
(4)

| | |
| --- | --- |
| | Global Awareness and Gridlock: The 1990s |

24
(5)
29
(3)
32
(3)

| | |
| --- | --- |
| | Participants in the Environmental Debate |

35
(26)

| | |
| --- | --- |
| | U.S. Environmental Organizations |

37
(3)

| | |
| --- | --- |
| | The Environmental Justice Movement |

40
(1)

| | |
| --- | --- |
| | Another View, Another Voice: |

41
(2)

| | |
| --- | --- |
| | Environmental Opposition in the United States |

43
(5)
48
(6)

| | |
| --- | --- |
| | International Governmental Organizations |

54
(3)
57
(2)
59
(2)
61
(32)

| | |
| --- | --- |
| | The Executive Branch Agencies |

62
(4)
66
(9)

| | |
| --- | --- |
| | Congressional Policy Making |

75
(4)

| | |
| --- | --- |
| | Courts and Environmental Politics |

79
(1)

| | |
| --- | --- |
| | Another View, Another Voice: |

80
(2)

| | |
| --- | --- |
| | State and Local Policy Making |

82
(3)

| | |
| --- | --- |
| | The Media and the Environment |

85
(3)
88
(2)
90
(3)
93
(20)
95
(1)

| | |
| --- | --- |
| | ``The Best Idea America Ever Had'': The National Parks |

96
(4)

| | |
| --- | --- |
| | Grazing Rights and Wrongs |

100
(1)

| | |
| --- | --- |
| | Another View, Another Voice: |

| | |
| --- | --- |
| | President, the Grand Canyon Trust |

101
(4)

| | |
| --- | --- |
| | Trends in Land Use and Management |

105
(1)

| | |
| --- | --- |
| | Private Property and Public Lands |

106
(3)
109
(1)
110
(3)

| | |
| --- | --- |
| | Waste Management and the Global Toxics Legacy |

113
(26)

| | |
| --- | --- |
| | The Nature of Waste: Generation and Disposal |

114
(8)
122
(1)

| | |
| --- | --- |
| | Another View, Another Voice: |

| | |
| --- | --- |
| | The Divine Miss M: Environmentalist |

123
(5)

| | |
| --- | --- |
| | Nuclear and Military Waste |

128
(4)
132
(2)

| | |
| --- | --- |
| | Policy Stalled: Too Little Too Late |

134
(1)
135
(2)
137
(2)
139
(20)
141
(3)
144
(1)

| | |
| --- | --- |
| | Another View, Another Voice: |

145
(3)

| | |
| --- | --- |
| | The History of Policy Paralysis |

148
(6)
154
(2)
156
(1)
157
(2)
159
(30)

| | |
| --- | --- |
| | Why Don't We Have Enough Water? |

160
(3)
163
(4)
167
(4)
171
(2)

| | |
| --- | --- |
| | The Nature and Causes of Water Pollution |

173
(1)

| | |
| --- | --- |
| | Another View, Another Voice: |

174
(2)

| | |
| --- | --- |
| | The Politics of Water Quality |

176
(4)
180
(2)
182
(2)
184
(2)
186
(3)

| | |
| --- | --- |
| | Air Quality: Pollution and Solutions |

189
(24)
191
(1)

| | |
| --- | --- |
| | The Responsibility Dilemma |

192
(7)

| | |
| --- | --- |
| | Assessing the Impact of Pollution |

199
(4)

| | |
| --- | --- |
| | Another View, Another Voice: |

203
(2)
205
(2)
207
(2)
209
(2)
211
(2)
213
(30)
214
(1)

| | |
| --- | --- |
| | The United States, Mexico, and Canada |

215
(4)

| | |
| --- | --- |
| | The North American Free Trade Agreement, the General Agreement on Tariffs and Trade, and the World Trade Organization |

219
(3)
222
(7)

| | |
| --- | --- |
| | Another View, Another Voice: |

| | |
| --- | --- |
| | Discovering the Achilles Heel of the Universe |

229
(5)
234
(4)
238
(3)
241
(2)

| | |
| --- | --- |
| | Endangered Species, Biodiversity, and Forests |

243
(30)
245
(2)

| | |
| --- | --- |
| | International Protection Agreements |

247
(3)

| | |
| --- | --- |
| | The Making of Wildlife Policy |

250
(2)

| | |
| --- | --- |
| | The Role of Organized Interests |

252
(1)

| | |
| --- | --- |
| | The Continuing Saga of Species Protection |

253
(4)

| | |
| --- | --- |
| | Another View, Another Voice: |

| | |
| --- | --- |
| | Superintendent, Yellowstone National Park |

257
(4)
261
(1)

| | |
| --- | --- |
| | The U.S. Timber Management Policy |

261
(4)
265
(4)
269
(2)
271
(2)

| | |
| --- | --- |
| | The Human Explosion: Managing Population Growth |

273
(22)

| | |
| --- | --- |
| | Trends in Population and Projections |

276
(5)

| | |
| --- | --- |
| | U.S. Population Trends and Policies |

281
(1)

| | |
| --- | --- |
| | Another View, Another Voice: |

282
(2)

| | |
| --- | --- |
| | Global Family Planning Efforts |

284
(2)

| | |
| --- | --- |
| | The Role of the United States |

286
(4)

| | |
| --- | --- |
| | Implications for Policymakers |

290
(1)
291
(2)
293
(2)

| | |
| --- | --- |
| | Emerging Issues for the Twenty-First Century |

295
(16)
297
(3)

| | |
| --- | --- |
| | Collaborative Decision Making and Civic Environmentalism |

300
(3)

| | |
| --- | --- |
| | Agriculture and Genetically Engineered Products |

303
(3)

| | |
| --- | --- |
| | Trade and the Environment |

306
(1)

| | |
| --- | --- |
| | Another View, Another Voice: |

| | |
| --- | --- |
| | Director General, World Trade Organization |

307
(1)
308
(2)
310
(1)
Appendix A Major U.S. Environmental Legislation, 1947-2000
311
(4)
Appendix B Major International Environmental Agreements, 1900-2000
315
(2)
Appendix C Environmental Film Resources
317
(6)
Index
323