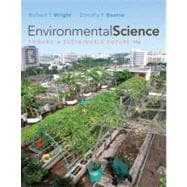 Questions About This Book?
What version or edition is this?
This is the 11th edition with a publication date of 6/10/2010.
What is included with this book?
The Used copy of this book is not guaranteed to include any supplemental materials. Typically, only the book itself is included.
Summary
Key Benefit: For introductory courses in Environmental Science, Environmental Studies, and Environmental Biology. By emphasizing the memorable themes of science, sustainability and stewardship, theEleventh Editionof this popular book helps readers understand the science behind environmental issues and what they can do to build a more sustainable future. This thorough revision features updated content, graphics, and photos, plus the addition of new co-author Dorothy Boorse. A wealth of effective new online resources is also available through the new MasteringEnvironmentalScience trade; online assessment and tutorial system, including five intriguing Video Field Trips. Package Components: Environmental Science: Toward a Sustainable Future, Eleventh Edition MasteringEnvironmentalScience with Pearson eText Student Access Kit Key Topics:Science and the Environment, Economics, Politics, and Public Policy, Basic Needs of Living Things, Populations and Communities, Ecosystems: Energy, Patterns, and Disturbance, Wild Species and Biodiversity, The Use and Restoration of Ecosystems, The Human Population, Population and Development, Water: Hydrologic Cycle and Human Use, Soil: Foundation for Land Ecosystems, The Production and Distribution of Food, Pests and Pest Control, Energy from Fossil Fuels, Nuclear Power, Renewable Energy, Environmental Hazards and Human Health, Global Climate Change, Atmospheric Pollution, Water Pollution and Its Prevention, Municipal Solid Waste: Disposal and Recovery, Hazardous Chemicals: Pollution and Prevention, Sustainable Communities and Lifestyles, Appendix A Environmental, Organizations Market Description:Intended for those interested in learning the basics of environmental science
Author Biography
Richard T. Wright is Professor Emeritus of Biology at Gordon College in Massachusetts, where he taught environmental science for 28 years. He earned a B.A. from Rutgers University and a M.A. and Ph.D. in biology from Harvard University. For many years Wright received grant support from the National Science Foundation for his work in marine microbiology, and in 1981, he was a founding faculty member of Au Sable Institute of Environmental Studies in Michigan, where he also served as Academic Chairman for 11 years. He is a Fellow of the American Association for the Advancement of Science, Au Sable Institute, and the American Association for the Advancement Scientific Affiliation. In 1996, Wright was appointed a Fulbright Scholar to Daystar University in Kenya, where he taught for tow months. He is a member of many environmental organizations, including The Nature Conservancy, Habitat for Humanity, the Union of Concerned Scientists, the Audubon Society, and a supporting member of the Trustees of Reservations. Wright continues to be actively involved in writing and speaking about the environment. He and his wife Ann recently moved to Byfield, Massachusetts, and they drive a Toyota Camry hybrid vehicle as a means of reducing their environmental impact. Wright spends his spare time hiking, fishing, golfing, and enjoying his three children and seven grandchildren.
Table of Contents
I. FRAMEWORK FOR A SUSTATAINABLE FUTURE
1. Science and the Environment
2. Economics, Politics, and Public Policy
II. ECOLOGY: THE SCIENCE OF ORGANISMS AND THEIR ENVIRONMENT
3. Basic Needs of Living Things
4. Populations and Communities
5. Ecosystems: Energy, Patterns, and Disturbance
6. Wild Species and Biodiversity
7. The Use and Restoration of Ecosystems
III. THE HUMAN POPULATION AND ESSENTIAL RESOURCES
8. The Human Population
9. Population and Development
10. Water: Hydrologic Cycle and Human Use
11. Soil: Foundation for Land Ecosystems
12. The Production and Distribution of Food
13. Pests and Pest Control
IV. HARNESSING ENERGY FOR HUMAN SOCIETY
14. Energy from Fossil Fuels
15. Nuclear Power
16. Renewable Energy
V. POLLUTION AND PREVENTION
17. Environmental Hazards and Human Health
18. Global Climate Change
19. Atmospheric Pollution
20. Water Pollution and Its Prevention
21. Municipal Solid Waste: Disposal and Recovery
22. Hazardous Chemicals: Pollution and Prevention
VI. STEWARDSHIP FOR A SUSTAINABLE FUTURE
23. Sustainable Communities and Lifestyles
Appendix A Environmental
Organizations
Appendix B Units of Measure
Credits
Glossary
Index