Note: Supplemental materials are not guaranteed with Rental or Used book purchases.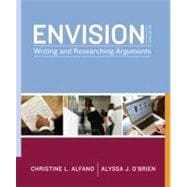 Questions About This Book?
What version or edition is this?
This is the 3rd edition with a publication date of 8/5/2010.
What is included with this book?
The Used copy of this book is not guaranteed to include any supplemental materials. Typically, only the book itself is included.
Summary
A concise and practical guide, Envisionteaches core skills in analysis, argument, and research, using both contemporary examples to capture student interest and key principles from classical rhetoric. #xA0;
Author Biography
Christine Alfano has been a lecturer in the Program in Writing and Rhetoric since 1998. She holds a BA from Brown University and PhD from Stanford and specializes in digital rhetoric. In her recent PWR courses, "The Rhetoric of Gaming," "Networked Rhetoric," "Technologies of iDentity" and "Cultural Interfaces," Christine challenges students to explore how writing in different technological modes (from traditional Microsoft Word documents, to blogs, threaded discussions, social network profiles, video blogs and wikis) transforms the modern practice of communication and how we represent ourselves online and off. In addition, Christine is the technology specialist for the Cross-Cultural Rhetoric Project, a project that allows Stanford PWR students to engage in intercultural collaboration with students from other universities around the world using video conferencing and other modes of communication technologies.
Dr. Alyssa J. O'Brien is a Lecturer in the Program and Writing and Rhetoric at Stanford University, where she directs the Cross-Cultural Rhetoric initiative and publishes scholarship and textbooks on visual rhetoric, writing pedagogy, and global learning. She has been an invited speaker in Asia and Europe on subjects such as global learning, communication for leadership, visual rhetoric, and "mapping a change in writing." In 2006, Alyssa won the Phi Beta Kappa Outstanding Teaching Award, and what she enjoys most is helping people discover their voices in writing of all kinds. Her current first- and second-year writing courses focus on visual rhetoric, cross-cultural rhetoric, globalization, and communication for leadership. Before coming to Stanford in 2001, she taught composition, creative writing, literature, and business writing at Cornell University, the Eastman School of Music, and the University of Rochester.
Table of Contents
I. ANALYSIS AND ARGUMENT
1. Analyzing Texts
Understanding Texts Rhetorically
Understanding Rhetoric
Understanding Visual Rhetoric
Strategies for Analyzing Texts Rhetorically
Analyzing a Comic Strip
Analyzing Editorial Cartoons
Reading: Doug Marlette, "I Was a Tool of Satan"
Practicing Rhetorical Analysis
Selecting Texts for Analysis
Developing a Thesis Statement
Analyzing a Student's Writing Sample
Student Writing: Cyana Chilton, Drugs to Death in a Political Cartoon: An Oversimpliication?
Referring to Images in Your Writing
The Writer's Process
Prewriting Checklist
Prewriting with the Envision Website
Writing Projects
2. Understanding Strategies of Persuasion
Analyzing Ads as Arguments
Reading: Seth Stevenson, "You and Your Shadow: The iPod ads are mesmerizing, but does your iPod think it's better than you?"
Understanding the Rhetorical Appeals
Appeals to Reason: Logos
Appeals to Emotion: Pathos
Appeals to Character and Authority: Ethos
Considering Context: Kairos
The Writer's Process:
Prewriting with the Envision Website
Prewriting Checklist
Writing Projects
3. Composing Arguments
Understanding the Canons of Rhetoric
Invention in Argument
Arrangement in Argument
Using Toulmin to Arrange or Analyze an Argument
Style in Argument
Constructing Persona
Choosing a Rhetorical Stance
Titles, Introductions, and Conclusions
Crafting a Position Paper
Student Writing: Angela Rastegar, Academic Position Paper
Writing Multiple Sides of an Argument
Writing a Synthesis Paper
Reading : Nora Ephron, "The Boston Photographs"
Attending to Arrangements in Argument
The Writer's Process
Prewriting Checklist
Prewriting with the Envision Website
Writing Projects
II. RESEARCH ARGUMENTS
4. Planning and Proposing Research Arguments
Asking Research Questions
Construction a Research Log
Generating Topics and Research Questions
Bringing Your Topic into Focus
Brainstorming Topics Visually
Narrowing Your Topic
Planning Your Research through Writing
Freewriting about Your Research Topic
Student Writing: Bries Deerrose, Research Freewrite
Drafting the Research Hypothesis
Drafting a Research Proposal
Student Writing: Susan Zhang, "Little Photoshop of Horrors?: Digital Manipulation of Media Images"
Best Research Practices
The Writer's Process
Prewriting Checklist
Prewriting with the Envision Website
Writing Projects
5. Finding and Evaluating Research Sources
Visualizing Research
Developing Search Terms
Narrowing Your Search
Primary and Secondary Sources
Finding Primary Sources
Searching for Secondary Sources
Evaluating Your Sources
Evaluating Websites
Evaluating Library and Database Sources
Evaluating Field Research
Evaluating Field Research Sources
Creating a Dialogue with Your Sources
Student Writing: Amanda Johnson, "Dialogue of Sources" (excerpt)
Writing an Annotated Bibliography
The Writer's Process
Prewriting Checklist
Prewriting with the Envision Website
Writing Projects
6. Organizing and Writing Research Arguments
Organizing Your Draft in Visual Form
Learning Outline Strategies
Outlines with Argumentative Subheads
Student Writing: Dexian Cai, "Research Paper—Outline"
Transitions
Spotlight on Your Argument
Analyzing a Published Argument
Reading: Bret Schulte, "Saying It in Cinema"
Integrating Research Sources
Selecting Summary
Picking Paraphrase
Using Direct Quotations
Integrating, Not Inserting, Quotations
Documentation during Integration
Drafting Your Research Argument
Keeping Your Passion
Collaboration through Peer Review
Analyzing a Student Essay About Film
Student Writring: Wan Jin Park, "Draft Research
Paper"
Revising Your Draft
Troubleshooting
Analyzing Student Writing
Student Writing: Wan Jin Park, "Balancing the Soft and the Passionate
Rhetorician: Gore's Dynamic Rhetoric in His Environmental Leadership"
The Writer's Process
Prewriting Checklist
Prewriting with the Envision Website
Writing Projects
7. Avoiding Plagiarism and Documenting Sources
Rhetorical Imitation and Intellectual Property: Understanding Plagiarism
Avoiding Unintentional Plagiarism
Student Writing: Michael Rosenberg, "Research Log"
Citing Sources for Downloaded Images and Multimedia
Understanding Documentation Style
In-text Citations: Documentation as Cross-Referencing
Using Notes for Documentation
MLA-Style Works Cited Lists
Documentation for Print and Online Sources
Documentation for Visual, Audio, and Multimedia Sources
Student Paper in MLA Style
Student Writing: Stephanie Parker, "Soompi and the "Honorary Asian": Shifting Identities in the
Digital Age" (excerpt)
The Writer's Process
Prewriting with the Envision Website
Writing Projects
III. DESIGN AND DELIVERY
8. Designing Arguments
Understanding Document Design and Decorum
Understanding Academic Writing Conventions
Integrating Images in Academic Writing
Design of Academic Papers
Student Writing: Allison Woo, "Slaying the Dragon" (excerpt)
Tools of Design for Academic Audiences
Composing an Abstract
Student Writing: David Pinner, "Research Abstract"
Shaping Your Bio
Student Writing: Molly Cunningham, Bio
Student Writing: David Pinner, Bio
Combining Visual and Verbal Design Elements
Student Writing: Ashley Mullen, Newsletter Designing Arguments for Public Audiences
Student Writing: Jonathan Denby and Chris Fedor, "You are Killing Us with Your Kindness!"
Formatting Writing for Audiences
Reading: London Greenpeace: "Press Release: What's Wrong with the Body Shop?"
Designing Visual Arguments
Crafting an Op-Ad
Student Writing: Carrie Tsosie, "Alternative Energy for Whom?"
Producing a Photo Essay
Student Writing: Ye Yuan, "Looking through the Lens"
Composing a Website
Making a Multimedia Montage
Student Writing: Yang Shi, Photo Montage
The Writer's Process
Prewriting Checklist
Prewriting with the Envision Website
Writing Projects
9. Delivering Presentations
Understanding the Branches of Oratory
Audience, Purpose, and Persona
Transforming Research into a Presentation
Selection
Organization
Translation
Transformation into Action
Student Writing: Susan Zhang, "Script for a Proposal Presentation"
Considering Strategies of Design
Using Visuals Rhetorically
Writing for Poster Sessions
Writing for Multimedia Presentations
Working with Slideshows
Beyond the Slideshow
Choosing Methods of Delivery
Embodied Rhetoric
Practicing Your Presentation
Anticipating Problems and the Question-and-Answer Session
Documenting Your Presentation
The Writer's Process
Prewriting Checklist
Prewriting with the Envision Website
Writing Projects
Works Cited
Credits
Index