Note: Supplemental materials are not guaranteed with Rental or Used book purchases.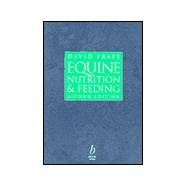 Summary
In its second edition, Equine Nutrition and Feeding, has been extensively updated, revised, and rewritten. It is now more practical by setting out the implications of new research or feeding programs. As before, the book covers every aspect of nutrition needed by breeding, growing, and working horses. It details how food is digested, how nutrients are utilized, and the basis for scientifically derived nutrient and dietary requirements. Not only does the book cover pasture management procedures, case studies illustrating dietary problems, and a comprehensive toxicology of grazing horses, but it discusses nutritional requirements for each class of stock, including revised systems for energy and protein requirements, as well. Helpful tables, diagrams, and illustrations show nutrient characteristics of many common feeds.
Author Biography
David Frape PhD, CBiol, FIBiol, FRCPath has published numerous scientific papers and articles. He is also a scientific consultant and member of the Editorial Board of Equine Veterinary Journal.
Table of Contents
Introduction to the Second Edition
p. vii
Acknowledgments
p. viii
List of Abbreviations
p. ix
The Digestive System
p. 1
Utilization of the Products of Dietary Energy and Protein
p. 26
The Roles of Major Minerals and Trace Elements
p. 43
Vitamin and Water Requirements
p. 72
Ingredients of Horse Feeds
p. 96
Estimating Nutrient Requirements
p. 157
Feeding the Breeding Mare, Foal and Stallion
p. 210
Growth
p. 240
Feeding for Performance and the Metabolism of Nutrients During Exercise
p. 259
Grassland and Pasture Management
p. 319
Pests and Ailments Related to Grazing Area, Diet and Housing
p. 371
Laboratory Methods for Assessing Nutritional Status and Some Dietary Options
p. 427
Example Calculation of Dietary Composition Required for a 400-kg Mare in the Fourth Month of Lactation
p. 445
Common Dietary Errors in Studs and Racing Stables
p. 449
Chemical Composition of Feedstuffs Used for Horses
p. 453
Estimates of Base Excess of a Diet and of Blood Plasma
p. 461
Glossary
p. 463
References and Bibliography
p. 501
Conclusion
p. 549
Index
p. 550
Table of Contents provided by Syndetics. All Rights Reserved.