Note: Supplemental materials are not guaranteed with Rental or Used book purchases.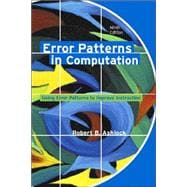 Error Patterns in Computation: Using Error Patterns to Improve Instruction
ISBN13:
9780131198869
by
Ashlock, Robert B.
Related Products
Summary
Reflecting many of the concerns of NCTM's Principles and Standards for School Mathematics, the ninth edition of Error Patterns in Computation is the only book available that assists teachers with identifying typical error patterns, receiving feedback on their diagnosis, and gaining insight regarding why a child may have adopted an incorrect procedure. Two major causes of error patterns - over-generalizing and over-specializing - are discussed. Simple and well organized, this book explains common errors students make in computation in every math operation and with whole numbers, rational numbers, geometry and algebra. This book is an ideal resource for teachers of mathematics in education or special education at the elementary or middle school level.
Table of Contents
| | |
| --- | --- |
| | PART ONE DIAGNOSIS AND INSTRUCTION |

1
(98)

| | |
| --- | --- |
| | Number and Operations: Computation |

3
(9)

| | |
| --- | --- |
| | Instruction in Mathematics |

3
(1)
4
(3)
7
(1)

| | |
| --- | --- |
| | Conceptual Learning and Procedural Learning |

7
(2)

| | |
| --- | --- |
| | Error Patterns in Computation |

9
(1)

| | |
| --- | --- |
| | Paper-and-Pencil Procedures Today |

9
(3)

| | |
| --- | --- |
| | Diagnosing Misconceptions and Error Patterns in Computation |

12
(33)

| | |
| --- | --- |
| | Learning Misconceptions and Error Patterns |

15
(6)
18
(2)
20
(1)

| | |
| --- | --- |
| | Encouraging Self-Assessment |

21
(2)
23
(12)

| | |
| --- | --- |
| | Getting at a Student's Thinking |

26
(2)

| | |
| --- | --- |
| | Observing Student Behavior |

28
(1)

| | |
| --- | --- |
| | Recording Student Behavior |

29
(1)

| | |
| --- | --- |
| | Watching Language: Ours and Theirs |

30
(2)

| | |
| --- | --- |
| | Probing for Key Understandings |

32
(1)

| | |
| --- | --- |
| | Designing Questions and Tasks |

33
(2)

| | |
| --- | --- |
| | Using Graphic Organizers for Diagnosis |

35
(2)
37
(4)

| | |
| --- | --- |
| | Guiding Diagnosis in Computation |

41
(1)

| | |
| --- | --- |
| | Reflecting on Diagnosis of Misconceptions and Error Patterns |

42
(3)

| | |
| --- | --- |
| | Providing Data-Driven Instruction in Computation |

45
(54)
46
(1)

| | |
| --- | --- |
| | Helping Students Understand Big Ideas |

47
(4)
48
(2)
50
(1)

| | |
| --- | --- |
| | Other Concepts and Principles |

51
(1)

| | |
| --- | --- |
| | Using Models and Concrete Materials |

51
(2)

| | |
| --- | --- |
| | Helping Students Understand Operations |

53
(2)

| | |
| --- | --- |
| | Attaining Computational Fluency |

55
(1)

| | |
| --- | --- |
| | Teaching Mental Computation |

56
(1)

| | |
| --- | --- |
| | Teaching Students to Estimate |

57
(2)

| | |
| --- | --- |
| | Teaching Students to Use Calculators |

59
(2)

| | |
| --- | --- |
| | Teaching Paper-and-Pencil Procedures |

61
(8)

| | |
| --- | --- |
| | Instruction in Grades 1--2 |

61
(2)

| | |
| --- | --- |
| | The Role of Manipulatives |

63
(1)

| | |
| --- | --- |
| | Developmental Instruction |

63
(4)
67
(1)

| | |
| --- | --- |
| | Students with Learning Disabilities |

67
(2)

| | |
| --- | --- |
| | Developing Mathematical Vocabulary |

69
(2)

| | |
| --- | --- |
| | Talking and Writing Mathematics |

71
(3)

| | |
| --- | --- |
| | Using Graphic Organizers for Instruction |

74
(5)

| | |
| --- | --- |
| | Understanding and Recalling Basic Number Combinations |

79
(5)

| | |
| --- | --- |
| | Using Alternative Algorithms |

84
(2)

| | |
| --- | --- |
| | Addition of Whole Numbers: Hutchings's Low-Stress Method |

85
(1)

| | |
| --- | --- |
| | Subtraction of Whole Numbers: The Equal Additions (or European-Latino) Method |

85
(1)

| | |
| --- | --- |
| | Subtraction of Rational Numbers: The Equal Additions Method |

86
(1)
86
(3)

| | |
| --- | --- |
| | Using Portfolios to Monitor Progress During Instruction |

89
(1)
90
(1)
91
(3)
91
(1)
92
(1)

| | |
| --- | --- |
| | Teach Concepts and Skills |

92
(1)
92
(1)
93
(1)
94
(1)

| | |
| --- | --- |
| | Reflecting on Instruction in Computation |

94
(5)

| | |
| --- | --- |
| | PART TWO HELPING STUDENTS WHO HAVE LEARNED ERROR PATTERNS |

99
(128)

| | |
| --- | --- |
| | Whole Numbers: Addition and Subtraction |

101
(19)
101
(7)
108
(11)
119
(1)

| | |
| --- | --- |
| | Whole Numbers: Multiplication and Division |

120
(17)
120
(6)
126
(10)
136
(1)

| | |
| --- | --- |
| | Fractions and Decimals: Concepts and Equivalence |

137
(14)
137
(5)
142
(7)
149
(2)

| | |
| --- | --- |
| | Fractions and Decimals: Addition and Subtraction |

151
(20)
151
(8)
159
(10)
169
(2)

| | |
| --- | --- |
| | Fractions and Decimals: Multiplication and Division |

171
(15)
172
(5)
177
(8)
185
(1)
186
(8)
186
(3)
189
(4)
193
(1)
194
(19)
194
(10)
204
(8)
212
(1)
213
(7)
213
(2)
215
(4)
219
(1)
220
(7)
220
(3)
223
(3)
226
(1)
227
(5)
232
(40)
232
(4)
236
(8)

| | |
| --- | --- |
| | Appendix A Selected Student Papers and Key |

244
(9)

| | |
| --- | --- |
| | Appendix B Research on Errors in Computation |

253
(6)

| | |
| --- | --- |
| | Appendix C Game-Like Activities with Base Blocks |

259
(7)

| | |
| --- | --- |
| | Appendix D Sample Activities for Cooperative Groups |

266
(6)

| | |
| --- | --- |
| | Appendix E A Diagnostic Interview |

272