Note: Supplemental materials are not guaranteed with Rental or Used book purchases.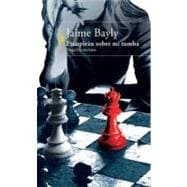 Escupiran sobre mi tumba / They'll Spit on my Grave
ISBN13:
9781614355960
by
Bayly, Jaime
Santillana USA Pub Co Inc
Summary
What awaits writer-turned-murderer Javier Garcés in Buenos Aires? First, there is the city with its cobbled streets, its cemetery and river-a place where he feels right at home, where he is neither a foreigner nor an intruder. Then, there are all those Argentines with their endless chatter, their arrogance and charm, their loud-mouthed chaos. Finally, and to his heartfelt regret, there are still some scores to be settled. What choice is there? If he wants to live he has to take the life of others, as he'll do to certain characters he either hates or despises.The vain bookstore owner, a famous and belligerent radio and television reporter, the handsome owner of a high-end restaurant, a talented and dissolute actor, and a hateful neighbor are part of Javier Garcés' Argentine selection. While he plots and carries out his missions in wild and appalling episodes, the bloody thread that has dogged him since Lima is about to catch up to him.With Escupirán sobre mi tumba, Jaime Bayly concludes the Morirás mañana trilogy. Here ends the long and gruesome journey that began in Lima, passed through Chile and culminated in Buenos Aires. A bloody expedition in which our main character finished off his enemies while painting a vivid fresco of the largest cities in the region, a fresco that gazes past architecture and geography to portray the soul of its people.