Note: Supplemental materials are not guaranteed with Rental or Used book purchases.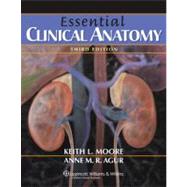 Questions About This Book?
What version or edition is this?
This is the 3rd edition with a publication date of 3/21/2006.
What is included with this book?
The Used copy of this book is not guaranteed to include any supplemental materials. Typically, only the book itself is included.
Summary
Essential Clinical Anatomy, Third Edition presents the core anatomical concepts found in Clinically Oriented Anatomy, Fifth Edition in a concise, easy-to-read, and student-friendly format. This streamlined book is an excellent review for the larger text and an ideal primary text for health professions courses with brief coverage of anatomy. This edition features new full-color surface anatomy photographs and new diagnostic images. A new design makes the book visually appealing and easier to navigate. Accompanying the book is an Online Student Resource Center, which includes interactive clinical cases, USMLE-style review questions, and more.
Table of Contents
Preface
vii
Acknowledgments
ix

| | |
| --- | --- |
| | Introduction to Clinical Anatomy |

1
(660)

| | |
| --- | --- |
| | Approaches to Studying Anatomy |

2
(1)

| | |
| --- | --- |
| | Anatomicomedical Terminology |

3
(2)
3
(1)
3
(1)

| | |
| --- | --- |
| | Terms of Relationship and Comparison |

3
(1)
4
(1)
5
(1)
5
(1)
5
(2)
7
(9)
11
(3)
14
(2)
16
(10)
16
(4)
20
(1)
20
(6)
26
(2)
26
(1)
27
(1)
28
(1)
28
(2)
30
(14)
31
(1)

| | |
| --- | --- |
| | Peripheral Nervous System |

31
(3)
34
(1)
34
(3)

| | |
| --- | --- |
| | Structure and Components of a Typical Spinal Nerve |

37
(1)

| | |
| --- | --- |
| | Sympathetic Visceral Motor Innervation |

37
(5)

| | |
| --- | --- |
| | Parasympathetic Visceral Motor Innervation |

42
(2)
44
(5)
44
(1)
44
(1)
44
(1)

| | |
| --- | --- |
| | Magnetic Resonance Imaging |

45
(1)

| | |
| --- | --- |
| | Positron Emission Tomography |

45
(4)
49
(68)
50
(15)

| | |
| --- | --- |
| | Skeleton of Thoracic Wall |

50
(4)
54
(1)
54
(2)

| | |
| --- | --- |
| | Movements of Thoracic Wall |

56
(1)
56
(4)
60
(1)
61
(4)

| | |
| --- | --- |
| | Surface Anatomy of Thoracic Wall |

65
(5)

| | |
| --- | --- |
| | Vasculature of Thoracic Wall |

67
(1)
68
(2)

| | |
| --- | --- |
| | Thoracic Cavity and Viscera |

70
(4)
70
(4)

| | |
| --- | --- |
| | Surface Anatomy of Pleurae and Lungs |

74
(28)
80
(2)
82
(1)
82
(1)
83
(19)
102
(1)
102
(7)
109
(4)

| | |
| --- | --- |
| | Medical Imaging of Thorax |

113
(4)
117
(86)
118
(8)

| | |
| --- | --- |
| | Anterolateral Abdominal Wall |

118
(1)

| | |
| --- | --- |
| | Fascia of Anterolateral Abdominal Wall |

119
(1)

| | |
| --- | --- |
| | Muscles of Anterolateral Abdominal Wall |

119
(6)

| | |
| --- | --- |
| | Nerves of Anterolateral Abdominal Wall |

125
(1)

| | |
| --- | --- |
| | Vessels of Anterolateral Abdominal Wall |

125
(1)

| | |
| --- | --- |
| | Surface Anatomy of Anterolateral Abdominal Wall |

126
(9)

| | |
| --- | --- |
| | Internal Surface of Anterolateral Abdominal Wall |

128
(1)
128
(7)

| | |
| --- | --- |
| | Peritoneum and Peritoneal Cavity |

135
(6)

| | |
| --- | --- |
| | Peritoneal Vessels and Nerves |

137
(1)
138
(2)

| | |
| --- | --- |
| | Subdivisions of Peritoneal Cavity |

140
(1)
141
(8)
142
(1)
143
(6)

| | |
| --- | --- |
| | Surface Anatomy of Stomach |

149
(12)
150
(5)
155
(4)
159
(1)
160
(1)

| | |
| --- | --- |
| | Surface Anatomy of Spleen and Pancreas |

161
(5)
163
(3)
166
(13)

| | |
| --- | --- |
| | Biliary Ducts and Gallbladder |

170
(4)

| | |
| --- | --- |
| | Portal Vein and Portal-Systemic Anastomoses |

174
(1)

| | |
| --- | --- |
| | Kidneys, Ureters, and Suprarenal Glands |

174
(5)

| | |
| --- | --- |
| | Surface Anatomy of Kidneys and Ureters |

179
(6)

| | |
| --- | --- |
| | Summary of Innervation of Abdominal Viscera |

180
(5)
185
(5)
185
(3)

| | |
| --- | --- |
| | Vasculature and Nerves of Diaphragm |

188
(2)
190
(7)

| | |
| --- | --- |
| | Fascia of Posterior Abdominal Wall |

190
(1)

| | |
| --- | --- |
| | Muscles of Posterior Abdominal Wall |

191
(1)

| | |
| --- | --- |
| | Nerves of Posterior Abdominal Wall |

191
(1)

| | |
| --- | --- |
| | Vasculature of Posterior Abdominal Wall |

192
(2)

| | |
| --- | --- |
| | Lymphatics of Posterior Abdominal Wall |

194
(3)

| | |
| --- | --- |
| | Medical Imaging of Abdomen |

197
(6)
203
(68)
204
(20)
204
(2)

| | |
| --- | --- |
| | Joints and Ligaments of Pelvic Girdle |

206
(4)

| | |
| --- | --- |
| | Peritoneum and Peritoneal Cavity of Pelvis |

210
(1)

| | |
| --- | --- |
| | Walls and Floor of Pelvic Cavity |

210
(4)
214
(1)
215
(5)

| | |
| --- | --- |
| | Pelvic Arteries and Veins |

220
(4)
224
(24)
224
(6)

| | |
| --- | --- |
| | Male Internal Genital Organs |

230
(5)

| | |
| --- | --- |
| | Female Internal Genital Organs |

235
(9)
244
(4)
248
(21)

| | |
| --- | --- |
| | Fasciae and Pouches of Urogenital Triangle |

249
(4)

| | |
| --- | --- |
| | Features of Anal Triangle |

253
(6)
259
(4)
263
(6)

| | |
| --- | --- |
| | Medical Imaging of Pelvis and Perineum |

269
(2)
271
(42)
272
(9)

| | |
| --- | --- |
| | Curvatures of Vertebral Column |

272
(2)

| | |
| --- | --- |
| | Structure and Function of Vertebrae |

274
(1)

| | |
| --- | --- |
| | Regional Characteristics of Vertebrae |

275
(6)

| | |
| --- | --- |
| | Surface Anatomy of Vertebral Column |

281
(11)

| | |
| --- | --- |
| | Joints of Vertebral Column |

283
(5)

| | |
| --- | --- |
| | Movements of Vertebral Column |

288
(2)

| | |
| --- | --- |
| | Vasculature of Vertebral Column |

290
(1)

| | |
| --- | --- |
| | Nerves of Vertebral Column |

290
(2)
292
(7)

| | |
| --- | --- |
| | Structure of Spinal Nerves |

293
(1)

| | |
| --- | --- |
| | Spinal Meninges and Cerebrospinal Fluid |

293
(2)

| | |
| --- | --- |
| | Vasculature of Spinal Cord and Spinal Nerve Roots |

295
(4)
299
(8)
299
(1)
299
(4)

| | |
| --- | --- |
| | Suboccipital and Deep Neck Muscles |

303
(4)

| | |
| --- | --- |
| | Surface Anatomy of the Back Muscles |

307
(3)
310
(3)
313
(88)
315
(11)
315
(1)
315
(4)
319
(1)
319
(1)
319
(2)

| | |
| --- | --- |
| | Tarsus, Metatarsus, and Phalanges |

321
(5)

| | |
| --- | --- |
| | Surface Anatomy of Lower Limb Bones |

326

| | |
| --- | --- |
| | Fascia, Vessels, and Nerves of Lower Limb |

324
(8)

| | |
| --- | --- |
| | Venous Drainage of Lower Limb |

328
(2)

| | |
| --- | --- |
| | Lymphatic Drainage of Lower Limb |

330
(1)

| | |
| --- | --- |
| | Cutaneous Innervation of Lower Limb |

330
(2)
332
(5)
332
(2)
334
(3)

| | |
| --- | --- |
| | Neurovascular Structures and Relationships in Anteromedial Thigh |

337
(3)

| | |
| --- | --- |
| | Femoral Triangle and Adductor Canal |

337
(1)
338
(1)
338
(2)
340
(1)
340
(1)

| | |
| --- | --- |
| | Obturator Artery and Nerve |

340
(1)

| | |
| --- | --- |
| | Gluteal Region and Posterior Thigh |

340
(15)
343
(1)
343
(1)
343
(2)

| | |
| --- | --- |
| | Nerves of Gluteal Region and Posterior Thigh |

345
(2)

| | |
| --- | --- |
| | Vasculature of Gluteal Region and Posterior Thigh |

347
(8)
355
(1)

| | |
| --- | --- |
| | Fascia of Popliteal Fossa |

355
(1)

| | |
| --- | --- |
| | Vessels in Popliteal Fossa |

355
(1)

| | |
| --- | --- |
| | Nerves in Popliteal Fossa |

355
(1)
356
(10)

| | |
| --- | --- |
| | Anterior Compartment of Leg |

356
(4)

| | |
| --- | --- |
| | Lateral Compartment of Leg |

360
(1)

| | |
| --- | --- |
| | Posterior Compartment of Leg |

360
(6)
366
(10)
368
(1)
368
(1)
369
(4)
373
(1)
373
(3)

| | |
| --- | --- |
| | Lymphatic Drainage of Foot |

376
(1)
376
(1)
376
(22)
376
(4)
380
(6)
386
(1)
386
(6)
392
(3)
395
(3)

| | |
| --- | --- |
| | Medical Imaging of Lower Limb |

398
(3)
401
(90)
402
(8)
402
(4)
406
(1)
406
(2)
408
(2)

| | |
| --- | --- |
| | Surface Anatomy of Upper Limb Bones |

410
(2)

| | |
| --- | --- |
| | Superficial Structures of Upper Limb |

412
(5)
412
(2)

| | |
| --- | --- |
| | Cutaneous Nerves of Upper Limb |

414
(2)

| | |
| --- | --- |
| | Superficial Vessels of Upper Limb |

416
(1)

| | |
| --- | --- |
| | Anterior Axioappendicular Muscles |

417
(1)

| | |
| --- | --- |
| | Posterior Axioappendicular and Scapulohumeral Muscles |

418
(6)

| | |
| --- | --- |
| | Superficial Posterior Axioappendicular Muscles |

419
(1)

| | |
| --- | --- |
| | Deep Posterior Axioappendicular Muscles |

420
(3)
423
(1)

| | |
| --- | --- |
| | Surface Anatomy of Pectoral and Scapular Regions (Posterior Axioappendicular and Scapulohumeral Muscles) |

424
423
(13)
425
(1)
426
(3)
429
(7)
436
(7)
436
(3)

| | |
| --- | --- |
| | Arteries and Veins of Arm |

439
(2)
441
(1)
442
(1)

| | |
| --- | --- |
| | Surface Anatomy of Arm and Cubital Fossa |

443
442
(14)
442
(9)
451
(5)

| | |
| --- | --- |
| | Arteries and Veins of Forearm |

456
(1)
456
(13)
456
(3)
459
(3)

| | |
| --- | --- |
| | Flexor Tendons of Extrinsic Muscles |

462
(1)

| | |
| --- | --- |
| | Arteries and Veins of Hand |

462
(3)
465
(4)

| | |
| --- | --- |
| | Surface Anatomy of Forearm and Hand |

469
(2)
471
(16)
471
(1)
472
(1)
472
(6)
478
(1)

| | |
| --- | --- |
| | Proximal Radioulnar Joint |

479
(5)
484
(1)
485
(2)

| | |
| --- | --- |
| | Medical Imaging of Upper Limb |

487
(4)
491
(92)
492
(6)
492
(1)

| | |
| --- | --- |
| | Lateral Aspect of Cranium |

492
(2)

| | |
| --- | --- |
| | Occipital (Posterior) Aspect of Cranium |

494
(1)

| | |
| --- | --- |
| | Superior Aspect of Cranium |

495
(1)

| | |
| --- | --- |
| | External Surface of Cranial Base |

495
(3)

| | |
| --- | --- |
| | Internal Surface of Cranial Base |

498
(1)
498
(1)
499
(8)
500
(7)

| | |
| --- | --- |
| | Leptomeninx (Pia and Arachnoid Mater) |

507
(1)
507
(1)
507
(7)
508
(1)

| | |
| --- | --- |
| | Ventricular System of Brain |

509
(3)
512
(2)
514
(10)
514
(1)
514
(4)

| | |
| --- | --- |
| | Superficial Vasculature of Face and Scalp |

518
(4)
522
(2)
524
(15)

| | |
| --- | --- |
| | Eyelids and Lacrimal Apparatus |

525
(4)
529
(3)

| | |
| --- | --- |
| | Extraocular Muscles of Orbit |

532
(4)
536
(1)
536
(3)
539
(7)
539
(1)
539
(7)
546
(1)
547
(13)
547
(1)
547
(1)
548
(1)
549
(4)
553
(5)
558
(2)
560
(2)
562
(6)
562
(1)
563
(4)
567
(1)
568
(10)
568
(3)
571
(2)
573
(5)
578
(5)
583
(50)
584
(2)

| | |
| --- | --- |
| | Cervical Subcutaneous Tissue and Platysma |

584
(1)
584
(2)

| | |
| --- | --- |
| | Superficial Structures of Neck: Cervical Regions |

586
(16)

| | |
| --- | --- |
| | Sternocleidomastoid Region |

586
(2)

| | |
| --- | --- |
| | Posterior Cervical Region |

588
(1)
588
(6)
594
(8)

| | |
| --- | --- |
| | Surface Anatomy of Cervical Regions and Triangles of Neck |

602
(6)
603
(1)
603
(1)
603
(5)
608
(6)

| | |
| --- | --- |
| | Endocrine Layer of Cervical Viscera |

608
(3)

| | |
| --- | --- |
| | Respiratory Layer of Cervical Viscera |

611
(3)

| | |
| --- | --- |
| | Surface Anatomy of Larynx |

614
(13)

| | |
| --- | --- |
| | Alimentary Layer of Cervical Viscera |

620
(7)
627
(3)
630
(3)
633
(28)

| | |
| --- | --- |
| | Overview of Cranial Nerves |

634
(1)
634
(5)
639
(1)

| | |
| --- | --- |
| | Oculomotor Nerve (CN III) |

639
(6)
645
(1)
645
(2)
647
(1)
648
(4)
648
(1)

| | |
| --- | --- |
| | Parasympathetic (Visceral Motor) |

648
(1)
648
(1)
648
(4)

| | |
| --- | --- |
| | Vestibulocochlear Nerve (CN VIII) |

652
(1)

| | |
| --- | --- |
| | Glossopharyngeal Nerve (CN IX) |

652
(1)
652
(1)

| | |
| --- | --- |
| | Parasympathetic (Visceral Motor) |

652
(1)
652
(1)
653
(1)
653
(3)

| | |
| --- | --- |
| | Spinal Accessory Nerve (CN XI) |

656
(3)

| | |
| --- | --- |
| | Hypoglossal Nerve (CN XII) |

659
(2)
Figure Credits
661
(6)
References and Suggested Readings
667
(2)
Index
669