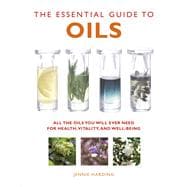 The Essential Guide to Oils All the Oils You Will Ever Need for Health, Vitality, and Well-Being
by
Harding, Jennie
This title is currently not available.
Summary
Whether in an aromatherapy bath or a cold compress, essential oils offer life-enhancing benefits, and this stunning book shows how to incorporate them into our daily lives. An invaluable directory covers 100 oils, with each information-packed entry featuring a color photo of the plant from which the oil derives; ideas for using the oil to benefit mind and body; and key points about the oil highlighted for at-a-glance reading.
Author Biography
Jennie Harding, BA, TIDHA, MIPTI, HNC has over 17 years' experience as a specialist and healer working with essential oils, and was Senior Essential Oil tutor at the Tisserand Institute in London for 13 years. She has written books on subjects ranging from aromatherapy, herbs, and incense to stress management and natural beauty.