Note: Supplemental materials are not guaranteed with Rental or Used book purchases.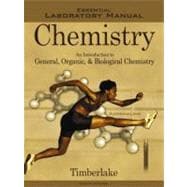 Essential Laboratory Manual to Accompany Chemistry : An Introduction to General, Organic, and Biological Chemistry
ISBN13:
9780805330069
by
Timberlake, Karen C.
Related Products
Summary
Drawing from the successful Laboratory Manual to accompany Chemistry: An Introduction to General, Organic, and Biological Chemistry, this lab manual includes 25 experiments that have been revised and updated. For college instructors and students, or anyone interested in general, organic, or biological chemistry.
Table of Contents
Working Safely in the Laboratory.
1. Measurement and Significant Figures.
2. Conversion Factors in Calculations.
3. Density and Specific Gravity.
4. Atomic Structure and Electron Arrangement.
5. Nuclear Radiation.
6. Compounds and Their Formulas.
7. Chemical Reactions and Equations.
8. Moles and Chemical Formulas.
9. Energy and Matter.
10. Gas Laws: Boyle's and Charles'.
11. Partial Pressures of Oxygen, Nitrogen, and Carbon Dioxide.
12. Solutions.
13. Testing for Cations and Anions.
14. Solutions, Colloids, and Suspensions.
15. Acids and Bases.
16. Properties and Structures of Alkanes.
17. Alcohols, Aldehydes, and Ketones.
18. Carboxylic Acids and Esters.
19. Carbohydrates.
20. Lipids.
21. Saponifications and Soaps.
22. Amines and Amino Acids.
23. Peptides and Proteins.
24. Enzymes.
25. DNA Components and Extraction.
Appendix: Materials and Solutions.