Note: Supplemental materials are not guaranteed with Rental or Used book purchases.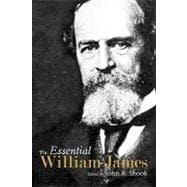 Summary
This well-organized compilation covers the primary topics for which James is still closely studied: the nature of experience; the functions of the mind; the criteria for knowledge; the definition of truth; the ethical life; and the religious life.
Author Biography
John R. Shook is the author of Dewey's Empirical Theory of Knowledge and Reality and Pragmatism: An Annotated Bibliography, 1898-1940. He is also the editor of Exuberant Skepticism by Paul Kurtz, The Future of Naturalism (with Paul Kurtz), F. C. S. Schiller on Pragmatism and Humanism (with Hugh P. McDonald), Pragmatic Naturalism and Realism, and other works. He is the director of education and a senior research fellow at the Center for Inquiry Transnational and a research associate in philosophy at the University at Buffalo.
Table of Contents
Introduction
p. 7
Experience and Mind
What is an Emotion? (1884)
p. 47
The Stream of Consciousness (1892)
p. 67
The Self (1892)
p. 89
Does 'Consciousness' Exist? (1904)
p. 105
A World of Pure Experience (1904)
p. 123
How Two Minds Can Know One Thing (1905)
p. 147
Knowledge and Action
The Will to Believe (1897)
p. 157
The Function of Cognition (1909)
p. 179
What Pragmatism Means (1907)
p. 197
Pragmatism's Conception of Truth (1907)
p. 215
The Pragmatist Account of Truth and Its Misunderstanders (1909)
p. 233
The Meaning of the Word Truth (1909)
p. 251
Ethics and Religion
The Dilemma of Determinism (1897)
p. 255
The Moral Philosopher and the Moral Life (1897)
p. 283
The Energies of Men (1907)
p. 307
The Varieties of Religious Experience: Philosophy (1902)
p. 325
The Varieties of Religious Experience: Conclusions (1902)
p. 345
Pragmatism and Religion (1907)
p. 365
Notes
p. 381
Sources and Editing Methods
p. 411
Table of Contents provided by Ingram. All Rights Reserved.