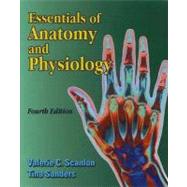 List Price: $39.95
Usually Ships in 3-5 Business Days
Questions About This Book?
What version or edition is this?
This is the 4th edition with a publication date of 12/1/2002.
What is included with this book?
The Used copy of this book is not guaranteed to inclue any supplemental materials. Typically, only the book itself is included.
Summary
Rely on this bestselling textbook and its accompanying workbook to provide classroom-ready learning for all nursing and allied health students.
Table of Contents
| | |
| --- | --- |
| | Organization and General Plan of the Body |

1
(18)
4
(3)
7
(3)

| | |
| --- | --- |
| | Terminology and General Plan of the Body |

10
(9)
19
(23)
22
(1)
23
(1)
23
(3)
26
(1)

| | |
| --- | --- |
| | Inorganic Compounds of Importance |

26
(5)

| | |
| --- | --- |
| | Organic Compounds of Importance |

31
(11)
42
(20)
44
(3)

| | |
| --- | --- |
| | Cellular Transport Mechanisms |

47
(3)

| | |
| --- | --- |
| | The Genetic Code and Protein Synthesis |

50
(3)
53
(5)
58
(4)
62
(19)
64
(4)
68
(5)
73
(2)
75
(1)
75
(1)
76
(5)
81
(16)
84
(9)
93
(1)

| | |
| --- | --- |
| | Aging and the Integumentary System |

93
(4)
97
(31)

| | |
| --- | --- |
| | Functions of the Skeleton |

100
(1)
100
(1)
100
(2)
102
(1)

| | |
| --- | --- |
| | Factors That Affect Bone Growth and Maintenance |

102
(4)
106
(14)
120
(4)

| | |
| --- | --- |
| | Aging and the Skeletal System |

124
(4)
128
(26)
130
(1)
131
(1)
132
(1)

| | |
| --- | --- |
| | Energy Sources for Muscle Contraction |

133
(1)

| | |
| --- | --- |
| | Muscle Fiber---Microscopic Structure |

134
(1)

| | |
| --- | --- |
| | Mechanism of Contraction---Sliding Filament Theory |

135
(4)

| | |
| --- | --- |
| | Responses to Exercise---Maintaining Homeostasis |

139
(1)

| | |
| --- | --- |
| | Aging and the Muscular System |

140
(1)

| | |
| --- | --- |
| | Major Muscles of the Body |

140
(14)
154
(32)
156
(1)
156
(4)
160
(1)
161
(1)
161
(1)
161
(5)
166
(8)

| | |
| --- | --- |
| | Meninges and Cerebrospinal Fluid |

174
(1)
174
(1)

| | |
| --- | --- |
| | The Autonomic Nervous System |

174
(7)

| | |
| --- | --- |
| | Aging and the Nervous System |

181
(5)
186
(24)
188
(1)

| | |
| --- | --- |
| | Characteristics of Sensations |

188
(1)
189
(1)
190
(1)
190
(1)
190
(2)
192
(1)
192
(5)
197
(8)
205
(1)
205
(5)
210
(26)
212
(1)

| | |
| --- | --- |
| | Regulation of Hormone Secretion |

212
(2)
214
(3)
217
(3)
220
(1)
221
(2)
223
(6)
229
(1)
230
(1)
230
(1)

| | |
| --- | --- |
| | Mechanisms of Hormone Action |

231
(1)

| | |
| --- | --- |
| | Aging and the Endocrine System |

232
(4)
236
(22)
238
(1)
238
(2)
240
(18)
258
(17)

| | |
| --- | --- |
| | Location and Pericardial Membranes |

260
(1)

| | |
| --- | --- |
| | Chambers---Vessels and Valves |

260
(3)
263
(1)

| | |
| --- | --- |
| | Cardiac Cycle and Heart Sounds |

264
(1)

| | |
| --- | --- |
| | Cardiac Conduction Pathway |

264
(4)
268
(1)
269
(1)
270
(1)
270
(5)
275
(29)
278
(1)
278
(1)
279
(2)
281
(10)
291
(1)
292
(4)

| | |
| --- | --- |
| | Regulation of Blood Pressure |

296
(3)

| | |
| --- | --- |
| | Aging and the Vascular System |

299
(5)

| | |
| --- | --- |
| | The Lymphatic System and Immunity |

304
(20)
306
(1)
306
(1)
306
(2)
308
(1)
308
(3)
311
(8)

| | |
| --- | --- |
| | Aging and the Lymphatic System |

319
(5)
324
(24)

| | |
| --- | --- |
| | Divisions of the Respiratory System |

326
(3)
329
(4)
333
(1)

| | |
| --- | --- |
| | Transport of Gases in the Blood |

334
(3)
337
(1)

| | |
| --- | --- |
| | Regulation of Respiration |

337
(5)

| | |
| --- | --- |
| | Respiration and Acid-Base Balance |

342
(1)

| | |
| --- | --- |
| | Aging and the Respiratory System |

343
(5)
348
(26)

| | |
| --- | --- |
| | Divisions of the Digestive System |

350
(1)
350
(1)
350
(3)
353
(1)
353
(1)

| | |
| --- | --- |
| | Structural Layers of the Alimentary Tube |

353
(3)
356
(2)
358
(1)
359
(1)
359
(1)
359
(2)

| | |
| --- | --- |
| | Completion of Digestion and Absorption |

361
(1)
362
(3)

| | |
| --- | --- |
| | Other Functions of the Liver |

365
(5)

| | |
| --- | --- |
| | Aging and the Digestive System |

370
(4)

| | |
| --- | --- |
| | Body Temperature and Metabolism |

374
(21)
376
(4)
380
(11)
391
(4)
395
(22)
398
(2)
400
(6)

| | |
| --- | --- |
| | The Kidneys and Acid-Base Balance |

406
(1)

| | |
| --- | --- |
| | Other Functions of the Kidneys |

407
(2)
409
(2)
411
(1)

| | |
| --- | --- |
| | Aging and the Urinary System |

412
(5)

| | |
| --- | --- |
| | Fluid-Electrolyte and Acid-Base Balance |

417
(14)
420
(1)
421
(2)
423
(1)
423
(5)

| | |
| --- | --- |
| | Aging and Fluid and pH Regulation |

428
(3)
431
(21)
434
(1)
435
(4)

| | |
| --- | --- |
| | Female Reproductive System |

439
(7)

| | |
| --- | --- |
| | Aging and the Reproductive Systems |

446
(6)

| | |
| --- | --- |
| | Human Development and Genetics |

452
(22)
454
(10)
464
(10)

| | |
| --- | --- |
| | An Introduction to Microbiology and Human Disease |

474
(32)

| | |
| --- | --- |
| | Classification of Microorganisms |

476
(2)
478
(1)
478
(3)
481
(2)

| | |
| --- | --- |
| | Methods of Control of Microbes |

483
(2)
485
(21)
Appendixes
506
(15)
506
(3)
509
(2)

| | |
| --- | --- |
| | C Normal Values for Some Commonly Used Blood Tests |

511
(2)

| | |
| --- | --- |
| | D Normal Values for Some Commonly Used Urine Tests |

513
(1)

| | |
| --- | --- |
| | E Suggestions for Further Reading |

514
(1)

| | |
| --- | --- |
| | F Prefixes, Combining Word Roots, and Suffixes Used in Medical Terminology |

515
(4)
519
(2)
Glossary
521
(40)
Index
561