Note: Supplemental materials are not guaranteed with Rental or Used book purchases.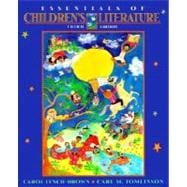 Questions About This Book?
What version or edition is this?
This is the edition with a publication date of 8/1/1998.
What is included with this book?
The New copy of this book will include any supplemental materials advertised. Please check the title of the book to determine if it should include any CDs, lab manuals, study guides, etc.
Summary
"Using a "facts-only" approach for students and their instructors, renowned authors Carol Lynch-Brown and Carl Tomlinson offer an abundance of examples to illustrate how to use children's literature in the classroom. Part One of the book covers current trends and the introductory material students need in order to begin selecting, reading, and evaluating children's trade books. Part Two defines and describes specific genres of literature and discusses the types of books that fall within the categories. Part Three presents curriculum and teaching strategies."--BOOK JACKET.
Table of Contents
Preface
xv
PART ONE CHILDREN AND LITERATURE
1
(39)

| | |
| --- | --- |
| | 1 Learning about Children and Their Literature |

1
(24)

| | |
| --- | --- |
| | Definition of Children's Literature |

2
(1)
2
(1)
3
(1)

| | |
| --- | --- |
| | The Personal Value of Literature to Children |

3
(2)
3
(1)

| | |
| --- | --- |
| | Imagination and Inspiration |

3
(1)
4
(1)

| | |
| --- | --- |
| | Understanding and Empathy |

4
(1)
4
(1)
4
(1)

| | |
| --- | --- |
| | Literary and Artistic Preferences |

4
(1)

| | |
| --- | --- |
| | The Academic Value of Literature to Children |

5
(3)
5
(2)
7
(1)
8
(1)
8
(1)

| | |
| --- | --- |
| | Approaches to Studying and Interpreting Literature |

8
(1)

| | |
| --- | --- |
| | Choosing Books for Children |

9
(1)
9
(1)
10
(1)

| | |
| --- | --- |
| | Consider the Mode of Delivery |

10
(1)
10
(4)

| | |
| --- | --- |
| | Reliable Sources for Book Titles |

14
(1)

| | |
| --- | --- |
| | Literature for the Developing Child |

15
(4)
16
(1)
16
(1)
17
(1)
17
(1)
18
(1)

| | |
| --- | --- |
| | Children's Reading Preferences |

19
(1)

| | |
| --- | --- |
| | Children's Reading Interests |

19
(2)

| | |
| --- | --- |
| | Research in Children's Literature |

21
(1)

| | |
| --- | --- |
| | Trends in Children's Literature |

22
(1)
22
(3)
25
(15)
26
(6)
26
(2)
28
(2)
30
(1)
30
(1)
31
(1)
32
(2)
33
(1)
33
(1)
33
(1)
34
(1)
34
(1)
34
(1)
35
(1)
36
(2)

| | |
| --- | --- |
| | Balance and Variety in Book Selections |

38
(1)
38
(1)
39
(1)
PART TWO CATEGORIES OF LITERATURE
40
(184)
40
(27)

| | |
| --- | --- |
| | Definition and Description |

41
(1)
41
(1)

| | |
| --- | --- |
| | Mother Goose and Nursery Rhyme Books |

41
(1)

| | |
| --- | --- |
| | Nursery and Folk Songbooks |

42
(1)
42
(1)
42
(1)
42
(1)
42
(3)

| | |
| --- | --- |
| | Evaluation and Selection of Poetry |

45
(1)

| | |
| --- | --- |
| | Children's Poetry Preferences |

46
(1)

| | |
| --- | --- |
| | Historical Overview of Poetry |

46
(2)
48
(5)
53
(5)

| | |
| --- | --- |
| | Students' Listening to and Saying Poems |

53
(2)

| | |
| --- | --- |
| | Students' Reading and Writing Poems |

55
(3)
58
(1)
58
(1)
59
(8)
67
(26)

| | |
| --- | --- |
| | Definition and Description |

68
(1)

| | |
| --- | --- |
| | Evaluation and Selection of Picture Books |

68
(2)

| | |
| --- | --- |
| | Historical Overview of Picture Books |

70
(1)
71
(5)
71
(2)
73
(1)
73
(1)
73
(1)
73
(1)
74
(1)
74
(1)
74
(1)

| | |
| --- | --- |
| | Easy-to-Read and Pattern Books |

75
(1)

| | |
| --- | --- |
| | Picture Books for Older Readers |

75
(1)
75
(1)
76
(1)

| | |
| --- | --- |
| | Notable Authors and Illustrators of Picture Books |

76
(2)

| | |
| --- | --- |
| | Recommended Picture Books |

78
(15)
93
(18)

| | |
| --- | --- |
| | Definition and Description |

94
(1)

| | |
| --- | --- |
| | Evaluation and Selection of Traditional Literature |

94
(1)

| | |
| --- | --- |
| | Historical Overview of Traditional Literature |

95
(2)

| | |
| --- | --- |
| | Types of Traditional Literature |

97
(4)
98
(1)
99
(1)
99
(1)
99
(2)
101
(1)
101
(1)
101
(1)

| | |
| --- | --- |
| | Notable Retellers and Illustrators of Traditional Literature |

102
(1)

| | |
| --- | --- |
| | Recommended Traditional Literature |

102
(9)
111
(18)

| | |
| --- | --- |
| | Definition and Description |

112
(1)

| | |
| --- | --- |
| | Evaluation and Selection of Modern Fantasy |

112
(1)

| | |
| --- | --- |
| | Historical Overview of Modern Fantasy |

113
(2)
115
(6)
115
(2)
117
(1)

| | |
| --- | --- |
| | Personified Toys and Objects |

118
(1)

| | |
| --- | --- |
| | Unusual Characters and Strange Situations |

118
(1)
118
(1)

| | |
| --- | --- |
| | Supernatural Events and Mystery Fantasy |

118
(1)
119
(1)
119
(1)

| | |
| --- | --- |
| | Science Fiction and Science Fantasy |

120
(1)
121
(1)

| | |
| --- | --- |
| | Notable Authors of Modern Fantasy |

121
(1)

| | |
| --- | --- |
| | Recommended Modern Fantasy Books |

122
(7)
129
(20)

| | |
| --- | --- |
| | Definition and Description |

130
(1)

| | |
| --- | --- |
| | Evaluation and Selection of Realistic Fiction |

131
(2)

| | |
| --- | --- |
| | Historical Overview of Realistic Fiction |

133
(3)

| | |
| --- | --- |
| | Types of Realistic Fiction |

136
(3)
136
(1)
136
(1)
137
(1)
137
(1)
137
(1)
138
(1)
138
(1)
138
(1)
138
(1)
139
(1)

| | |
| --- | --- |
| | Notable Authors of Realistic Fiction |

139
(1)

| | |
| --- | --- |
| | Recommended Realistic Fiction Books |

140
(9)
149
(17)

| | |
| --- | --- |
| | Definition and Description |

150
(1)

| | |
| --- | --- |
| | Evaluation and Selection of Historical Fiction |

150
(1)

| | |
| --- | --- |
| | Early Books and Trends in Historical Fiction |

151
(2)

| | |
| --- | --- |
| | Topics in Historical Fiction |

153
(5)

| | |
| --- | --- |
| | Themes in Historical Fiction |

154
(1)

| | |
| --- | --- |
| | Periods of History in Fiction |

155
(3)
158
(1)

| | |
| --- | --- |
| | Notable Authors of Historical Fiction |

158
(1)

| | |
| --- | --- |
| | Recommended Historical Fiction Books |

159
(7)

| | |
| --- | --- |
| | 9 Nonfiction: Biography and Informational Books |

166
(21)

| | |
| --- | --- |
| | Definition and Description |

167
(1)

| | |
| --- | --- |
| | Evaluation and Selection of Nonfiction |

168
(2)

| | |
| --- | --- |
| | Historical Overview of Nonfiction |

170
(2)
172
(2)
172
(1)
173
(1)
174
(1)

| | |
| --- | --- |
| | Topics of Informational Books |

174
(2)
174
(1)
175
(1)
175
(1)
175
(1)
176
(1)
176
(1)

| | |
| --- | --- |
| | Notable Authors of Nonfiction |

176
(1)

| | |
| --- | --- |
| | Recommended Nonfiction Books |

177
(10)

| | |
| --- | --- |
| | 10 Multicultural and International Literature |

187
(37)

| | |
| --- | --- |
| | SECTION ONE: Multicultural Literature |

188
(9)

| | |
| --- | --- |
| | Definition and Description |

188
(1)

| | |
| --- | --- |
| | Values of Multicultural Literature for Children |

188
(1)

| | |
| --- | --- |
| | Evaluation and Selection of Multicultural Literature |

189
(2)

| | |
| --- | --- |
| | Historical Overview of Multicultural Literature |

191
(2)

| | |
| --- | --- |
| | Types of Multicultural Literature |

193
(4)

| | |
| --- | --- |
| | African-American Literature |

193
(2)

| | |
| --- | --- |
| | Asian-American Literature |

195
(1)

| | |
| --- | --- |
| | Hispanic-American Literature |

196
(1)

| | |
| --- | --- |
| | Jewish-American Literature |

196
(1)

| | |
| --- | --- |
| | Native-American Literature |

197
(1)

| | |
| --- | --- |
| | SECTION TWO: International Literature |

197
(7)

| | |
| --- | --- |
| | Definition and Description |

197
(1)

| | |
| --- | --- |
| | Values of International Literature for Children |

198
(1)

| | |
| --- | --- |
| | Evaluation and Selection of International Literature |

199
(2)

| | |
| --- | --- |
| | Historical Overview of International Literature |

201
(2)

| | |
| --- | --- |
| | International Books by World Regions |

203
(1)
204
(1)

| | |
| --- | --- |
| | Notable Authors and Illustrators of Multicultural Literature |

205
(1)

| | |
| --- | --- |
| | Notable Authors, Illustrators, and Translators of International Literature |

206
(2)

| | |
| --- | --- |
| | Recommended Multicultural Books |

208
(8)

| | |
| --- | --- |
| | Recommended International Books |

216
(8)
PART THREE LITERATURE IN THE SCHOOL
224
(51)

| | |
| --- | --- |
| | 11 Planning the Literature Curriculum |

224
(26)

| | |
| --- | --- |
| | The Literature Curriculum |

225
(1)

| | |
| --- | --- |
| | Organizing the Literature Curriculum |

225
(3)
225
(1)
225
(1)

| | |
| --- | --- |
| | Literary Element and Device |

226
(1)
227
(1)
227
(1)

| | |
| --- | --- |
| | Literature in the Reading Program |

228
(3)
228
(2)

| | |
| --- | --- |
| | Basal Reading Program Supplemented by Children's Literature |

230
(1)

| | |
| --- | --- |
| | Developing the Literature Curriculum |

231
(13)

| | |
| --- | --- |
| | Designing a Classroom Environment |

232
(2)

| | |
| --- | --- |
| | Building a Classroom Library Collection |

234
(1)

| | |
| --- | --- |
| | Outlining a Year-Long Literature Curriculum |

235
(3)

| | |
| --- | --- |
| | Fleshing Out the Units of Study |

238
(2)

| | |
| --- | --- |
| | Implementing a Schoolwide Curriculum in Literature |

240
(4)

| | |
| --- | --- |
| | Evaluating the Literature Program |

244
(5)
249
(1)

| | |
| --- | --- |
| | 12 Developing Teaching Strategies |

250
(25)
251
(10)

| | |
| --- | --- |
| | Reading Aloud by Teachers |

251
(3)

| | |
| --- | --- |
| | Silent Reading by Students |

254
(1)
255
(2)
257
(1)
258
(1)

| | |
| --- | --- |
| | Literature across the Curriculum |

259
(1)
260
(1)

| | |
| --- | --- |
| | Audiotapes and Videotapes |

260
(1)
261
(12)
261
(7)
268
(1)
269
(4)
273
(2)
APPENDIX A Children's Book Awards
275
(36)
APPENDIX B Professional Resources
311
(14)
APPENDIX C Children's Magazines
325
(4)
APPENDIX D Short Story Collections
329
(4)
INDEX TO CHILDREN'S BOOKS AND AUTHORS
333
(36)
SUBJECT INDEX
369