Note: Supplemental materials are not guaranteed with Rental or Used book purchases.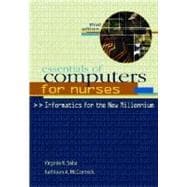 Related Products
Summary
The best selling nurses' guide to understanding and using computers in the workplace--now revised and completely up-to-date. New edition discusses the increasing use of specialized software within nursing curriculums. Examines use of the Internet as a powerful research tool; the way computers are changing the practice of nursing and the NCLEX; telemedicine; and more.
Table of Contents
Preface
Computers are Nursing
p. 1
Overview of Computers and Nursing
p. 3
Historical Perspectives of Nursing and the Computer
p. 9
Computer Systems
p. 47
Computer Hardware
p. 49
Software
p. 67
Data Processing
p. 85
Computer Systems
p. 101
The Internet: A Nursing Resource
p. 123
Issues in Informatics
p. 139
Nursing Informatics and Health Care Policy
p. 141
Privacy, Confidentiality, and Security
p. 155
Data Standards
p. 167
Informatics Theory
p. 177
Nursing Informatics Theory
p. 179
Concept-Oriented Terminological Systems
p. 191
Implementing and Upgrading Clinical Information Systems
p. 199
Practice Applications
p. 231
Practice Applications
p. 233
Critical Care Applications
p. 249
Community Health Applications
p. 265
Ambulatory Care Systems
p. 297
Administrative Applications
p. 301
Administrative Applications of Information Technology for Nursing Managers
p. 303
Translating Evidence into Practice: Guidelines and Automated Implementation Tools
p. 335
Challenges for Data Management in Long-Term Care
p. 357
Consumer Use of Informatics
p. 365
Consumers in Health Care
p. 367
Health-Related Decision-Making by Patients
p. 375
Educational Applications
p. 391
The Nursing Curriculum in the Information Age
p. 393
Distance Education: Using Technology to Learn
p. 413
Innovations in Telehealth
p. 427
Research Applications
p. 443
Computer Use in Nursing Research
p. 445
Computerized Information Resources
p. 457
International Perspectives
p. 477
Canada
p. 479
Europe
p. 489
Pacific Rim
p. 499
South America
p. 509
The Future of Informatics
p. 517
Future Directions
p. 519
Home Health Care Classification (HHCC) System Two Terminologies: HHCC of Nursing Diagnoses and HHCC of Nursing Interventions with 20 Care Components
p. 529
Key Words
p. 535
Index
p. 537
Table of Contents provided by Blackwell. All Rights Reserved.