Note: Supplemental materials are not guaranteed with Rental or Used book purchases.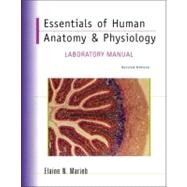 Essentials of Human Anatomy & Physiology Lab Manual
ISBN13:
9780805353976
by
Marieb, Elaine N.
Related Products
Summary
Award-winning author Elaine N. Marieb brings her unique understanding of readers' specific needs to this popular book. Marieb's clear and friendly writing style emphasizes the relevance of anatomy and physiology to readers' lives and careers. It clarifies concepts, defines key terms, and offers just the right balance of anatomy, physiology, and clinical coverage to make the content complete without being overly detailed. For instructors and students, or anyone interested in anatomy and physiology.
Table of Contents
Preface
v
HUMAN BODY AND ORIENTATION
1
(6)
7
(8)
THE CELL

| | |
| --- | --- |
| | The Cell-Anatomy and Division |

15
(6)

| | |
| --- | --- |
| | Cell Membrane Transport Mechanisms |

21
(6)
BASIC TISSUES AND THE SKIN

| | |
| --- | --- |
| | Classification of Tissues |

27
(14)

| | |
| --- | --- |
| | The Skin (Integumentary System) |

41
(8)
THE SKELETAL SYSTEM
49
(6)
55
(12)

| | |
| --- | --- |
| | The Appendicular Skeleton |

67
(10)

| | |
| --- | --- |
| | Joints and Body Movements |

77
(6)
THE MUSCULAR SYSTEM

| | |
| --- | --- |
| | Structure of Skeletal Muscle |

83
(6)

| | |
| --- | --- |
| | Gross Anatomy of the Muscular System |

89
(14)
REGULATORY SYSTEMS: NEURAL AND ENDOCRINE

| | |
| --- | --- |
| | Neuron Anatomy and Physiology |

103
(8)

| | |
| --- | --- |
| | Gross Anatomy of the Brain and Cranial Nerves |

111
(14)

| | |
| --- | --- |
| | Spinal Cord and Spinal Nerves |

125
(8)
133
(4)
137
(18)

| | |
| --- | --- |
| | Anatomy and Basic Function of the Endocrine Glands |

155
(6)
THE CIRCULATORY SYSTEM
161
(10)
171
(8)
179
(14)

| | |
| --- | --- |
| | Human Cardiovascular Physiology-Blood Pressure and Pulse Determinations |

193
(8)
THE RESPIRATORY SYSTEM

| | |
| --- | --- |
| | Anatomy of the Respiratory System |

201
(6)

| | |
| --- | --- |
| | Respiratory System Physiology |

207
(6)
OTHER MAJOR SYSTEMS

| | |
| --- | --- |
| | Functional Anatomy of the Digestive System |

213
(14)

| | |
| --- | --- |
| | Functional Anatomy of the Urinary System |

227
(8)

| | |
| --- | --- |
| | Anatomy of the Reproductive System |

235
(6)
Review Sheets
241
(122)
Histology Atlas
363
(8)
Appendix A: The Microscope
371
(8)
Appendix B: The Metric System
379
(2)
Credits
381
(2)
Index
383