Note: Supplemental materials are not guaranteed with Rental or Used book purchases.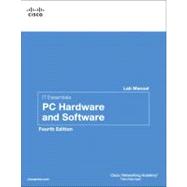 Questions About This Book?
What version or edition is this?
This is the 4th edition with a publication date of 4/15/2010.
What is included with this book?
The New copy of this book will include any supplemental materials advertised. Please check the title of the book to determine if it should include any CDs, lab manuals, study guides, etc.
The Used copy of this book is not guaranteed to include any supplemental materials. Typically, only the book itself is included.
Related Products
Summary
The Cisco Networking Academy IT Essentials PC Hardware and Software course labs, in a low-cost, text-only booklet for easy offline studying Gives IT Essentials students an inexpensive study resource that can be read wherever Internet access isn't available Handy printed format lets students easily highlight and make notes Labs and page correlations link directly to the online curriculum Includes the latest version of the IT Essentials PC and Software course labs IT Essentials Lab Manual: PC Hardware and Software v4.1 is the only authorized lab manual for the Cisco Networking Academy IT Essentials course. The fundamentals part of the course, chapters 1-10, will help you prepare for the CompTIA A+ Essentials exam (220-701), which covers the fundamentals of computer technology, networking, and security, and validates the communication skills and professionalism required of all entry-level IT professionals. The advanced part of the course, chapters 11-16, will help you prepare for the CompTIA A+ Practical Application exam (220-702), which builds on the CompTIA A+ Essentials knowledge and skills, with more of a hands-on orientation and scenarios in which troubleshooting and tools must be applied to resolve problems. You must pass both exams to earn the CompTIA A+ certification. While extensive online study resources and comprehensive textbooks are available, many students and instructors have requested a low-cost printed resource that can be used to study in places where Internet access may not be available. This booklet is that resource. Drawn directly from the online curriculum, it covers every skill and competency covered in the latest IT Essentials PC Hardware and Software course. This booklet enables you to study offline, highlight key points, and take handwritten notes. All topics are correlated directly to online web pages, helping you easily switch between offline and online content.
Author Biography
Cisco Networking Academy is an innovative Cisco education initiative that delivers information and communication technology skills to improve career and economic opportunities around the world. The Academy provides online courses, interactive tools, and lab activities to prepare individuals for information technology and networking careers in virtually every industry.
Table of Contents
Chapter 1: Introduction to the Personal Computer.......................................................... 1
1.1.2 Worksheet: Job Opportunities...................................................................................... 1
1.4.7 Worksheet: Research Computer Components............................................................... 2
Chapter 2: Safe Lab Procedures and Tool Use................................................................ 6
2.2.2 Worksheet: Diagnostic Software................................................................................... 6
2.3.4 Lab: Computer Disassembly......................................................................................... 7
Chapter 3: Computer Assembly—Step by Step............................................................. 11
3.2 Lab: Install the Power Supply........................................................................................ 11
3.3.3 Lab: Install the Motherboard....................................................................................... 12
3.5.2 Lab: Install the Drives................................................................................................. 13
3.6.3 Lab: Install Adapter Cards.......................................................................................... 14
3.7.2 Lab: Install Internal Cables.......................................................................................... 15
3.8.2 Lab: Complete the Computer Assembly...................................................................... 16
3.9.2 Lab: Boot the Computer............................................................................................. 17
Chapter 4: Basics of Preventive Maintenance and Troubleshooting............................ 20
Chapter 5: Fundamental Operating Systems.................................................................. 21
5.2.2 Worksheet: NOS Certifications and Jobs.................................................................... 21
5.3.2 Worksheet: Upgrade Hardware Components.............................................................. 21
5.4.2 Lab: Install Windows XP............................................................................................ 23
5.4.2 Optional Lab: Install Windows Vista........................................................................... 34
5.4.5 Lab: Create Accounts and Check For Updates in Windows XP.................................. 48
5.4.5 Optional Lab: Create Accounts and Check For Updates in Windows Vista................. 53
5.4.8 Lab: Managing System Files with Built-in Utilities in Windows XP............................... 59
5.4.8 Optional Lab: Managing System Files with Built-in Utilities in Windows Vista............... 71
5.4.9 Worksheet: Answer NTFS and FAT32 Questions...................................................... 83
5.5.1 Lab: Run Commands in Windows XP......................................................................... 83
5.5.1 Optional Lab: Run Commands in Windows Vista........................................................ 85
5.5.3 Lab: Managing Administrative Settings and Snap-ins in Windows XP.......................... 89
5.5.3 Optional Lab: Managing Administrative Settings and Snap-ins in
Windows Vista.............................................................................................................. 109
5.5.4 Lab: Install Third-Party Software in Windows XP..................................................... 130
5.5.4 Optional Lab: Install Third-Party Software in Windows Vista.................................... 138
5.6.2 Lab: Restore Points in Windows XP......................................................................... 146
5.6.2 Optional Lab: Restore Points in Windows Vista........................................................ 155
5.6.3 Lab: Registry Backup and Recovery in Windows XP................................................ 165
5.7.2 Lab: Managing Device Drivers with Device Manager in Windows XP........................ 178
5.7.2 Optional Lab: Managing Device Drivers with Device Manager in
Windows Vista.............................................................................................................. 184
Chapter 6: Fundamental Laptops and Portable Devices.............................................. 191
6.1.2 Worksheet: Research Laptops, Smartphones, and PDAs.......................................... 191
6.2.3 Worksheet: Complete Docking Stations True or False Questions............................... 193
6.3.4 Worksheet: Answer Laptop Expansion Questions..................................................... 193
6.4.1 Worksheet: Match ACPI Standards......................................................................... 194
6.7.2 Worksheet: Research Laptop Problems.................................................................... 194
Chapter 7: Fundamental Printers and Scanners........................................................... 196
7.4.2 Lab: Install All-in-One Device and Software............................................................. 196
Chapter 8: Fundamental Networks............................................................................... 201
8.3.2 Worksheet: Identify IP Address Classes................................................................... 201
8.9.1 Worksheet: Internet Search for NIC Drivers............................................................. 201
8.9.2 Lab: Configure an Ethernet NIC to use DHCP in Windows XP................................. 202
8.9.2 Optional Lab: Configure an Ethernet NIC to use DHCP in Windows Vista................ 212
8.10.3 Worksheet: Answer Broadband Questions.............................................................. 221
8.12.2 Worksheet: Diagnose a Network Problem.............................................................. 222
8.12.2 Worksheet: Diagnose a Network Problem.............................................................. 224
Chapter 9: Fundamental Security.................................................................................. 225
9.1 Worksheet: Security Attacks....................................................................................... 225
9.2.1 Worksheet: Third-Party Anti-Virus Software............................................................ 225
9.4.2 Worksheet: Operating System Updates..................................................................... 227
9.5.2 Worksheet: Gather Information from the Customer.................................................... 227
Chapter 10: Communication Skills................................................................................ 230
10.1 Worksheet: Technician Resources.............................................................................. 230
10.2.2 Class Discussion: Controlling the Call...................................................................... 230
10.2.3 Class Discussion: Identifying Difficult Customer Types............................................. 231
10.3 Class Discussion: Customer Privacy........................................................................... 232
Chapter 11: Advanced Personal Computers................................................................. 233
11.1 Worksheet: Job Opportunities................................................................................... 233
11.2.2 Lab: Using a Multimeter and a Power Supply Tester............................................... 234
11.2.2 Lab: Testing UTP Cables Using a Loopback Plug and a Cable Meter...................... 238
11.3.7 Worksheet: Research Computer Components......................................................... 241
11.4.1 Lab: Install a NIC in Windows XP.......................................................................... 246
11.4.1 Optional Lab: Install a NIC in Windows Vista......................................................... 266
11.4.3 Lab: Install Additional RAM in Windows XP.......................................................... 285
11.4.3 Optional Lab: Install Additional RAM in Windows Vista......................................... 288
11.4.4 Lab: BIOS File Search........................................................................................... 291
11.4.5 Lab: Install, Configure, and Partition a Second Hard Drive in Windows XP............. 293
11.4.5 Optional Lab: Install, Configure, and Partition a Second Hard Drive
in Windows Vista.......................................................................................................... 305
11.6.3 Lab: Repair Boot Problem...................................................................................... 314
11.6.3 Lab: Remote Technician: Repair Boot Problem....................................................... 315
11.6.3 Lab: Troubleshooting Hardware Problems in Windows XP..................................... 318
11.6.3 Optional Lab: Troubleshooting Hardware Problems in Windows Vista..................... 320
Chapter 12: Advanced Operating Systems................................................................... 322
12.2.2 Lab: Advanced Installation of Windows XP............................................................ 322
12.2.2 Optional Lab: Advanced Installation of Windows Vista........................................... 346
12.2.3 Lab: Create a Partition in Windows XP................................................................... 374
12.2.3 Optional Lab: Create a Partition in Windows Vista.................................................. 388
12.2.4 Lab: Customize Settings in Windows XP................................................................. 402
12.2.4 Optional Lab: Customize Settings in Windows Vista................................................ 483
12.2.5 Optional Lab: Install an Alternate Browser.............................................................. 557
12.4.1 Lab: Schedule Task Using GUI and "at" Command in Windows XP........................ 565
12.4.1 Optional Lab: Schedule Task Using GUI and "at" Command in
Windows Vista.............................................................................................................. 574
12.4.2 Lab: Restore Points in Windows XP....................................................................... 584
12.4.2 Optional Lab: Restore Points in Windows Vista...................................................... 593
12.5.3 Lab: Fix Operating System Problem........................................................................ 603
12.5.3 Lab: Remote Technician: Fix an Operating System Problem..................................... 603
12.5.3 Lab: Troubleshooting Operating System Problems in Windows XP.......................... 605
12.5.3 Optional Lab: Troubleshooting Operating System Problems in
Windows Vista.............................................................................................................. 607
Chapter 13: Advanced Laptops and Portable Devices................................................. 609
13.2. Worksheet: Investigating Repair Centers................................................................... 609
13.3.1 Worksheet: Laptop Batteries.................................................................................. 610
13.3.2 Worksheet: Docking Station................................................................................... 611
13.3.3 Worksheet: Research DVD Drives......................................................................... 612
13.3.4 Worksheet: Laptop RAM....................................................................................... 613
13.5.3 Worksheet: Verify Work Order Information............................................................ 614
13.5.3 Worksheet: Investigating Support Websites and Repair Companies......................... 615
13.5.3 Optional Lab: Troubleshooting Laptop Problems in Windows XP............................ 616
13.5.3 Optional Lab: Troubleshooting Laptop Problems in Windows Vista......................... 617
Chapter 14: Advanced Printers and Scanners.............................................................. 619
14.2.4 Lab: Install an All-in-one Printer/Scanner................................................................ 619
14.3.2 Lab: Share the All-in-one Printer/Scanner in Windows XP...................................... 624
14.3.2 Optional Lab: Share the All-in-one Printer/Scanner in Windows Vista...................... 628
14.4.2 Lab: Optimize Scanner Output................................................................................ 634
14.5.1 Worksheet: Search for Certified Printer Technician Jobs.......................................... 636
14.6.3 Lab: Fix a Printer Problem...................................................................................... 637
14.6.3 Lab: Remote Technician: Fix a Printer Problem....................................................... 637
14.6.3 Lab: Troubleshooting Printer Problems in Windows XP........................................... 639
14.6.3 Optional Lab: Troubleshooting Printer Problems in Windows Vista.......................... 644
Chapter 15: Advanced Networks.................................................................................. 650
15.2.2 Worksheet: Protocols............................................................................................. 650
15.3.2 Worksheet: ISP Connection Types......................................................................... 651
15.4.2 Lab: Configure Browser Settings in Windows XP.................................................... 652
15.4.2 Optional Lab: Configure Browser Settings in Windows Vista................................... 656
15.4.2 Lab: Share a Folder, Share a Printer, and Set Share Permissions in
Windows XP................................................................................................................ 663
15.4.2 Optional Lab: Share a Folder, Share a Printer, and Set Share Permissions
in Windows Vista.......................................................................................................... 670
15.5.1 Lab: Install a Wireless NIC in Windows XP............................................................ 675
15.5.1 Optional Lab: Install a Wireless NIC in Windows Vista........................................... 681
15.5.2 Lab: Configure Wireless Router.............................................................................. 687
15.5.3 Lab: Test the Wireless NIC in Windows XP........................................................... 692
15.5.3 Optional Lab: Test the Wireless NIC in Windows Vista.......................................... 696
15.8.3 Lab: Fix Network Problem..................................................................................... 699
15.8.3 Lab: Remote Technician: Fix Network Problem...................................................... 700
15.8.3 Lab: Troubleshooting Network Problems in Windows XP....................................... 702
15.8.3 Optional Lab: Troubleshooting Network Problems in Windows Vista...................... 706
Chapter 16: Advanced Security..................................................................................... 711
16.1.1 Worksheet: Answer Security Policy Questions........................................................ 711
16.2.3 Worksheet: Research Firewalls............................................................................... 711
16.3.1 Lab: Configure Wireless Security............................................................................ 714
16.3.2 Lab: Configure Windows XP Firewall..................................................................... 723
16.3.2 Optional Lab: Configure Windows Vista Firewall.................................................... 727
16.4.3 Lab: Data Backup and Recovery in Windows XP................................................... 737
16.4.3 Optional Lab: Data Backup and Recovery in Windows Vista.................................. 752
16.5.3 Lab: Fix a Security Problem.................................................................................... 763
16.5.3 Lab: Remote Technician: Fix a Security Problem..................................................... 764
16.5.3 Lab: Troubleshooting Access Security with Windows XP........................................ 767
16.5.3 Optional Lab: Troubleshooting Access Security with Windows Vista....................... 772
9781587132629 TOC 3/31/2010