Note: Supplemental materials are not guaranteed with Rental or Used book purchases.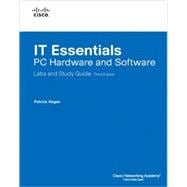 It Essentials: PC Hardware and Software Labs and Study Guide
ISBN13:
9781587131981
by
Regan, Patrick
Summary
IT Essentials PC Hardware and Software Labs and Study Guide, Third Edition Patrick Regan The IT Essentials: PC Hardware and Software version 4 course in the Ciscoreg; Networking Academyreg; is designed to prepare you to take and pass the CompTIA A+ exams based on the 2006 objectives. You must pass both the A+ Essentials and one of the technician exams to earn the A+ certification. Chapters 1 through 10 cover the foundational knowledge that aligns with the CompTIA A+ Essentials exam (220-601). Chapters 11 through 16 explore more advanced concepts in greater depth to prepare you for the specialized CompTIA A+ technician exams (220-602 for IT Technician, 220-603 for Remote Support Technician, and 220-604 for Bench Technician). IT Essentials: PC Hardware and Software Labs and Study Guide, Third Edition, is designed as a valuable teaching and learning tool, incorporating new features to improve your hands-on skills and reinforce the key topics of the course. Each chapter contains a Study Guide section and a Labs section. The Study Guide section is designed to provide additional exercises and questions to reinforce your understanding of the course topics, preparing you for the course assessments and focusing on preparing for the associated certification exams. The Labs section features the complete collection of the lab exercises and worksheets specifically designed by Cisco to give students hands-on experience in a particular concept or technology. Chapters 110 cover the following skills and competencies: Core competencies in the latest hardware and software technologies Information security skills Safety and environmental issues Soft skills for career development Chapters 1116 cover the following skills and competencies: Advanced troubleshooting skills Preparation for all three CompTIA job environment certification exams Advanced installation of computers, peripheral devices, networks, and security components Use this book with: IT Essentials: PC Hardware and Software Companion Guide, Third Edition ISBN-10: 1-58713-199-4 ISBN-13: 978-158713-199-8 Patrick Regan has been a PC technician, network administrator/engineer, design architect, and security analyst for 16 years. He holds many certifications, including the Microsoft MCSE, MCSA, and MCT; CompTIArs"s A+, Network+, Server+, Linux+, Security+, and CTT+; Cisco CCNAreg;; and Novellrs"s CNE and CWNP Certified Wireless Network Administrator (CWNA). This book is part of the Cisco Networking Academy Series from Cisco Pressreg;. Books in this series support and complement the Cisco Networking Academy curriculum.
Table of Contents
Introduction
Introduction to the Personal Computer
Defining a Computer
Vocabulary Exercise: Matching Processors
Vocabulary Exercise: Completion Motherboards Concept Questions RAM
Vocabulary Exercise: Completion Ports
Identify Ports and Connectors
Expansion Slots and Boards
Vocabulary Exercise: Completion Cases Concept Questions
Power Supplies
Hard Drive Concept Questions
Vocabulary Exercise: Completion Video Systems
Vocabulary Exercise: Matching Concept Questions
Study Questions
Job Opportunities
Research Computer Components
Safe Lab Procedures and Tool Use
Electrostatic Discharge Concept Questions
PC Maintenance Concept Questions
Power Fluctuations
Vocabulary Exercise: Matching Concept Questions
Fires and Fire Extinguishers
Concept Questions
Material Safety and Data
Sheets and Component Disposal
Vocabulary Exercise: Completion Concept Questions
Maintenance Safety Concept Questions
Tools of the Trade Concept Questions
Study Questions
Diagnostic Software
Computer Disassembly
Computer Assembly
Step by Step Installing a Processor Concept Questions
Installing RAM Concept Questions
Installing the Motherboard Concept Questions
Installing a Power Supply Concept Questions
Installing Optical Drives Concept Questions
Installing Floppy Disk Drives Concept Questions
Installing a Hard Drive
Vocabulary Exercise: Completion BIOS and the BIOS Setup Program Concept Questions
Study Questions
Install the Power Supply
Install the Motherboard
Install the Drives
Install Adapter Cards
Install Internal Cables
Complete the Computer Assembly
Boot the Computer
Basics of Preventive Maintenance and Troubleshooting
Preventive Maintenance Concept Questions
Troubleshooting Concept Questions
Troubleshooting Example
Study Questions
Fundamental Operating Systems
Introduction to Operating Systems
Concept Questions
Installing Windows
Vocabulary Exercise: Completion Concept Questions
Vocabulary Exercise: Matching Registry Concept Questions
Windows 98 Boot Sequence Concept Questions
Windows 2000/XP Boot Sequence Concept Questions
Windows 2000 and Windows XP
Advanced Boot Menu Concept Questions
Windows File Systems
Concept Questions
File Management Concept Questions
Control Panel Concept Questions
Troubleshooting Tools Concept Questions
Study Questions
Search NOS Jobs
Upgrade Hardware Components
Install Windows XP
Create Accounts and Check for Updates
Answer NTFS and FAT32 Questions
Run Commands
Install Third-Party Software
Restore Points
Windows Registry Backup and Recovery
Fundamental Laptops and Portable Devices
Laptop Fundamentals
Vocabulary Exercise: Completion Identify the Parts of a Laptop Power Management
Vocabulary Exercise: Matching Concept Questions
Laptop Maintenance Concept Questions
Troubleshooting Laptop Computers
Concept Questions
Table of Contents provided by Publisher. All Rights Reserved.