Note: Supplemental materials are not guaranteed with Rental or Used book purchases.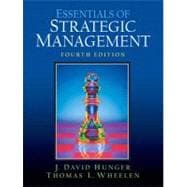 Questions About This Book?
What version or edition is this?
This is the 4th edition with a publication date of 1/1/2007.
What is included with this book?
The Used copy of this book is not guaranteed to include any supplemental materials. Typically, only the book itself is included.
Related Products
Summary
This brief book offers a short, concise explanation of the most important concepts and techniques in Strategic Management. While based on rigorous research studies, the citations and footnotes are minimal. Essentials of Strategic Managementis suitable for use in corporate and executive training programs. Offers a sound introduction to strategic management, focusing on the basic concepts and their applications to the management field. Topics include environmental scanning and industry analysis, strategy formulation: corporate strategy, strategy implementation: organizing for action, among others. For professionals in fields of strategic planning and competitive strategy.
Table of Contents
Preface
ix

| | |
| --- | --- |
| | PART I: INTRODUCTION TO STRATEGIC MANAGEMENT |

1
(31)

| | |
| --- | --- |
| | Basic Concepts of Strategic Management |

1
(16)

| | |
| --- | --- |
| | The Study of Strategic Management |

2
(2)

| | |
| --- | --- |
| | Initiation of Strategy: Triggering Events |

4
(1)

| | |
| --- | --- |
| | Basic Model of Strategic Management |

5
(6)

| | |
| --- | --- |
| | Strategic Decision Making |

11
(6)

| | |
| --- | --- |
| | Corporate Governance and Social Responsibility |

17
(15)

| | |
| --- | --- |
| | Corporate Governance: Role of the Board of Directors |

18
(6)

| | |
| --- | --- |
| | Corporate Governance: Role of Top Management |

24
(2)

| | |
| --- | --- |
| | Social Responsibilities and Ethics in Strategic Decision Making |

26
(6)

| | |
| --- | --- |
| | PART II: SCANNING THE ENVIRONMENT |

32
(44)

| | |
| --- | --- |
| | Environmental Scanning and Industry Analysis |

32
(23)
33
(5)

| | |
| --- | --- |
| | Industry Analysis: Analyzing the Task Environment |

38
(10)
48
(1)
49
(2)

| | |
| --- | --- |
| | Synthesis of External Factors---EFAS |

51
(4)

| | |
| --- | --- |
| | Internal Scanning: Organizational Analysis |

55
(21)

| | |
| --- | --- |
| | Resource-Based View of the Firm |

55
(3)
58
(1)
59
(2)

| | |
| --- | --- |
| | Scanning Internal Resources and Capabilities |

61
(11)

| | |
| --- | --- |
| | Synthesis of Internal Factors---IFAS |

72
(4)

| | |
| --- | --- |
| | PART III: STRATEGY FORMULATION |

76
(46)

| | |
| --- | --- |
| | Strategy Formulation: Situation Analysis and Business Strategy |

76
(17)

| | |
| --- | --- |
| | Situational (SWOT) Analysis |

76
(4)

| | |
| --- | --- |
| | Review of Mission and Objectives |

80
(1)

| | |
| --- | --- |
| | Generating Alternative Strategies Using a TOWS Matrix |

81
(1)
82
(11)

| | |
| --- | --- |
| | Strategy Formulation: Corporate Strategy |

93
(16)
94
(1)
94
(7)
101
(4)
105
(4)

| | |
| --- | --- |
| | Strategy Formulation: Functional Strategy and Strategic Choice |

109
(13)
110
(4)

| | |
| --- | --- |
| | The Sourcing Decision: Location of Functions and Competencies |

114
(1)
114
(1)

| | |
| --- | --- |
| | Strategic Choice: Selection of the Best Strategy |

115
(5)
120
(2)

| | |
| --- | --- |
| | PART IV: STRATEGY IMPLEMENTATION AND CONTROL |

122
(43)

| | |
| --- | --- |
| | Strategy Implementation: Organizing for Action |

122
(16)

| | |
| --- | --- |
| | What Is Strategy Implementation? |

123
(1)
123
(1)
124
(1)

| | |
| --- | --- |
| | How Is Strategy to Be Implemented? Organizing for Action |

125
(11)

| | |
| --- | --- |
| | International Issues in Strategy Implementation |

136
(2)

| | |
| --- | --- |
| | Strategy Implementation: Staffing and Leading |

138
(13)
139
(4)
143
(8)
151
(14)

| | |
| --- | --- |
| | Evaluation and Control in Strategic Management |

152
(1)
153
(7)

| | |
| --- | --- |
| | Strategic Information Systems |

160
(1)

| | |
| --- | --- |
| | Guidelines for Proper Control |

161
(1)

| | |
| --- | --- |
| | Strategic Incentive Management |

161
(4)

| | |
| --- | --- |
| | PART V: INTRODUCTION TO CASE ANALYSIS |

165
(9)

| | |
| --- | --- |
| | Suggestions for Case Analysis |

165
(9)
165
(1)

| | |
| --- | --- |
| | Frameworks for Case Analysis |

165
(1)

| | |
| --- | --- |
| | Researching the Case Situation |

166
(1)

| | |
| --- | --- |
| | Financial Analysis: A Place to Begin |

166
(6)

| | |
| --- | --- |
| | Using the Strategic Audit in Case Analysis |

172
(2)

| | |
| --- | --- |
| | Appendix 11.A Suggested Techniques for Case Analysis and Presentation |

174
(3)
174
(1)
175
(1)

| | |
| --- | --- |
| | Oral Presentation by Teams |

175
(2)

| | |
| --- | --- |
| | Appendix 11.B Resources for Case Research |

177
(2)
177
(1)
177
(1)
177
(1)

| | |
| --- | --- |
| | Directory and Index Information on Companies and Industries |

178
(1)

| | |
| --- | --- |
| | Ratio Analysis Information |

178
(1)
178
(1)

| | |
| --- | --- |
| | Appendix 11.C Strategic Audit of a Corporation |

179
(8)
179
(1)
179
(1)

| | |
| --- | --- |
| | External Environment: Opportunities and Threats (SWOT) |

180
(1)

| | |
| --- | --- |
| | Internal Environment: Strengths and Weaknesses (SWOT) |

180
(4)

| | |
| --- | --- |
| | Analysis of Strategic Factors (SWOT) |

184
(1)

| | |
| --- | --- |
| | Strategic Alternatives and Recommended Strategy |

184
(1)
184
(1)
185
(2)
Index
187