Note: Supplemental materials are not guaranteed with Rental or Used book purchases.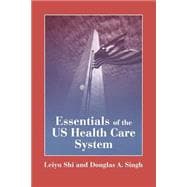 Essentials of the U. S. Health Care System
ISBN13:
9780763731519
by
Shi, Leiyu
Summary
Written by the authors of the widely used textbook Delivering Health Care in America: A Systems Approach, this engaging new book gives students the most accessible and concise introduction to U.S. health care available. Essentials of the U.S. Health Care System utilizes a unique "systems" approach that clarifies the complexities of health care organization and finance and presents a solid overview of how the various components fit together. This condensed and simplified version covers basic structures and operations of the U.S. health system -- from its historical origins and resources, to its individual services, cost, and quality.
Author Biography
Leiyu Shi. Dr PH. MBA. MPA Johns Hopkins University Douglas A. Singh. PhD. MBA Indiana University. South Bend
Table of Contents
Preface
ix
List of Exhibits
xi
List of Tables
xii
List of Figures
xii
List of Abbreviations
xiii
CHAPTER 1 MAJOR CHARACTERISTICS OF US HEALTH CARE DELIVERY
1
(22)
1
(2)

| | |
| --- | --- |
| | Subsystems of US Health Care Delivery |

3
(5)

| | |
| --- | --- |
| | Characteristics of the US Health Care System |

8
(7)

| | |
| --- | --- |
| | Health Care Systems of Other Developed Countries |

15
(2)
17
(3)
20
(3)
CHAPTER 2 FOUNDATION OF US HEALTH CARE DELIVERY
23
(22)
23
(1)
24
(3)
27
(3)

| | |
| --- | --- |
| | Cultural Beliefs and Values |

30
(1)

| | |
| --- | --- |
| | Strategies to Improve Health |

30
(12)
42
(3)
CHAPTER 3 HISTORICAL OVERVIEW OF US HEALTH CARE DELIVERY
45
(26)
45
(2)

| | |
| --- | --- |
| | Medical Services in Preindustrial America |

47
(4)

| | |
| --- | --- |
| | Medical Services in Postindustrial America |

51
(5)

| | |
| --- | --- |
| | History of Health Insurance |

56
(7)

| | |
| --- | --- |
| | Year 1970 into the 21st Century |

63
(5)
68
(3)
CHAPTER 4 HEALTH CARE PROVIDERS AND PROFESSIONALS
71
(26)
71
(3)
74
(6)
80
(2)
82
(1)

| | |
| --- | --- |
| | Other Doctoral-Level Health Professionals |

83
(1)
84
(2)

| | |
| --- | --- |
| | Nonphysician Practitioners |

86
(2)

| | |
| --- | --- |
| | Allied Health Professionals |

88
(2)

| | |
| --- | --- |
| | Health Services Administrators |

90
(2)
92
(5)
CHAPTER 5 TECHNOLOGY AND ITS EFFECTS
97
(24)
97
(2)

| | |
| --- | --- |
| | What Is Medical Technology? |

99
(1)
100
(2)

| | |
| --- | --- |
| | Use of Medical Technology |

102
(3)

| | |
| --- | --- |
| | Role of the Government in Technology Diffusion |

105
(4)

| | |
| --- | --- |
| | Impact of Medical Technology |

109
(6)

| | |
| --- | --- |
| | Assessment of Medical Technology |

115
(2)

| | |
| --- | --- |
| | Benefits of Technology Assessment |

117
(1)
118
(3)
CHAPTER 6 FINANCING AND REIMBURSEMENT METHODS
121
(28)
121
(1)

| | |
| --- | --- |
| | Effects of Health Care Financing and Insurance |

122
(3)

| | |
| --- | --- |
| | Insurance: Its Nature and Purpose |

125
(2)
127
(2)
129
(10)
139
(4)

| | |
| --- | --- |
| | National Health Expenditures |

143
(3)
146
(3)
CHAPTER 7 OUTPATIENT SERVICES AND PRIMARY CARE
149
(24)
149
(1)
150
(1)

| | |
| --- | --- |
| | Scope of Outpatient Services |

151
(2)

| | |
| --- | --- |
| | Outpatient Care Settings and Methods of Delivery |

153
(5)
158
(10)
168
(5)
CHAPTER 8 HOSPITALS
173
(24)
173
(1)

| | |
| --- | --- |
| | Evolution of the Hospital in the United States |

174
(2)

| | |
| --- | --- |
| | Expansion and Downsizing of Hospitals in the United States |

176
(3)

| | |
| --- | --- |
| | Access and Utilization by the US Population |

179
(1)

| | |
| --- | --- |
| | Utilization of Hospital Capacity |

180
(1)
181
(1)
182
(7)

| | |
| --- | --- |
| | Licensure, Certification, and Accreditation |

189
(1)
190
(2)
192
(2)
194
(3)
CHAPTER 9 MANAGED CARE AND INTEGRATED ORGANIZATIONS
197
(24)
197
(1)
198
(2)

| | |
| --- | --- |
| | Evolution and Growth of Managed Care |

200
(4)

| | |
| --- | --- |
| | Utilization Control Methods in Managed Care |

204
(2)

| | |
| --- | --- |
| | Types of Managed Care Organizations |

206
(5)

| | |
| --- | --- |
| | Impact of Cost, Access, and Quality |

211
(1)
212
(2)
214
(3)
217
(4)
CHAPTER 10 LONG-TERM CARE SERVICES
221
(26)
221
(2)
223
(6)

| | |
| --- | --- |
| | Community-Based LTC Services |

229
(4)
233
(5)

| | |
| --- | --- |
| | Licensing and Certification of Nursing Homes |

238
(2)
240
(1)

| | |
| --- | --- |
| | State of the Nursing Home Industry |

241
(2)
243
(4)
CHAPTER 11 UNDERSERVED POPULATIONS
247
(16)
247
(1)

| | |
| --- | --- |
| | Framework to Study Vulnerable Populations |

248
(7)
255
(2)
257
(3)
260
(3)
CHAPTER 12 COST, ACCESS, AND QUALITY
263
(28)
263
(1)
264
(1)
265
(1)
266
(6)
272
(3)
275
(7)
282
(4)

| | |
| --- | --- |
| | Developments in Process Improvement |

286
(1)
287
(4)
CHAPTER 13 HEALTH POLICY
291
(22)
291
(1)
292
(2)

| | |
| --- | --- |
| | Principal Features of US Health Policy |

294
(8)

| | |
| --- | --- |
| | Development of Legislative Health Policy |

302
(3)
305
(5)
310
(3)
CHAPTER 14 THE FUTURE OF HEALTH SERVICES DELIVERY
313
(24)
313
(3)

| | |
| --- | --- |
| | Future of Managed Care, Health Care Costs, and System Reform |

316
(3)

| | |
| --- | --- |
| | Trends in Health Insurance |

319
(3)

| | |
| --- | --- |
| | Options for Comprehensive Reform |

322
(1)

| | |
| --- | --- |
| | National and Global Challenges |

323
(3)

| | |
| --- | --- |
| | Bioterrorism and the Transformation of Public Health |

326
(1)

| | |
| --- | --- |
| | Future of Health Care Workforce |

327
(3)

| | |
| --- | --- |
| | New Frontiers in Technology |

330
(2)
332
(5)
INDEX
337