Note: Supplemental materials are not guaranteed with Rental or Used book purchases.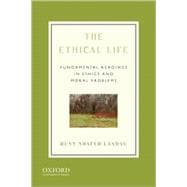 The Ethical Life Fundamental Readings in Ethics and Moral Problems
ISBN13:
9780195377699
by
Shafer-Landau, Russ
Related Products
Summary
Brief yet thorough and affordably priced, The Ethical Life: Fundamental Readings in Ethics and Moral Problems is ideal for courses in introductory ethics and contemporary moral problems. Featuring thirty-nine readings divided into four parts--Value Theory, Normative Ethics, Metaethics, and Moral Problems--it introduces students to ethical theory and a wide range of moral issues. The essays include selections from such historically influential philosophers as Aristotle, Hume, Kant, and Mill alongside work by contemporary philosophers like Philippa Foot, Robert Nozick, Peter Singer, and Judith Jarvis Thomson. Detailed section and reading introductions provide helpful contextual information. Designed as a companion reader to Russ Shafer-Landau's textbook, The Fundamentals of Ethics, The Ethical Life is also comprehensive enough to be used on its own. The book is enhanced by an Instructor's Manual and Testbank on CD and a Companion Website for students and instructors.
Table of Contents
Acknowledgments
A Note on the Companion Volume
Help for Students and Instructors
Introduction
Value Theory: The Nature Of The Good Life
Epicurus, Letter to Menoeceus
Hedonism
Brave New World
The Experience Machine
The Meaning of Life
Necessities
Normative Ethics: Theories Of Right Conduct
Extreme and Restricted Utilitarianism
The Good Will and the Categorical Imperative
Leviathan
Natural Goodness
Nicomachean Ethics Aristotle
What Makes Right Acts Right?
What Is Feminist Ethics?
Metaethics: The Status Of Morality
Moral Distinctions Not Derived from Reason
The Subjectivity of Values
Ethics and Observation
Trying Out One's New Sword
Realism
Renford Bambrough, Proof
Moral Problems
The Singer Solution to World Poverty
Paid Surrogacy: Arguments and Responses
Playing God: Genes, Clones, and Luck
The Morality of Euthanasia
The Survival Lottery
Unsanctifying Human Life
People or Penguins: The Case for Optimal Pollution
A Defense of Abortion
Why Abortion Is Immoral
The Conscience of Huckleberry Finn
Terrorism: A Critique of Excuses
Liberalism, Torture, and the Ticking Bomb
Letter from Birmingham City Jail
Justifying Legal Punishment
An Eye for an Eye?
America's Unjust Drug War
Why Shouldn't Tommy and Jimmy Have Sex? A Defense of Homosexuality
Adultery
Licensing Parents
What Do Grown Children Owe Their Parents?
Table of Contents provided by Publisher. All Rights Reserved.