Note: Supplemental materials are not guaranteed with Rental or Used book purchases.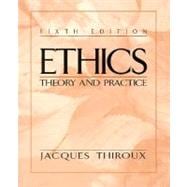 Ethics
ISBN13:
9780137542925
by
Thiroux, Jacques
Prentice Hall Professional Technical Reference
Questions About This Book?
What version or edition is this?
This is the 6th edition with a publication date of 10/1/1997.
What is included with this book?
The New copy of this book will include any supplemental materials advertised. Please check the title of the book to determine if it should include any CDs, lab manuals, study guides, etc.
Summary
This text introduces students with little or no background in philosophy or ethics to traditional and contemporary ethical theory. Through an abundance of examples and case studies, it shows them how to set up their own systematic, rational ethics and how to apply ethical theories to traditional and contemporary moral issues.
Table of Contents
Preface
xiii

| | |
| --- | --- |
| | Chapter 1 What Is Morality? |

1
(34)
1
(1)

| | |
| --- | --- |
| | What is Philosophy and Ethics' Relationship to It? |

2
(1)
2
(4)

| | |
| --- | --- |
| | Approaches to the Study of Morality |

6
(2)

| | |
| --- | --- |
| | Morality and Its Applications |

8
(5)

| | |
| --- | --- |
| | Where Does Morality Come From? |

13
(4)

| | |
| --- | --- |
| | Customary or Traditional and Reflective Morality |

17
(2)

| | |
| --- | --- |
| | Morality, Law, and Religion |

19
(6)

| | |
| --- | --- |
| | Why Should Human Beings Be Moral? |

25
(3)
28
(3)
31
(1)
32
(1)
33
(1)
33
(2)

| | |
| --- | --- |
| | Chapter 2 Consequentialist (Teleological) Theories of Morality |

35
(20)
35
(1)
36
(2)
38
(5)
43
(5)

| | |
| --- | --- |
| | Difficulty with Consequentialist Theories in General |

48
(1)
49
(2)
51
(1)
52
(1)
53
(1)
53
(2)

| | |
| --- | --- |
| | Chapter 3 Nonconsequentialist (Deontological) Theories of Morality and Virtue Ethics |

55
(28)
55
(1)

| | |
| --- | --- |
| | Act Nonconsequentialist Theories |

56
(3)

| | |
| --- | --- |
| | Rule Nonconsequentialist Theories |

59
(7)

| | |
| --- | --- |
| | General Criticisms of Nonconsequentialist Theories |

66
(2)
68
(6)
74
(1)
75
(3)
78
(1)
79
(1)
80
(1)
81
(2)

| | |
| --- | --- |
| | Chapter 4 Absolutism versus Relativism |

83
(18)
83
(1)

| | |
| --- | --- |
| | The Meaning of "Absolute" |

84
(1)

| | |
| --- | --- |
| | The Meaning of "Relative" |

85
(1)

| | |
| --- | --- |
| | Cultural Relativism and Cultural Absolutism |

85
(2)
87
(8)
95
(1)
96
(2)
98
(1)
98
(1)
99
(1)
99
(2)

| | |
| --- | --- |
| | Chapter 5 Freedom versus Determinism |

101
(20)
101
(1)
102
(1)

| | |
| --- | --- |
| | Types and Theories of Determinism |

102
(6)

| | |
| --- | --- |
| | Fatalism and Hard and Soft Determinism |

108
(2)
110
(1)

| | |
| --- | --- |
| | Criticisms of Hard Determinism and Arguments for Freedom |

111
(3)

| | |
| --- | --- |
| | Conclusion: Soft Determinism |

114
(1)
115
(3)
118
(1)
118
(1)
119
(1)
119
(2)

| | |
| --- | --- |
| | Chapter 6 Reward and Punishment |

121
(32)
121
(1)
121
(1)

| | |
| --- | --- |
| | Reward and Punishment in Relationship to Justice |

122
(1)
123
(1)
124
(7)
131
(2)
133
(10)
143
(2)
145
(5)
150
(1)
150
(1)
151
(1)
151
(2)

| | |
| --- | --- |
| | Chapter 7 Setting Up a Moral System: Basic Assumptions and Basic Principles |

153
(28)
153
(1)

| | |
| --- | --- |
| | Conflicting General Moral Issues |

154
(1)
155
(5)

| | |
| --- | --- |
| | Basic Principles, Individual Freedom, and Their Justification |

160
(10)

| | |
| --- | --- |
| | Priority of the Basic Principles |

170
(1)

| | |
| --- | --- |
| | A General Way of Determining Priority--Two Categories |

170
(4)

| | |
| --- | --- |
| | How the System of Humanitarian Ethics Works |

174
(2)
176
(1)
177
(2)
179
(1)
179
(1)
180
(1)
180
(1)

| | |
| --- | --- |
| | Chapter 8 The Taking of Human Life |

181
(31)
181
(1)
182
(1)
182
(3)

| | |
| --- | --- |
| | Cases for Study and Discussion |

185
(1)

| | |
| --- | --- |
| | Defense of the Innocent (the Self Included) |

186
(1)

| | |
| --- | --- |
| | Cases for Study and Discussion |

187
(1)
188
(3)
191
(1)

| | |
| --- | --- |
| | Cases for Study and Discussion |

192
(1)
193
(5)

| | |
| --- | --- |
| | Cases for Study and Discussion |

198
(1)
199
(2)
201
(1)

| | |
| --- | --- |
| | Views of Major Ethical Theories on the Taking of Human Life |

202
(1)
202
(2)
204
(2)
206
(2)
208
(2)
210
(1)
210
(1)
210
(2)

| | |
| --- | --- |
| | Chapter 9 Allowing Someone to Die, Mercy Death, and Mercy Killing |

212
(52)
212
(1)
213
(1)

| | |
| --- | --- |
| | Current Legal Status of Mercy Death and Mercy Killing |

214
(2)
216
(24)

| | |
| --- | --- |
| | Cases for Study and Discussion |

240
(2)
242
(8)

| | |
| --- | --- |
| | Cases for Study and Discussion |

250
(1)
251
(3)

| | |
| --- | --- |
| | Cases for Study and Discussion |

254
(1)
255
(5)
260
(1)

| | |
| --- | --- |
| | Views of the Major Ethical Theories on Allowing Someone to Die, Mercy Death, and Mercy Killing |

260
(1)
261
(1)
261
(3)
264
(26)
264
(1)

| | |
| --- | --- |
| | Introduction to the Abortion Issue |

265
(3)

| | |
| --- | --- |
| | When Does Human Life Begin? |

268
(2)

| | |
| --- | --- |
| | Arguments Against Abortion |

270
(4)
274
(5)

| | |
| --- | --- |
| | The More Moderate Positions on Abortion |

279
(3)

| | |
| --- | --- |
| | Cases for Study and Discussion |

282
(2)
284
(3)
287
(1)

| | |
| --- | --- |
| | Views of the Major Ethical Theories on Abortion |

287
(1)
287
(1)
288
(2)

| | |
| --- | --- |
| | Chapter 11 Lying, Cheating, Breaking Promises, and Stealing |

290
(33)
290
(1)
290
(1)
291
(1)

| | |
| --- | --- |
| | Nonconsequentialist and Consequentialist Views |

292
(2)
294
(7)

| | |
| --- | --- |
| | Cases for Study and Discussion |

301
(1)
302
(3)

| | |
| --- | --- |
| | Cases for Study and Discussion |

305
(1)
306
(4)

| | |
| --- | --- |
| | Cases for Study and Discussion |

310
(2)
312
(3)

| | |
| --- | --- |
| | Cases for Study and Discussion |

315
(2)
317
(3)
320
(1)

| | |
| --- | --- |
| | Views of the Major Ethical Theories on Lying, Cheating, Breaking Promises, and Stealing |

321
(1)
321
(1)
321
(2)

| | |
| --- | --- |
| | Chapter 12 Morality, Marriage, and Human Sexuality |

323
(33)
323
(1)

| | |
| --- | --- |
| | Major Aspects of Human Sexuality |

323
(1)

| | |
| --- | --- |
| | The Meaning and Purposes of Human Sexuality |

324
(5)
329
(4)

| | |
| --- | --- |
| | Sex in Marriage-Type (Including Nonlegal) Relationships |

333
(8)
341
(1)
341
(2)
343
(1)

| | |
| --- | --- |
| | Sexual Perversion or "Unnatural" Sexual Activity |

344
(1)

| | |
| --- | --- |
| | Cases for Study and Discussion |

345
(1)
346
(6)
352
(1)

| | |
| --- | --- |
| | Views of the Major Ethical Theories on Morality, Human Sexuality, and Marriage |

353
(1)
353
(1)
353
(3)

| | |
| --- | --- |
| | Chapter 13 Bioethics--Ethical Issues in Medicine |

356
(33)
356
(1)

| | |
| --- | --- |
| | Introduction and Definition of Terms |

357
(1)

| | |
| --- | --- |
| | Health Care Professionals and Patients and Their Families--Rights and Obligations |

357
(5)

| | |
| --- | --- |
| | Truth Telling and Informed Consent |

362
(5)
367
(2)

| | |
| --- | --- |
| | Guilt and Innocence in Treating Patients |

369
(1)

| | |
| --- | --- |
| | Ethical Issues in Medicine |

369
(5)

| | |
| --- | --- |
| | Cases for Study and Discussion |

374
(3)
377
(7)
384
(1)

| | |
| --- | --- |
| | Views of the Major Ethical Theories on Bioethical Issues |

385
(1)
385
(1)
385
(4)

| | |
| --- | --- |
| | Chapter 14 Business Ethics |

389
(28)
389
(1)
390
(1)

| | |
| --- | --- |
| | Rights and Obligations in Business |

390
(1)

| | |
| --- | --- |
| | Two Ways of Approaching Rights and Obligations in Business |

391
(2)
393
(1)

| | |
| --- | --- |
| | Justice, Truth Telling, and Honesty in Business |

394
(1)

| | |
| --- | --- |
| | Ethical Issues in Business |

395
(6)
401
(4)

| | |
| --- | --- |
| | Cases for Study and Discussion |

405
(4)
409
(5)
414
(1)

| | |
| --- | --- |
| | Views of the Major Ethical Theories on Business Ethics |

415
(1)
415
(1)
415
(2)

| | |
| --- | --- |
| | Chapter 15 Environmental Ethics |

417
(29)
417
(1)
418
(1)
418
(1)

| | |
| --- | --- |
| | Environmental Ethical Issues |

419
(2)

| | |
| --- | --- |
| | Our Attitude Toward Nature and What Lies Behind it |

421
(3)

| | |
| --- | --- |
| | Arguments for Use and Exploitation of the Natural Environment |

424
(1)

| | |
| --- | --- |
| | Arguments Against the Use and Exploitation of Nature |

425
(2)
427
(1)

| | |
| --- | --- |
| | Criteria for Animal Rights |

427
(2)

| | |
| --- | --- |
| | Ways of Dealing with Animal Rights |

429
(1)
430
(1)

| | |
| --- | --- |
| | Use of Animals for Experimentation |

431
(2)

| | |
| --- | --- |
| | Killing Animals for Sport |

433
(2)

| | |
| --- | --- |
| | Protection of Endangered Species |

435
(1)
436
(1)

| | |
| --- | --- |
| | Cases for Study and Discussion |

436
(2)
438
(5)
443
(1)

| | |
| --- | --- |
| | Views of the Major Ethical Theories on Environmental Ethics |

444
(1)
444
(1)
444
(2)
Appendixes Introduction
446
(1)
Appendix 1 Applying Humanitarian Ethics to the Moral Problems of the Taking of Human Life
447
(12)
Appendix 2 Applying Humanitarian Ethics to the Moral Problems of Allowing Someone to Die, Mercy Death, and Mercy Killing
459
(9)
Appendix 3 Applying Humanitarian Ethics to the Moral Problems of Abortion
468
(11)
Appendix 4 Applying Humanitarian Ethics to the Moral Problems of Lying, Cheating, Breaking Promises, and Stealing
479
(9)
Appendix 5 Applying Humanitarian Ethics to the Moral Problems of Human Sexuality
488
(7)
Appendix 6 Applying Humanitarian Ethics to Moral Problems in Medicine (Bioethics)
495
(8)
Appendix 7 Applying Humanitarian Ethics to Moral Problems in Business (Business Ethics)
503
(7)
Appendix 8 Applying Humanitarian Ethics to Environmental Ethics
510
(5)
Glossary
515
(16)
Index
531