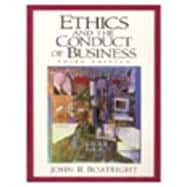 Questions About This Book?
What version or edition is this?
This is the 3rd edition with a publication date of 7/1/1999.
What is included with this book?
The New copy of this book will include any supplemental materials advertised. Please check the title of the book to determine if it should include any CDs, lab manuals, study guides, etc.
Summary
This comprehensive and balanced book gives a thorough treatment of the most prominent issues of business ethics and the major positions and arguments on these issues. An abundance of case studies help illustrate topics such as: whistle-blowing, discrimination and affirmative action, occupational health and safety, ethics in finance, and ethics in international business. For professionals in the field who want an up-to-date discussion of the most prominent issues of business ethics.
Table of Contents
Preface
ix
Acknowledgments
xi

| | |
| --- | --- |
| | Ethics in the World of Business |

1
(28)

| | |
| --- | --- |
| | Johnson & Johnson: The Tylenol Crisis |

3
(1)
4
(8)
5
(7)
12
(12)

| | |
| --- | --- |
| | Ethics, Economics, and Law |

13
(5)
18
(4)

| | |
| --- | --- |
| | Morality, Ethics, and Ethical Theory |

22
(2)
24
(1)

| | |
| --- | --- |
| | Argus Incorporated: A Leasing Triangle |

25
(4)
29
(21)
29
(16)
30
(1)

| | |
| --- | --- |
| | Two Types of Ethical Theories |

31
(3)
34
(2)

| | |
| --- | --- |
| | The Forms of Utilitarianism |

36
(4)
40
(5)

| | |
| --- | --- |
| | Declining Sales at Supravac |

45
(1)
46
(4)

| | |
| --- | --- |
| | Kantian Ethics, Rights, and Virtue |

50
(23)

| | |
| --- | --- |
| | Big Brother at Procter & Gamble |

50
(17)
52
(1)
52
(6)
58
(4)
62
(5)

| | |
| --- | --- |
| | Clean Hands in a Dirty Business |

67
(2)
69
(4)

| | |
| --- | --- |
| | Justice and the Market System |

73
(31)

| | |
| --- | --- |
| | Green Giant Runs for the Border |

73
(22)
75
(1)

| | |
| --- | --- |
| | Aristotle's Analysis of Justice |

76
(3)
79
(3)

| | |
| --- | --- |
| | The Egalitarian Theory of John Rawls |

82
(4)

| | |
| --- | --- |
| | Utility and the Market System |

86
(6)

| | |
| --- | --- |
| | The Libertarian Justification of the Market |

92
(3)
95
(2)
97
(7)
104
(24)
104
(19)
106
(1)
107
(2)

| | |
| --- | --- |
| | The Justification of Whistle-Blowing |

109
(5)

| | |
| --- | --- |
| | The Conditions for Justified Whistle-Blowing |

114
(3)

| | |
| --- | --- |
| | Is There a Right to Blow the Whistle? |

117
(4)

| | |
| --- | --- |
| | Developing a Company Whistle-Blowing Policy |

121
(2)

| | |
| --- | --- |
| | A Whistle-Blower Accepts a ``Deal'' |

123
(1)
124
(4)

| | |
| --- | --- |
| | Trade Secrets and Conflict of Interest |

128
(31)
128
(26)
130
(1)

| | |
| --- | --- |
| | The Definition of a Trade Secret |

130
(2)

| | |
| --- | --- |
| | The Arguments for Trade Secret Protection |

132
(7)

| | |
| --- | --- |
| | Competitor Intelligence Gathering |

139
(2)
141
(8)

| | |
| --- | --- |
| | The Ethics of Insider Trading |

149
(5)

| | |
| --- | --- |
| | Three Trade Secret Disputes |

154
(1)

| | |
| --- | --- |
| | The Conflict of an Insurance Broker |

155
(4)
159
(25)

| | |
| --- | --- |
| | Psychological Testing at Dayton Hudson |

159
(18)
161
(1)
162
(3)
165
(3)
168
(4)

| | |
| --- | --- |
| | The Privacy of Employee Records |

172
(5)

| | |
| --- | --- |
| | Three Challenges to Employee Privacy |

177
(2)
179
(1)

| | |
| --- | --- |
| | Lotus MarketPlace:Households |

179
(5)

| | |
| --- | --- |
| | Discrimination and Affirmative Action |

184
(32)
184
(26)
186
(1)
187
(6)

| | |
| --- | --- |
| | Ethical Arguments against Discrimination |

193
(2)
195
(5)
200
(10)
210
(1)

| | |
| --- | --- |
| | The Alaskan Salmon Cannery |

210
(1)
211
(5)
216
(30)
216
(9)
218
(1)
219
(6)

| | |
| --- | --- |
| | Sexual Harassment or Business as Usual? |

225
(11)
226
(10)
236
(6)
237
(5)

| | |
| --- | --- |
| | Is Family-Friendly Always Fair? |

242
(4)
246
(24)

| | |
| --- | --- |
| | The Firing of Robert Greeley |

246
(19)
247
(1)

| | |
| --- | --- |
| | Property Rights and Employment at Will |

248
(6)

| | |
| --- | --- |
| | The Freedom of Contract Argument |

254
(3)

| | |
| --- | --- |
| | Efficiency and Employment at Will |

257
(5)

| | |
| --- | --- |
| | Protecting against Unjust Dismissal |

262
(3)
265
(1)

| | |
| --- | --- |
| | A ``State-of-the-Art'' Termination |

266
(4)

| | |
| --- | --- |
| | Marketing, Advertising, and Product Safety |

270
(37)

| | |
| --- | --- |
| | Dow Corning's Breast Implants |

270
(30)
272
(1)

| | |
| --- | --- |
| | Ethical Issues in Marketing |

273
(6)
279
(11)
290
(10)

| | |
| --- | --- |
| | Volvo's ``Bear Foot'' Misstep |

300
(1)

| | |
| --- | --- |
| | The Target Marketing of Cigarettes |

301
(6)

| | |
| --- | --- |
| | Occupational Health and Safety |

307
(29)

| | |
| --- | --- |
| | The Regulation of Benzene |

307
(10)
308
(1)
309
(2)

| | |
| --- | --- |
| | The Right to a Safe and Healthy Workplace |

311
(6)
317
(7)

| | |
| --- | --- |
| | The Right to Know about and Refuse Hazardous Work |

318
(6)
324
(7)

| | |
| --- | --- |
| | The Problem of Reprodeuctive Hazards |

326
(5)
331
(5)
336
(39)
336
(23)
338
(1)

| | |
| --- | --- |
| | Corporate Social Responsibility |

338
(10)
348
(11)
359
(10)

| | |
| --- | --- |
| | Corporate Ethics Programs |

360
(9)
369
(6)

| | |
| --- | --- |
| | Ethics in International Business |

375
(30)
375
(21)
377
(1)

| | |
| --- | --- |
| | Developing an Ethical Framework |

378
(10)
388
(8)
396
(2)
398
(7)
Index
405