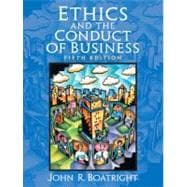 List Price: $86.00
Usually Ships in 3-5 Business Days
Questions About This Book?
What version or edition is this?
This is the 6th edition with a publication date of 7/7/2009 4:21:00 PM.
What is included with this book?
The Used copy of this book is not guaranteed to inclue any supplemental materials. Typically, only the book itself is included.
Summary
"Ethics and the Conduct of Business, Fifth Edition, frames each issue and examines the arguments on each side with rigor and clarity. Numerous short cases and real-life examples increase understanding and stimulate classroom discussion. The revised and updated Fifth Edition retains the familiar structure of previous editions, although the material on ethical theory, formerly in three chapters, has been reorganized and reduced to two chapters. Of the forty-five cases in the book, eight are new. The chapter on marketing has been extensively rewritten."--BOOK JACKET.
Table of Contents
Preface
vii
Acknowledgments
ix

| | |
| --- | --- |
| | Ethics in the World of Business |

1
(29)

| | |
| --- | --- |
| | Case 1.1 Johnson & Johnson: The Tylenol Crisis |

1
(2)
3
(1)
3
(9)

| | |
| --- | --- |
| | Case 1.2 The Ethics of Hardball |

12
(1)

| | |
| --- | --- |
| | Ethics, Economics, and Law |

13
(5)
18
(4)

| | |
| --- | --- |
| | Business Ethics and Ethical Theory |

22
(3)

| | |
| --- | --- |
| | Case 1.3 A Sticky Situation |

25
(1)

| | |
| --- | --- |
| | Case 1.4 Argus Incorporated: A Leasing Triangle |

26
(4)

| | |
| --- | --- |
| | Welfare, Rights, and Justice |

30
(34)

| | |
| --- | --- |
| | Case 2.1 Beech-Nut's Bogus Apple Juice |

30
(1)
31
(1)
32
(5)
37
(8)
45
(7)
52
(5)

| | |
| --- | --- |
| | Case 2.2 Exporting Pollution |

57
(1)

| | |
| --- | --- |
| | Case 2.3 An Auditor's Dilemma |

58
(6)

| | |
| --- | --- |
| | Equality, Liberty, and Virtue |

64
(28)

| | |
| --- | --- |
| | Case 3.1 Big Brother at Procter & Gamble |

64
(2)
66
(1)
66
(6)

| | |
| --- | --- |
| | Rawls's Egalitarian Theory |

72
(4)
76
(4)
80
(5)

| | |
| --- | --- |
| | Case 3.2 Clean Hands in a Dirty Business |

85
(2)

| | |
| --- | --- |
| | Case 3.3 Executive Compensation |

87
(5)
92
(24)

| | |
| --- | --- |
| | Case 4.1 Time's Persons of the Year |

92
(3)
95
(1)
96
(2)

| | |
| --- | --- |
| | The Justification of Whistle-Blowing |

98
(7)

| | |
| --- | --- |
| | Is There a Right to Blow the Whistle? |

105
(4)

| | |
| --- | --- |
| | Developing a Whistle-Blowing Policy |

109
(2)

| | |
| --- | --- |
| | Case 4.2 A Whistle-Blower Accepts a ``Deal'' |

111
(1)

| | |
| --- | --- |
| | Case 4.3 Better Late than Never? |

112
(4)

| | |
| --- | --- |
| | Trade Secrets and Conflict of Interest |

116
(29)

| | |
| --- | --- |
| | Case 5.1 The Aggressive Ad Agency |

116
(1)
117
(1)
118
(9)

| | |
| --- | --- |
| | Competitor Intelligence Gathering |

127
(2)
129
(12)

| | |
| --- | --- |
| | Case 5.2 The Conflict of an Insurance Broker |

141
(1)

| | |
| --- | --- |
| | Case 5.3 Procter & Gamble Goes Dumpster Diving |

142
(3)
145
(29)

| | |
| --- | --- |
| | Case 6.1 Psychological Testing at Dayton Hudson |

145
(1)
146
(1)
147
(4)

| | |
| --- | --- |
| | The Meaning and Value of Privacy |

151
(7)

| | |
| --- | --- |
| | The Privacy of Employee Records |

158
(5)
163
(6)

| | |
| --- | --- |
| | Case 6.2 Three Challenges to Employee Privacy |

169
(1)
170
(4)

| | |
| --- | --- |
| | Discrimination and Affirmative Action |

174
(33)

| | |
| --- | --- |
| | Case 7.1 Discrimination at Texaco |

174
(2)
176
(1)
177
(6)

| | |
| --- | --- |
| | Arguments Against Discrimination |

183
(2)
185
(4)
189
(12)

| | |
| --- | --- |
| | Case 7.2 The Alaskan Salmon Cannery |

201
(1)

| | |
| --- | --- |
| | Case 7.3 The Walkout at Wilton's |

202
(5)
207
(28)

| | |
| --- | --- |
| | Case 8.1 Jacksonville Shipyards |

207
(2)
209
(1)
209
(7)
216
(10)
226
(4)

| | |
| --- | --- |
| | Case 8.2 Sexual Harassment or Business as Usual? |

230
(1)

| | |
| --- | --- |
| | Case 8.3 Is Family-Friendly Always Fair? |

231
(4)
235
(24)

| | |
| --- | --- |
| | Case 9.1 The Firing of Robert Greeley |

235
(1)
236
(1)

| | |
| --- | --- |
| | Property Rights and Employment |

237
(6)

| | |
| --- | --- |
| | The Freedom of Contract Argument |

243
(3)

| | |
| --- | --- |
| | Efficiency and Employment at Will |

246
(5)

| | |
| --- | --- |
| | Protecting Against Unjust Dismissal |

251
(3)

| | |
| --- | --- |
| | Case 9.2 Waiving the Right to Sue |

254
(1)

| | |
| --- | --- |
| | Case 9.3 A ``State-of-the-Art'' Termination |

255
(4)

| | |
| --- | --- |
| | Marketing, Advertising, and Product Safety |

259
(44)
259
(2)
261
(1)
262
(10)
272
(12)
284
(11)

| | |
| --- | --- |
| | Case 10.2 Volvo's ``Bear Foot'' Misstep |

295
(1)

| | |
| --- | --- |
| | Case 10.3 The Ford-Firestone Brawl |

296
(7)

| | |
| --- | --- |
| | Occupational Health and Safety |

303
(29)

| | |
| --- | --- |
| | Case 11.1 When Is an Accident a Crime? |

303
(1)
304
(1)
305
(9)

| | |
| --- | --- |
| | Case 11.2 Whirlpool Corporation |

314
(1)

| | |
| --- | --- |
| | The Right to Know About and Refuse Hazardous Work |

314
(7)

| | |
| --- | --- |
| | Case 11.3 Johnson Controls, Inc. |

321
(1)

| | |
| --- | --- |
| | The Problem of Reproductive Hazards |

322
(6)

| | |
| --- | --- |
| | Case 11.4 Genetic Testing at Burlington Northern |

328
(4)
332
(32)

| | |
| --- | --- |
| | Case 12.1 Merrill Lynch and the Nigerian Barge Deal |

332
(2)
334
(1)
334
(5)
339
(4)
343
(5)
348
(9)

| | |
| --- | --- |
| | Case 12.2 The Salomon Brothers Bond Trading Scandal |

357
(2)

| | |
| --- | --- |
| | Case 12.3 Strong Financial Management Mutual Funds |

359
(5)
364
(40)

| | |
| --- | --- |
| | Case 13.1 Competing Visions at Malden Mills |

364
(2)
366
(1)
367
(9)
376
(12)

| | |
| --- | --- |
| | Case 13.2 Bath Iron Works |

388
(1)
389
(9)

| | |
| --- | --- |
| | Case 13.3 Sears Auto Centers |

398
(6)

| | |
| --- | --- |
| | International Business Ethics |

404
(37)

| | |
| --- | --- |
| | Case 14.1 Nike in Southeast Asia |

404
(1)
405
(1)
406
(9)

| | |
| --- | --- |
| | Wages and Working Conditions |

415
(5)
420
(4)
424
(8)

| | |
| --- | --- |
| | Case 14.2 H. B. Fuller in Honduras |

432
(2)

| | |
| --- | --- |
| | Case 14.3 Shell Oil in Nigeria |

434
(2)

| | |
| --- | --- |
| | Case 14.4 Merck and AIDS in South Africa |

436
(5)
Index
441