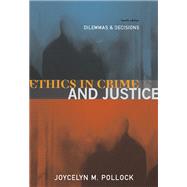 Questions About This Book?
What version or edition is this?
This is the 4th edition with a publication date of 8/22/2003.
What is included with this book?
The New copy of this book will include any supplemental materials advertised. Please check the title of the book to determine if it should include any CDs, lab manuals, study guides, etc.
The Used copy of this book is not guaranteed to include any supplemental materials. Typically, only the book itself is included.
Summary
1. Morality, Ethics, and Human Behavior. 2. Determining Moral Behavior. 3. Developing Moral and Ethical Behavior. 4. Justice and the Law. 5. Further Issues in Retributive Justice. 6. The Ethics of Social Control. 7. Corruption and the "Code". 8. Ethics and Law Enforcement Practices. 9. Ethics and Legal Professionals. 10. Special Issues for Prosecutors and Judges. 11. The Ethics of Punishment and Corrections. 12. Ethics for Correctional Professionals. 13. Corrections in the Community. 14. Criminal Justice Policy.
Table of Contents
PREFACE
xii
1 MORALITY, ETHICS, AND HUMAN BEHAVIOR
1
(25)
2
(5)
7
(7)
7
(2)
9
(3)
12
(1)
12
(2)
14
(6)

| | |
| --- | --- |
| | Criminal Culpability/Moral Culpability |

15
(3)

| | |
| --- | --- |
| | Regulations, Standards, and Rules |

18
(2)
20
(1)

| | |
| --- | --- |
| | Analyzing Ethical Dilemmas |

21
(2)
23
(1)
23
(1)
24
(1)
25
(1)
2 DETERMINING MORAL BEHAVIOR
26
(26)
28
(1)

| | |
| --- | --- |
| | Deontological and Teleological Ethical Systems |

29
(6)
29
(3)
32
(3)
35
(9)
35
(3)
38
(1)
39
(3)
42
(1)
43
(1)

| | |
| --- | --- |
| | Relativism and Absolutism |

44
(2)

| | |
| --- | --- |
| | Toward a Resolution: Situational Ethics |

46
(2)
48
(1)
49
(1)
50
(1)
50
(1)
51
(1)
3 DEVELOPING MORAL AND ETHICAL BEHAVIOR
52
(25)

| | |
| --- | --- |
| | Theories of Moral Development |

53
(1)
54
(10)
55
(2)
57
(7)

| | |
| --- | --- |
| | Ethics, Behavior, and Criminality |

64
(10)
64
(1)
65
(3)

| | |
| --- | --- |
| | Teaching Ethics in Criminal Justice |

68
(2)

| | |
| --- | --- |
| | Morality, Criminology, and Offender |

70
(4)
74
(1)
75
(1)
76
(1)
76
(1)
4 JUSTICE AND THE LAW
77
(28)

| | |
| --- | --- |
| | Origins of the Concept of Justice |

79
(1)
80
(17)
81
(6)
87
(10)
97
(5)
98
(1)
99
(3)
102
(1)
103
(1)
103
(1)
104
(1)
5 FURTHER ISSUES IN RETRIBUTIVE JUSTICE
105
(27)
106
(5)
107
(1)
108
(3)

| | |
| --- | --- |
| | Criminal and Moral Culpability |

111
(6)

| | |
| --- | --- |
| | Punishing the Mentally Ill |

111
(2)
113
(3)

| | |
| --- | --- |
| | Punishing White-Collar Criminals |

116
(1)
117
(6)
122
(1)
122
(1)

| | |
| --- | --- |
| | Immoral Laws and the Moral Person |

123
(7)

| | |
| --- | --- |
| | The Criminal Justice Professional |

127
(1)

| | |
| --- | --- |
| | Balancing Law and Justice |

128
(2)
130
(1)
130
(1)
131
(1)
131
(1)
6 THE ETHICS OF SOCIAL CONTROL
132
(34)

| | |
| --- | --- |
| | The Police Role in Society |

134
(4)

| | |
| --- | --- |
| | Crime Fighter or Public Servant? |

134
(4)
138
(1)

| | |
| --- | --- |
| | Formal Ethics for Police Officers |

139
(11)

| | |
| --- | --- |
| | The Law Enforcement Code of Ethics |

140
(4)

| | |
| --- | --- |
| | The Police Subculture and Formal Ethics |

144
(6)

| | |
| --- | --- |
| | Discretion, Discrimination, and Duty |

150
(11)
150
(3)
153
(5)
158
(3)

| | |
| --- | --- |
| | Crime Fighter and Pubic Servant? |

161
(2)
163
(1)
163
(1)
164
(1)
165
(1)
7 CORRUPTION AND THE "CODE"
166
(30)
167
(12)
168
(6)
174
(1)

| | |
| --- | --- |
| | Sexual Harassment and Assault |

175
(2)
177
(2)
179
(1)
180
(6)
183
(2)
185
(1)

| | |
| --- | --- |
| | Loyalty and Whistle blowing |

186
(5)
187
(1)
188
(1)
188
(3)
191
(5)
191
(1)

| | |
| --- | --- |
| | Organizational Explanations |

192
(1)
193
(1)
194
(1)
194
(1)
194
(1)
195
(1)
8 ETHICS AND LAW ENFORCEMENT PRACTICES
196
(33)
197
(2)
199
(12)

| | |
| --- | --- |
| | The Use of Undercover Officers |

203
(3)
206
(2)

| | |
| --- | --- |
| | Justifications for Undercover Operations |

208
(3)
211
(4)
215
(9)
216
(4)
220
(4)

| | |
| --- | --- |
| | Different Questions/Different Answers? |

224
(2)
226
(1)
227
(1)
227
(1)
228
(1)
9 ETHICS AND LEGAL PROFESSIONALS
229
(30)

| | |
| --- | --- |
| | First, Let's Kill All the Lawyers |

230
(2)

| | |
| --- | --- |
| | Perceptions of Judicial Processing |

232
(4)

| | |
| --- | --- |
| | Ethical Issues for Legal Professionals |

236
(7)

| | |
| --- | --- |
| | The Attorney-Client Relationship |

238
(3)

| | |
| --- | --- |
| | A Higher Standard of Behavior? |

241
(1)
242
(1)

| | |
| --- | --- |
| | Ethical Issues for Defense Attorneys |

243
(14)

| | |
| --- | --- |
| | Responsibility to the Client |

245
(2)
247
(4)
251
(2)
253
(4)
257
(1)
257
(1)
257
(1)
258
(1)
10 SPECIAL ISSUES FOR PROSECUTORS AND JUDGES
259
(28)

| | |
| --- | --- |
| | Ethical Issues for Prosecutors |

260
(16)
260
(3)
263
(2)
265
(1)
266
(1)
267
(3)
270
(4)
274
(2)

| | |
| --- | --- |
| | Ethical Issues for Judges |

276
(8)
277
(1)
278
(5)
283
(1)
284
(1)
285
(1)
285
(1)
286
(1)
11 THE ETHICS OF PUNISHMENT AND CORRECTIONS
287
(28)

| | |
| --- | --- |
| | Rationales for Punishment and Corrections |

289
(11)
291
(4)
295
(5)

| | |
| --- | --- |
| | Ethical Frameworks for Corrections |

300
(3)
300
(1)
301
(1)
302
(1)
303
(1)
303
(5)
304
(1)
305
(3)
308
(4)
312
(1)
313
(1)
313
(1)
314
(1)
12 ETHICS FOR CORRECTIONAL PROFESSIONALS
315
(33)

| | |
| --- | --- |
| | Correctional Professionals |

316
(1)
317
(19)

| | |
| --- | --- |
| | The Correctional Officer Subculture |

320
(1)

| | |
| --- | --- |
| | Relationships with Inmates |

321
(3)

| | |
| --- | --- |
| | General Conduct and the "Good Officer" |

324
(2)
326
(3)
329
(3)

| | |
| --- | --- |
| | Loyalty and Whistle blowing |

332
(1)
333
(3)
336
(3)
339
(6)

| | |
| --- | --- |
| | Correctional Management and the Courts |

340
(2)

| | |
| --- | --- |
| | Correctional Management and Unions |

342
(1)
343
(2)
345
(1)
346
(1)
346
(1)
347
(1)
13 CORRECTIONS IN THE COMMUNITY
348
(20)

| | |
| --- | --- |
| | The Concept of Community Corrections |

349
(2)

| | |
| --- | --- |
| | Probation and Parole Officers |

351
(7)
351
(2)

| | |
| --- | --- |
| | Probation/Parole Officer Subculture |

353
(3)
356
(2)
358
(1)
358
(2)

| | |
| --- | --- |
| | A New Paradigm of Corrections? |

360
(5)

| | |
| --- | --- |
| | Reintegrative Shaming versus Stigmatising Shaming |

361
(2)

| | |
| --- | --- |
| | Ethical Issues in Restorative Justice |

363
(2)
365
(1)
366
(1)
366
(1)
367
(1)
14 CRIMINAL JUSTICE POLICY
368
(23)

| | |
| --- | --- |
| | Policy Making in Criminal Justice |

369
(5)

| | |
| --- | --- |
| | Ideologies of Liberalism and Conservatism |

369
(3)

| | |
| --- | --- |
| | Myths and Reality in Criminal Justice |

372
(1)

| | |
| --- | --- |
| | Criminal Justice Researchers-Participants in Myth Making? |

373
(1)
374
(3)

| | |
| --- | --- |
| | Individual Decision Making |

377
(7)
384
(2)

| | |
| --- | --- |
| | Revisiting "Means-End" Thinking in Times of Trouble |

386
(3)
389
(1)
389
(1)
389
(1)
390
(1)
GLOSSARY
391
(6)
BIBLIOGRAPHY
397
(18)
NAME INDEX
415
(6)
SUBJECT INDEX
421
(5)
TABLE OF CASES
426