Note: Supplemental materials are not guaranteed with Rental or Used book purchases.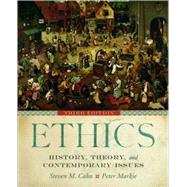 Questions About This Book?
What version or edition is this?
This is the 3rd edition with a publication date of 7/21/2005.
What is included with this book?
The Used copy of this book is not guaranteed to include any supplemental materials. Typically, only the book itself is included.
Related Products
Summary
The most comprehensive collection of its kind, Ethics: History, Theory, and Contemporary Issues, Third Edition, is organized into three parts, providing instructors with flexibility in designing and teaching a variety of courses in moral philosophy. The first part, Historical Sources, movesfrom classical thought (Plato, Aristotle, Epicurus, and Epictetus) through medieval views (Augustine and Aquinas) to modern theories (Hobbes, Butler, Hume, Kant, Bentham, and Mill), culminating with leading nineteenth- and twentieth-century thinkers (Nietzsche, James, Dewey, Camus, and Sartre). Thesecond part, Modern Ethical Theory, includes many of the most important essays of the past century. The discussion of utilitarianism, Kantianism, egoism, and relativism continues in the work of major contemporary philosophers (Foot, Brandt, Williams, Wolf, and Nagel). Landmark selections (Moore,Prichard, Ross, Ayer, Stevenson, Hare, Baier, Anscombe, Gauthier, and Harman) reflect concern with moral language and the justification of morality. The concepts of justice (Rawls) and rights (Feinberg) are explored, as well as recent views on the importance of virtue ethics (Rachels) and an ethicinfluenced by feminist concerns (Held). In the third part, Contemporary Moral Problems, the readings present the current debates over abortion, euthanasia, famine relief, animal rights, the death penalty, and whether numbers should play a role in making moral decisions. The third edition expands Part II, Modern Ethical Theory, adding essays by Onora O'Neill, Ruth Barcan Marcus, Allan Gibbard, Nicholas L. Sturgeon, and Martha Nussbaum. Part III, Contemporary Moral Problems, features new essays on abortion by Mary Anne Warren, Don Marquis, and RosalindHursthouse; an essay on the death penalty by Stephen Nathanson; and a debate between John M. Taurek and Derek Parfit on when and why one should save from harm a greater rather than a lesser number of people. The book concludes with an essay by Judith Jarvis Thomson on the trolley problem. Whereverpossible, each reading is printed in its entirety.
Table of Contents
Preface
xi
Introduction
xiii
1
(4)
5
(119)
5
(11)
16
(17)
33
(9)
42
(2)
44
(80)
124
(54)

| | |
| --- | --- |
| | Nicomachean Ethics (selections) |

124
(54)
178
(5)
178
(2)
180
(3)
183
(12)
183
(12)
195
(7)

| | |
| --- | --- |
| | Enchiridion on Faith, Hope, and Love (selections) |

195
(7)
202
(16)

| | |
| --- | --- |
| | Summa Contra Gentiles (selections) |

202
(16)
218
(11)
218
(11)
229
(15)

| | |
| --- | --- |
| | Fifteen Sermons (selections) |

229
(15)
244
(26)

| | |
| --- | --- |
| | An Enquiry Concerning the Principles of Morals (selections) |

244
(26)
270
(39)

| | |
| --- | --- |
| | Groundwork of the Metaphysics of Morals |

270
(39)
309
(8)

| | |
| --- | --- |
| | An Introduction to the Principles of Morals and Legislation (selections) |

309
(8)
317
(35)
317
(35)
352
(9)

| | |
| --- | --- |
| | Beyond Good and Evil (selections) |

352
(3)

| | |
| --- | --- |
| | On the Genealogy of Morals (selections) |

355
(3)

| | |
| --- | --- |
| | Twilight of the Idols (selections) |

358
(3)
361
(12)

| | |
| --- | --- |
| | The Moral Philosopher and the Moral Life |

361
(12)
373
(14)

| | |
| --- | --- |
| | The Quest for Certainty (selections) |

373
(14)
387
(9)

| | |
| --- | --- |
| | The Myth of Sisyphus (selections) |

387
(9)
396
(17)

| | |
| --- | --- |
| | Existentialism Is a Humanism |

396
(7)

| | |
| --- | --- |
| | II. MODERN ETHICAL THEORY |

403
(10)
413
(6)

| | |
| --- | --- |
| | Principia Ethica (selections) |

413
(6)
419
(10)

| | |
| --- | --- |
| | Does Moral Philosophy Rest on a Mistake? |

419
(10)
429
(10)

| | |
| --- | --- |
| | The Right and the Good (selections) |

429
(10)
439
(6)

| | |
| --- | --- |
| | Language, Truth, and Logic (selections) |

439
(6)
445
(11)

| | |
| --- | --- |
| | The Emotive Meaning of Ethical Terms |

445
(11)
456
(10)

| | |
| --- | --- |
| | Freedom and Reason (selections) |

456
(10)
466
(15)

| | |
| --- | --- |
| | The Point of View of Morality |

466
(15)
481
(12)
481
(12)
493
(23)

| | |
| --- | --- |
| | A Theory of Justice (selections) |

493
(23)
516
(11)
516
(11)
527
(8)
527
(8)
535
(6)

| | |
| --- | --- |
| | Morality as a System of Hypothetical Imperatives |

535
(6)
541
(17)
541
(17)
558
(10)

| | |
| --- | --- |
| | Moral Dilemmas and Consistency |

558
(10)
568
(17)

| | |
| --- | --- |
| | Some Merits of One Form of Rule Utilitarianism |

568
(17)
585
(16)

| | |
| --- | --- |
| | A Critique of Utilitarianism |

585
(16)
601
(13)

| | |
| --- | --- |
| | Moral Judgment and the Acceptance of Norms |

601
(13)
614
(11)

| | |
| --- | --- |
| | The Nature and Value of Rights |

614
(11)
625
(11)

| | |
| --- | --- |
| | The Nature of Morality (selections) |

625
(11)
636
(15)
636
(15)
651
(8)

| | |
| --- | --- |
| | The Challenge of Cultural Relativism |

651
(8)
659
(20)

| | |
| --- | --- |
| | Non-Relative Virtues: An Aristotelian Approach |

659
(20)
679
(16)

| | |
| --- | --- |
| | Reason, Gender, and Moral Theory |

679
(16)
695
(11)
695
(11)
706
(13)
706
(13)
719
(14)
719
(10)

| | |
| --- | --- |
| | III. CONTEMPORARY MORAL PROBLEMS |

729
(4)
733
(11)
733
(11)
744
(10)

| | |
| --- | --- |
| | On the Moral and Legal Status of Abortion |

744
(10)
754
(11)

| | |
| --- | --- |
| | An Argument That Abortion Is Wrong |

754
(11)
765
(14)

| | |
| --- | --- |
| | Virtue Theory and Abortion |

765
(14)
779
(4)

| | |
| --- | --- |
| | Active and Passive Euthanasia |

779
(4)
783
(6)
783
(6)
789
(8)

| | |
| --- | --- |
| | Famine, Affluence, and Morality |

789
(8)
797
(12)

| | |
| --- | --- |
| | Famine Relief and the Ideal Moral Code |

797
(12)
809
(8)

| | |
| --- | --- |
| | The Case for Animal Rights |

809
(8)
817
(7)

| | |
| --- | --- |
| | The Case for the Use of Animals in Biomedical Research |

817
(7)
824
(10)

| | |
| --- | --- |
| | In Defense of the Death Penalty |

824
(10)
834
(10)

| | |
| --- | --- |
| | An Eye for an Eye: The Morality of Punishing by Death |

834
(10)
844
(13)

| | |
| --- | --- |
| | Should the Numbers Count? |

844
(13)
857
(9)
857
(9)
866
(1)
866