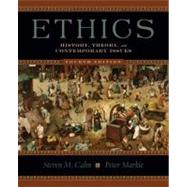 Questions About This Book?
What version or edition is this?
This is the 4th edition with a publication date of 10/13/2008.
What is included with this book?
The Used copy of this book is not guaranteed to include any supplemental materials. Typically, only the book itself is included.
Related Products
Summary
The most comprehensive anthology of its kind, Ethics: History, Theory, and Contemporary Issues, Fourth Edition, provides the breadth and the depth to accommodate a variety of courses in ethics and contemporary moral problems. Its readings - unabridged where possible - are organized into threeparts, essentially offering three books under one cover. Part I, Historical Sources, presents influential ethical theories spanning 2,500 years of philosophical thought, beginning in ancient Greece with the ideas of Socrates, Plato, and Aristotle and continuing through to the twentieth-century ideasof Camus and Sartre. Part II, Modern Ethical Theory, explores the theoretical issues concerning the nature of moral judgments, the resolution of moral disagreements, and the evaluation of moral theories through the perspectives of major contemporary philosophers, including Baier, Brandt, Foot,Harman, Williams, and Wolf. Finally, Part III, Contemporary Moral Problems, offers opportunities to apply the theories of the first two parts; it contains arguments for and against such issues as abortion, euthanasia, animal rights, and torture.
Table of Contents
Preface
Introduction
Historical SourcesAlasdair MacIntyre: Introduction
Defence of SocratesCritoPhaedo (115d-118)Republic (selections)
Ethics (selections)
to MenoeceusLeading Doctrines
EpictetusEnchiridion
AugustineEnchiridion on Faith, Hope, and Love (selections)
Thomas AquinasSumma Contra Gentiles (selections)
Thomas HobbesLeviathan (selections)
Joseph ButlerFifteen Sermons (selections) 9 David Hume
A Treatise of Human Nature (selections)An Enquiry Concerning the Principles of Morals (selections)
Immanuel KantGroundwork of the Metaphysics of Morals
Jeremy BenthamAn Introduction to the Principles of Morals and Legislation (selections)
John Stuart MillUtilitarianism
Friedrich NietzscheOn the Genealogy of Morals (selections)
The Myth of Sisyphus (selections)
Existentialism Is a Humanism
Modern Ethical TheoryJames Rachels: Introduction
Principia Ethica (selections)
Does Moral Philosophy Rest on a Mistake?
The Right and the Good (selections)
Language, Truth, and Logic (selections)
The Emotive Meaning of Ethical Terms
Freedom and Reason (selections)
The Point of View of Morality
Modern Moral Philosophy
Ethics: Inventing Right and Wrong
A Theory of Justice (selections)
Why Contractarianism?
Psychological Egoism
Morality as a System of Hypothetical Imperatives
Consistency in Action
Moral Dilemmas and Consistency
Some Merits of One Form of Rule Utilitarianism
A Critique of Utilitarianism
The Nature and Value of Rights
The Nature of Morality (selections)
Moral Explanations
Moral Judgment and the Acceptance of Norms
Values and Secondary Qualities
Skepticism about Practical Reason
The Challenge of Cultural Relativism
Non-Relative Virtues: An Aristotelian Approach
Reason, Gender, and Moral Theory
Moral Saints
Moral Luck
Contemporary Moral ProblemsPeter Singer: Introduction
A Defense of Abortion
On the Moral and Legal Status of Abortion
An Argument that Abortion is Wrong
Virtue Theory and Abortion
Active and Passive Euthanasia
Killing and Letting Die
Famine, Affluence, and Morality
Famine Relief and the Ideal Moral Code
The Case for Animal Rights
The Case for the Use of Animals in Biomedical Research
Philosophical Problems for Environmentalism
Torture
Ticking Bombs, Torture, and the Analogy with Self-Defense
Should the Numbers Count?
Innumerate Ethics
The Trolley Problem
Death
The Meaning of Life
Table of Contents provided by Publisher. All Rights Reserved.