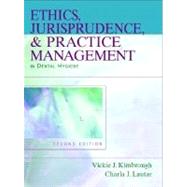 Questions About This Book?
What version or edition is this?
This is the 2nd edition with a publication date of 1/1/2007.
What is included with this book?
The Used copy of this book is not guaranteed to include any supplemental materials. Typically, only the book itself is included.
Related Products
Summary
Ethics, Jurisprudence and Practice Management in Dental Hygiene, 2eis designed to orient dental hygiene students to clinical practice and its many applications in an office setting. Although dentists, dental practices, and dental hygiene can be generalized, each practice will be unique in its daily operations and policies. This book explains how in this new millennium, the art and science of dental hygiene continues to progress and evolve. More states have entered into independent or alternative practice settings for experienced dental hygienists. Supervision laws have been relaxed that allow for increase access to care and help eliminate disparities among diverse and underserved population groups. Strategies are being developed to increase cultural competencies and multidisciplinary collaboration, as well as, to increase the number of minorities in the oral health workfoce. Dental hygienists are utilizing more of their skills as oral health is becoming an important entity of general health. And, dental hygienists are becoming more responsible for the regulation of the their profession, the profession of dental hygiene.
Table of Contents
Preface
x
Acknowledgments
xi
Reviewers
xii
Introduction
xiv

| | |
| --- | --- |
| | Introduction to Moral Philosophy and Moral Reasoning |

1
(18)
1
(1)
1
(1)
1
(2)

| | |
| --- | --- |
| | Ethical Theories: A Survey of Moral Theories |

3
(6)
3
(3)
6
(2)
8
(1)
9
(7)

| | |
| --- | --- |
| | Utilitarianism and Justice |

9
(1)
10
(2)

| | |
| --- | --- |
| | Rawls's Theory of Justice |

12
(4)
16
(1)
17
(1)
17
(2)

| | |
| --- | --- |
| | Ethical Principles and Core Values |

19
(14)
19
(1)
19
(1)
19
(1)
20
(10)
20
(1)
21
(2)
23
(1)
24
(1)
25
(1)
26
(1)
26
(1)
27
(1)
27
(2)
29
(1)
30
(1)
30
(1)
30
(3)
33
(22)
33
(1)
33
(1)
33
(2)

| | |
| --- | --- |
| | Rights and Duties Involved in Informed Consent |

35
(1)

| | |
| --- | --- |
| | Evolution of the Concept of Informed Consent |

35
(3)
38
(3)
41
(2)

| | |
| --- | --- |
| | Disclosure in the Office: Practical Hints |

43
(2)

| | |
| --- | --- |
| | Informed Consent and Research |

45
(2)

| | |
| --- | --- |
| | Use of Photos and Other Recording Devices |

47
(1)

| | |
| --- | --- |
| | Disclosure by Infected Health Care Providers |

48
(2)
50
(1)
51
(1)
52
(1)
52
(3)
55
(14)
55
(1)
55
(1)
55
(2)
57
(2)

| | |
| --- | --- |
| | Developing the Ability to Solve Ethical Problems |

59
(3)
62
(4)

| | |
| --- | --- |
| | Explaining Decision-Making Steps |

63
(3)
66
(1)
66
(1)
67
(2)
69
(24)
69
(1)
69
(1)
70
(1)
71
(1)
72
(1)
73
(4)

| | |
| --- | --- |
| | Professional Negligence and Malpractice |

73
(3)
76
(1)
77
(1)
77
(4)
79
(1)
80
(1)
81
(4)
81
(1)
82
(1)
83
(1)

| | |
| --- | --- |
| | Other Requirements for Licensure |

83
(1)
84
(1)
85
(1)

| | |
| --- | --- |
| | State/Provincial Practice Act |

85
(5)
86
(1)
87
(1)
88
(2)
90
(1)
90
(1)
91
(2)
93
(30)
93
(1)
93
(1)
93
(1)
94
(9)
94
(1)

| | |
| --- | --- |
| | Pregnancy Discrimination Act |

95
(1)

| | |
| --- | --- |
| | Family and Medical Leave Act |

96
(1)

| | |
| --- | --- |
| | Americans with Disabilities Act |

96
(2)

| | |
| --- | --- |
| | Age Discrimination in Employment Act |

98
(1)
98
(1)

| | |
| --- | --- |
| | Occupational Safety and Health Act |

99
(1)

| | |
| --- | --- |
| | Health Insurance Portability and Accountability Act |

100
(3)

| | |
| --- | --- |
| | Reporting Domestic Violence |

103
(5)
104
(2)
106
(1)
107
(1)
108
(12)
109
(1)
110
(1)
111
(1)
112
(1)

| | |
| --- | --- |
| | Manpower and Location Barriers |

113
(2)

| | |
| --- | --- |
| | Sociological and Cultural Barriers |

115
(3)
118
(2)
120
(1)
120
(1)
121
(2)

| | |
| --- | --- |
| | Aspects of Practice Management |

123
(24)
123
(1)
123
(1)
124
(2)

| | |
| --- | --- |
| | Pros and Cons of Management Consultants |

126
(1)
127
(1)
128
(1)
129
(1)
130
(1)

| | |
| --- | --- |
| | Staff Meetings and Their Benefits |

131
(1)

| | |
| --- | --- |
| | Expectations and Public Relations |

132
(4)
132
(2)
134
(1)
135
(1)
135
(1)

| | |
| --- | --- |
| | Marketing and the Dental Practice |

136
(8)

| | |
| --- | --- |
| | Marketing the Patient's Health Care |

138
(1)
139
(1)
140
(1)
141
(1)

| | |
| --- | --- |
| | Marketing and Profit Centers |

142
(2)
144
(1)
145
(1)
145
(2)

| | |
| --- | --- |
| | The Business of Dental Hygiene |

147
(22)
147
(1)
147
(1)
147
(3)
150
(1)

| | |
| --- | --- |
| | The Business of Dental Hygiene |

151
(3)

| | |
| --- | --- |
| | Dental Insurance and Hygiene Services |

154
(5)

| | |
| --- | --- |
| | Continuing Care and Recare Systems |

159
(1)
160
(1)

| | |
| --- | --- |
| | Working with Other Dental Hygienists |

161
(1)

| | |
| --- | --- |
| | Alternative Practice Settings/Independent Practice |

162
(1)

| | |
| --- | --- |
| | Working as a Public Health Dental Hygienist |

163
(1)
164
(1)
165
(1)
166
(1)
166
(1)
167
(2)

| | |
| --- | --- |
| | Technology and Dental Hygiene |

169
(20)
169
(1)
169
(1)
169
(2)
171
(3)
174
(2)
176
(1)

| | |
| --- | --- |
| | Computerized Periodontal Charting Systems |

177
(1)
178
(3)
181
(2)

| | |
| --- | --- |
| | Cosmetic Imaging and In-Office Fabrication of Restorations |

183
(1)

| | |
| --- | --- |
| | Chartless Patient Records |

184
(1)
184
(1)

| | |
| --- | --- |
| | Does Patient Care Suffer? |

185
(1)

| | |
| --- | --- |
| | How Technology Benefits Dental Hygiene |

186
(1)
186
(1)
187
(1)
187
(1)
188
(1)

| | |
| --- | --- |
| | Seeking the Dental Hygiene Position |

189
(28)
189
(1)
189
(1)
189
(2)
191
(1)
192
(1)
192
(15)
194
(2)
196
(1)
197
(1)

| | |
| --- | --- |
| | Interviews and Personality Tests |

198
(1)
198
(2)

| | |
| --- | --- |
| | Leadership versus Management: Qualities and Opportunities |

200
(1)
201
(5)

| | |
| --- | --- |
| | Postinterview Acknowledgments |

206
(1)
207
(8)
207
(2)
209
(2)
211
(1)
212
(1)
213
(2)
215
(1)
215
(1)
216
(1)

| | |
| --- | --- |
| | Planning for the Future and Career Longevity |

217
(50)
217
(1)
217
(1)
217
(1)
218
(3)
221
(1)

| | |
| --- | --- |
| | Insurance Coverage for Dental Hygienists |

222
(2)
224
(1)
225
(3)
228
(1)
229
(1)
229
(2)

| | |
| --- | --- |
| | Appendix A Code of Ethics of the American Dental Hygienists' Association |

231
(8)

| | |
| --- | --- |
| | Appendix B Code of Ethics of the Canadian Dental Hygienists Association |

239
(12)

| | |
| --- | --- |
| | Appendix C Dental Hygiene Client's Bill of Rights |

251
(2)

| | |
| --- | --- |
| | Appendix D National, Regional, and Provincial Board Examination Agencies |

253
(4)

| | |
| --- | --- |
| | Appendix E Components of a Marketing Plan (Alternative Practice) |

257
(2)

| | |
| --- | --- |
| | Appendix F Interview Tips: The Basics |

259
(2)

| | |
| --- | --- |
| | Appendix G Sample Interview Questions |

261
(2)

| | |
| --- | --- |
| | Appendix H Internet Resources |

263
(4)
Glossary
267
(6)
Works Cited
273
(8)
Index
281