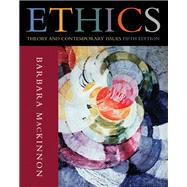 Questions About This Book?
What version or edition is this?
This is the 5th edition with a publication date of 2/22/2006.
What is included with this book?
The Used copy of this book is not guaranteed to include any supplemental materials. Typically, only the book itself is included.
Summary
Through a combination of the illuminating overviews composed by the editor and readings drawn from important traditional and contemporary sources, MacKinnon's acclaimed ETHICS provides students with a superbly balanced introduction to both ethical theory and the moral debates surrounding a variety of contemporary issues. Designed to offer instructors maximum flexibility and revised with the intention of providing reader friendly, but not superficial, access to many complex concepts, ETHICS is a comprehensive and clear-sighted introduction to both the general and specific arenas in which ethical deliberation is obliged to dwell.
Table of Contents
Preface
xv
History of Ethics Time Line
xviii
1
(132)

| | |
| --- | --- |
| | Ethics and Ethical Reasoning |

2
(16)
2
(1)
2
(2)
4
(1)

| | |
| --- | --- |
| | Ethical and Other Types of Evaluation |

5
6
4
(3)

| | |
| --- | --- |
| | Ethical Reasoning and Arguments |

7
(2)

| | |
| --- | --- |
| | The Structure of Ethical Reasoning and Argument |

7
(1)

| | |
| --- | --- |
| | Evaluating and Making Good Arguments |

8
(1)
9
(1)
10
(1)
11
(1)
12
(4)
16
(1)
16
(2)
18
(12)

| | |
| --- | --- |
| | What Is Ethical Relativism? |

18
(1)

| | |
| --- | --- |
| | Two Forms of Ethical Relativism |

19
(1)

| | |
| --- | --- |
| | Reasons Supporting Ethical Relativism |

19
(1)

| | |
| --- | --- |
| | The Diversity of Moral Views |

19
(1)
20
(1)
20
(1)

| | |
| --- | --- |
| | Are These Reasons Convincing? |

20
(2)

| | |
| --- | --- |
| | The Diversity of Moral Views |

20
(1)
21
(1)
21
(1)
22
(1)
23
(1)
24
(1)

| | |
| --- | --- |
| | Mary Midgley Trying Out One's New Sword |

25
(3)
28
(1)
28
(2)
30
(19)
31
(2)

| | |
| --- | --- |
| | What is Psychological Egoism? |

31
(1)

| | |
| --- | --- |
| | Is Psychological Egoism True? |

32
(1)
33
(1)
33
(1)

| | |
| --- | --- |
| | Is Ethical Egoism a Good Theory? |

33
(1)
34
(1)
35
(2)
37
(6)
43
(5)
48
(1)
48
(1)
49
(23)
50
(1)

| | |
| --- | --- |
| | Jeremy Bentham and John Stuart Mill |

50
(1)
50
(3)

| | |
| --- | --- |
| | A Consequentialist Principle |

51
(1)

| | |
| --- | --- |
| | The Intrinsic Good: Pleasure or Happiness |

51
(1)

| | |
| --- | --- |
| | Calculating the Greatest Amount of Happiness |

52
(1)

| | |
| --- | --- |
| | Quantity and Quality of Pleasure |

53
(1)

| | |
| --- | --- |
| | Evaluating Utilitarianism |

54
(1)

| | |
| --- | --- |
| | Application of the Principle |

54
(1)

| | |
| --- | --- |
| | Utilitarianism and Personal Integrity |

55
(1)
55
(1)

| | |
| --- | --- |
| | Act and Rule Utilitarianism |

55
(1)
56
(1)
57
(3)

| | |
| --- | --- |
| | Preference Utilitarianism |

57
(1)
58
(2)

| | |
| --- | --- |
| | Jeremy Bentham An Introduction to the Principles of Morals and Legislation (1789) |

60
(5)

| | |
| --- | --- |
| | John Stuart Mill Utilitarianism |

65
(5)
70
(1)
71
(1)
72
(23)

| | |
| --- | --- |
| | Historical Background: Immanuel Kant |

73
(1)

| | |
| --- | --- |
| | What Gives An Act Moral Worth? |

73
(2)

| | |
| --- | --- |
| | What Is the Right Motive? |

74
(1)

| | |
| --- | --- |
| | What is the Right Thing to Do? |

74
(1)

| | |
| --- | --- |
| | The Categorical Imperative |

75
(3)
75
(1)
76
(2)

| | |
| --- | --- |
| | Evaluating Kant's Moral Theory |

78
(2)

| | |
| --- | --- |
| | The Nature of Moral Obligation |

78
(1)

| | |
| --- | --- |
| | The Application of the Categorical Imperative |

78
(1)
79
(1)

| | |
| --- | --- |
| | Moral Equality and Impartiality |

79
(1)

| | |
| --- | --- |
| | Perfect and Imperfect Duties |

80
(1)

| | |
| --- | --- |
| | Variations on Kantian Moral Theory |

80
(2)

| | |
| --- | --- |
| | Immanuel Kant Fundamental Principles of the Metaphysic of Morals |

82
(11)
93
(1)
93
(2)

| | |
| --- | --- |
| | Natural Law and Natural Rights |

95
(14)
95
(1)

| | |
| --- | --- |
| | What Kind of Law Is Natural Law? |

95
(1)

| | |
| --- | --- |
| | Historical Origins: Aristotle |

96
(6)

| | |
| --- | --- |
| | Nature, Human Nature, and the Human Good |

96
(2)

| | |
| --- | --- |
| | Evaluating Natural Law Theory |

98
(1)
99
(1)

| | |
| --- | --- |
| | Evaluating Natural Rights Theory |

100
(2)

| | |
| --- | --- |
| | Thomas Aquinas On Natural Law |

102
(2)

| | |
| --- | --- |
| | John Locke Second Treatise of Civil Government |

104
(3)
107
(1)
107
(2)
109
(24)

| | |
| --- | --- |
| | Virtues and Everyday Life |

109
(1)
110
(1)

| | |
| --- | --- |
| | Masculine and Feminine Virtues |

111
(2)
113
(2)

| | |
| --- | --- |
| | Aristotle The Nicomachean Ethics |

115
(6)

| | |
| --- | --- |
| | Philippa Foot Virtues and Vices |

121
(9)
130
(1)
130
(3)
133
(337)
134
(28)

| | |
| --- | --- |
| | Brain Death, Coma, and Persistent Vegetative State |

135
(1)

| | |
| --- | --- |
| | Meaning and Types of Euthanasia |

136
(8)

| | |
| --- | --- |
| | Active and Passive Euthanasia |

136
(2)

| | |
| --- | --- |
| | Physician-Assisted Suicide |

138
(2)

| | |
| --- | --- |
| | Pain Medication that Causes Death |

140
(1)

| | |
| --- | --- |
| | Ordinary and Extraordinary Measures |

141
(1)

| | |
| --- | --- |
| | Voluntary and Nonvoluntary Euthanasia |

142
(1)

| | |
| --- | --- |
| | Combining the Types of Euthanasia |

143
(1)
144
(1)

| | |
| --- | --- |
| | Making Moral Judgments About Euthanasia |

144
(4)

| | |
| --- | --- |
| | The Moral Significance of Voluntariness |

144
(2)

| | |
| --- | --- |
| | Active Versus Passive Euthanasia |

146
(1)

| | |
| --- | --- |
| | Ordinary Versus Extraordinary Measures |

147
(1)
148
(3)

| | |
| --- | --- |
| | J. Gay-Williams The Wrongfulness of Euthanasia |

151
(3)

| | |
| --- | --- |
| | James Rachels Active and Passive Euthanasia |

154
(4)
158
(1)
159
(1)
160
(2)
162
(35)

| | |
| --- | --- |
| | Stages of Fetal Development |

163
(1)
164
(1)
164
(2)

| | |
| --- | --- |
| | Abortion: The Moral Question |

166
(1)

| | |
| --- | --- |
| | Arguments that Do Not Depend on the Moral Status of the Fetus |

167
(1)
167
(1)
168
(1)

| | |
| --- | --- |
| | Arguments that Depend on the Moral Status of the Fetus |

168
(7)
169
(2)
171
(4)

| | |
| --- | --- |
| | Judith Jarvis Thomson A Defense of Abortion |

175
(11)

| | |
| --- | --- |
| | Don Marquis Why Abortion Is Immoral |

186
(8)
194
(1)
194
(1)
195
(2)
197
(23)

| | |
| --- | --- |
| | Conceptual Problems: What Is and Is Not Sexual |

199
(1)
200
(1)

| | |
| --- | --- |
| | Sexual Morality and Ethical Theories |

200
(4)

| | |
| --- | --- |
| | Consequentialist or Utilitarian Considerations |

201
(1)

| | |
| --- | --- |
| | Nonconsequentialist or Kantian Considerations |

202
(1)

| | |
| --- | --- |
| | Naturalness Considerations |

202
(2)
204
(2)

| | |
| --- | --- |
| | Thomas Nagel Sexual Perversion |

206
(6)

| | |
| --- | --- |
| | Richard D. Mohr Prejudice and Homosexuality |

212
(6)
218
(1)
218
(1)
218
(2)
220
(24)

| | |
| --- | --- |
| | Liberty-Limiting Principles |

221
(5)
222
(1)

| | |
| --- | --- |
| | The Social Harm Principle |

223
(1)
224
(1)
225
(1)
225
(1)
226
(2)

| | |
| --- | --- |
| | John Stuart Mill On Libert |

228
(2)

| | |
| --- | --- |
| | Ann Garry Sex, Lies, and Respect |

230
(11)
241
(1)
242
(1)
242
(2)

| | |
| --- | --- |
| | Equality and Discrimination |

244
(26)

| | |
| --- | --- |
| | Civil Rights Laws: A Brief History |

247
(1)
248
(2)

| | |
| --- | --- |
| | The Principle of Equality |

250
(4)
250
(1)

| | |
| --- | --- |
| | Social Benefits and Harms |

251
(1)
251
(1)
251
(1)
252
(1)

| | |
| --- | --- |
| | Challenges to the Principle |

252
(2)

| | |
| --- | --- |
| | Affirmative Action and Preferential Treatment |

254
(6)

| | |
| --- | --- |
| | Consequentialist Considerations |

255
(2)

| | |
| --- | --- |
| | Nonconsequentialist Considerations |

257
(3)

| | |
| --- | --- |
| | Robert K. Fullinwider Affirmative Action and Fairness |

260
(4)

| | |
| --- | --- |
| | Lisa Newton Reverse Discrimination as Unjustified |

264
(3)
267
(1)
267
(1)
268
(2)
270
(30)

| | |
| --- | --- |
| | Process or End State Distributive Justice |

272
(1)
273
(2)

| | |
| --- | --- |
| | Political and Economic Theories |

275
(7)
275
(1)
276
(1)
276
(1)
277
(1)

| | |
| --- | --- |
| | John Rawls's Theory of Justice |

278
(2)
280
(2)

| | |
| --- | --- |
| | John Rawls Justice as Fairness |

282
(7)

| | |
| --- | --- |
| | Robert Nozick Distributive Justice |

289
(8)
297
(1)
297
(1)
298
(2)
300
(29)

| | |
| --- | --- |
| | The Nature of Legal Punishment |

302
(1)
303
(1)
303
(1)

| | |
| --- | --- |
| | The Retributivist Argument |

304
(2)
306
(1)

| | |
| --- | --- |
| | Punishment and Responsibility |

306
(2)
308
(4)
308
(1)
309
(1)
310
(2)

| | |
| --- | --- |
| | Hugo Adam Bedau A World Without Punishment |

312
(9)

| | |
| --- | --- |
| | Ernest van den Haag The Ultimate Punishment: A Defense |

321
(5)
326
(1)
327
(1)
327
(2)
329
(31)
330
(1)
331
(1)
331
(5)
332
(1)

| | |
| --- | --- |
| | Human Environmental Impact |

333
(3)
336
(2)
338
(1)
339
(1)
340
(3)

| | |
| --- | --- |
| | William F. Baxter People or Penguins: The Case for Optimal Pollution |

343
(5)

| | |
| --- | --- |
| | Bill Devall and George Sessions Deep Ecology |

348
(9)
357
(1)
357
(1)
358
(2)
360
(27)
361
(1)
362
(2)
364
(3)
367
(3)

| | |
| --- | --- |
| | Peter Singer All Animals Are Equal |

370
(8)

| | |
| --- | --- |
| | Bonnie Steinbock Speciesism and the Idea of Equality |

378
(6)
384
(1)
385
(1)
385
(2)

| | |
| --- | --- |
| | Stem-Cell Research, Cloning, and Genetic Engineering |

387
(32)
387
(2)
388
(1)
389
(5)
389
(1)
389
(2)
391
(3)
394
(3)
395
(2)

| | |
| --- | --- |
| | Genetically Modified Plants and Animals |

397
(2)
398
(1)
399
(4)
399
(1)

| | |
| --- | --- |
| | Screening and Conflicts of Interest |

400
(3)

| | |
| --- | --- |
| | Leon R. Kass The Wisdom of Repugnance |

403
(6)

| | |
| --- | --- |
| | Kerry Lynn Macintosh Illegal Beings: Human Clones and the Law |

409
(7)
416
(1)
416
(1)
416
(3)

| | |
| --- | --- |
| | Violence, Terrorism, and War |

419
(25)
419
(2)
421
(2)
422
(1)
423
(1)
424
(3)
425
(1)
426
(1)

| | |
| --- | --- |
| | Weapons of Mass Destruction |

427
(1)

| | |
| --- | --- |
| | War Crimes and Universal Human Rights |

428
(4)

| | |
| --- | --- |
| | Jean Bethke Elshtain What Is a Terrorist? |

432
(4)

| | |
| --- | --- |
| | Michael Walzer The Triumph of just War Theory (and the Dangers of Success) |

436
(6)
442
(1)
442
(1)
442
(2)

| | |
| --- | --- |
| | Global Issues and Globalization |

444
(26)
445
(5)
446
(2)
448
(2)
450
(5)
452
(1)
452
(1)
453
(2)

| | |
| --- | --- |
| | Peter Singer Famine, Affluence, and Morality |

455
(8)

| | |
| --- | --- |
| | Herman E. Daly Globalization and Its Discontents |

463
(4)
467
(1)
468
(1)
468
(2)

| | |
| --- | --- |
| | APPENDIX How to Write an Ethics Paper |

470
(13)
470
(1)
470
(3)
471
(2)

| | |
| --- | --- |
| | Grammar, Spelling, and Gender |

473
(1)
473
(2)
474
(1)

| | |
| --- | --- |
| | A Problem in Ethical Theory |

474
(1)

| | |
| --- | --- |
| | A Contemporary Moral Issue |

474
(1)
475
(1)

| | |
| --- | --- |
| | Structuring or Analyzing an Ethical Argument |

475
(2)
475
(1)

| | |
| --- | --- |
| | Types and Sources of Evidence |

476
(1)
476
(1)

| | |
| --- | --- |
| | Top-to-Bottom or Bottom-to-Top Reasoning? |

476
(1)
477
(1)
477
(6)
478
(1)

| | |
| --- | --- |
| | A Problem in Ethical Theory |

479
(2)

| | |
| --- | --- |
| | A Contemporary Ethical Issue |

481
(2)
Index
483