Note: Supplemental materials are not guaranteed with Rental or Used book purchases.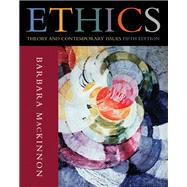 Questions About This Book?
Why should I rent this book?
Renting is easy, fast, and cheap! Renting from eCampus.com can save you hundreds of dollars compared to the cost of new or used books each semester. At the end of the semester, simply ship the book back to us with a free UPS shipping label! No need to worry about selling it back.
How do rental returns work?
Returning books is as easy as possible. As your rental due date approaches, we will email you several courtesy reminders. When you are ready to return, you can print a free UPS shipping label from our website at any time. Then, just return the book to your UPS driver or any staffed UPS location. You can even use the same box we shipped it in!
What version or edition is this?
This is the 5th edition with a publication date of 2/22/2006.
What is included with this book?
The Used copy of this book is not guaranteed to include any supplemental materials. Typically, only the book itself is included.
The Rental copy of this book is not guaranteed to include any supplemental materials. You may receive a brand new copy, but typically, only the book itself.
Summary
Through a combination of the illuminating overviews composed by the editor and readings drawn from important traditional and contemporary sources, MacKinnon's acclaimed ETHICS provides students with a superbly balanced introduction to both ethical theory and the moral debates surrounding a variety of contemporary issues. Designed to offer instructors maximum flexibility and revised with the intention of providing reader friendly, but not superficial, access to many complex concepts, ETHICS is a comprehensive and clear-sighted introduction to both the general and specific arenas in which ethical deliberation is obliged to dwell.
Table of Contents
Preface
xv
History of Ethics Time Line
xviii
1
(132)

| | |
| --- | --- |
| | Ethics and Ethical Reasoning |

2
(16)
2
(1)
2
(2)
4
(1)

| | |
| --- | --- |
| | Ethical and Other Types of Evaluation |

5
6
4
(3)

| | |
| --- | --- |
| | Ethical Reasoning and Arguments |

7
(2)

| | |
| --- | --- |
| | The Structure of Ethical Reasoning and Argument |

7
(1)

| | |
| --- | --- |
| | Evaluating and Making Good Arguments |

8
(1)
9
(1)
10
(1)
11
(1)
12
(4)
16
(1)
16
(2)
18
(12)

| | |
| --- | --- |
| | What Is Ethical Relativism? |

18
(1)

| | |
| --- | --- |
| | Two Forms of Ethical Relativism |

19
(1)

| | |
| --- | --- |
| | Reasons Supporting Ethical Relativism |

19
(1)

| | |
| --- | --- |
| | The Diversity of Moral Views |

19
(1)
20
(1)
20
(1)

| | |
| --- | --- |
| | Are These Reasons Convincing? |

20
(2)

| | |
| --- | --- |
| | The Diversity of Moral Views |

20
(1)
21
(1)
21
(1)
22
(1)
23
(1)
24
(1)

| | |
| --- | --- |
| | Mary Midgley Trying Out One's New Sword |

25
(3)
28
(1)
28
(2)
30
(19)
31
(2)

| | |
| --- | --- |
| | What is Psychological Egoism? |

31
(1)

| | |
| --- | --- |
| | Is Psychological Egoism True? |

32
(1)
33
(1)
33
(1)

| | |
| --- | --- |
| | Is Ethical Egoism a Good Theory? |

33
(1)
34
(1)
35
(2)
37
(6)
43
(5)
48
(1)
48
(1)
49
(23)
50
(1)

| | |
| --- | --- |
| | Jeremy Bentham and John Stuart Mill |

50
(1)
50
(3)

| | |
| --- | --- |
| | A Consequentialist Principle |

51
(1)

| | |
| --- | --- |
| | The Intrinsic Good: Pleasure or Happiness |

51
(1)

| | |
| --- | --- |
| | Calculating the Greatest Amount of Happiness |

52
(1)

| | |
| --- | --- |
| | Quantity and Quality of Pleasure |

53
(1)

| | |
| --- | --- |
| | Evaluating Utilitarianism |

54
(1)

| | |
| --- | --- |
| | Application of the Principle |

54
(1)

| | |
| --- | --- |
| | Utilitarianism and Personal Integrity |

55
(1)
55
(1)

| | |
| --- | --- |
| | Act and Rule Utilitarianism |

55
(1)
56
(1)
57
(3)

| | |
| --- | --- |
| | Preference Utilitarianism |

57
(1)
58
(2)

| | |
| --- | --- |
| | Jeremy Bentham An Introduction to the Principles of Morals and Legislation (1789) |

60
(5)

| | |
| --- | --- |
| | John Stuart Mill Utilitarianism |

65
(5)
70
(1)
71
(1)
72
(23)

| | |
| --- | --- |
| | Historical Background: Immanuel Kant |

73
(1)

| | |
| --- | --- |
| | What Gives An Act Moral Worth? |

73
(2)

| | |
| --- | --- |
| | What Is the Right Motive? |

74
(1)

| | |
| --- | --- |
| | What is the Right Thing to Do? |

74
(1)

| | |
| --- | --- |
| | The Categorical Imperative |

75
(3)
75
(1)
76
(2)

| | |
| --- | --- |
| | Evaluating Kant's Moral Theory |

78
(2)

| | |
| --- | --- |
| | The Nature of Moral Obligation |

78
(1)

| | |
| --- | --- |
| | The Application of the Categorical Imperative |

78
(1)
79
(1)

| | |
| --- | --- |
| | Moral Equality and Impartiality |

79
(1)

| | |
| --- | --- |
| | Perfect and Imperfect Duties |

80
(1)

| | |
| --- | --- |
| | Variations on Kantian Moral Theory |

80
(2)

| | |
| --- | --- |
| | Immanuel Kant Fundamental Principles of the Metaphysic of Morals |

82
(11)
93
(1)
93
(2)

| | |
| --- | --- |
| | Natural Law and Natural Rights |

95
(14)
95
(1)

| | |
| --- | --- |
| | What Kind of Law Is Natural Law? |

95
(1)

| | |
| --- | --- |
| | Historical Origins: Aristotle |

96
(6)

| | |
| --- | --- |
| | Nature, Human Nature, and the Human Good |

96
(2)

| | |
| --- | --- |
| | Evaluating Natural Law Theory |

98
(1)
99
(1)

| | |
| --- | --- |
| | Evaluating Natural Rights Theory |

100
(2)

| | |
| --- | --- |
| | Thomas Aquinas On Natural Law |

102
(2)

| | |
| --- | --- |
| | John Locke Second Treatise of Civil Government |

104
(3)
107
(1)
107
(2)
109
(24)

| | |
| --- | --- |
| | Virtues and Everyday Life |

109
(1)
110
(1)

| | |
| --- | --- |
| | Masculine and Feminine Virtues |

111
(2)
113
(2)

| | |
| --- | --- |
| | Aristotle The Nicomachean Ethics |

115
(6)

| | |
| --- | --- |
| | Philippa Foot Virtues and Vices |

121
(9)
130
(1)
130
(3)
133
(337)
134
(28)

| | |
| --- | --- |
| | Brain Death, Coma, and Persistent Vegetative State |

135
(1)

| | |
| --- | --- |
| | Meaning and Types of Euthanasia |

136
(8)

| | |
| --- | --- |
| | Active and Passive Euthanasia |

136
(2)

| | |
| --- | --- |
| | Physician-Assisted Suicide |

138
(2)

| | |
| --- | --- |
| | Pain Medication that Causes Death |

140
(1)

| | |
| --- | --- |
| | Ordinary and Extraordinary Measures |

141
(1)

| | |
| --- | --- |
| | Voluntary and Nonvoluntary Euthanasia |

142
(1)

| | |
| --- | --- |
| | Combining the Types of Euthanasia |

143
(1)
144
(1)

| | |
| --- | --- |
| | Making Moral Judgments About Euthanasia |

144
(4)

| | |
| --- | --- |
| | The Moral Significance of Voluntariness |

144
(2)

| | |
| --- | --- |
| | Active Versus Passive Euthanasia |

146
(1)

| | |
| --- | --- |
| | Ordinary Versus Extraordinary Measures |

147
(1)
148
(3)

| | |
| --- | --- |
| | J. Gay-Williams The Wrongfulness of Euthanasia |

151
(3)

| | |
| --- | --- |
| | James Rachels Active and Passive Euthanasia |

154
(4)
158
(1)
159
(1)
160
(2)
162
(35)

| | |
| --- | --- |
| | Stages of Fetal Development |

163
(1)
164
(1)
164
(2)

| | |
| --- | --- |
| | Abortion: The Moral Question |

166
(1)

| | |
| --- | --- |
| | Arguments that Do Not Depend on the Moral Status of the Fetus |

167
(1)
167
(1)
168
(1)

| | |
| --- | --- |
| | Arguments that Depend on the Moral Status of the Fetus |

168
(7)
169
(2)
171
(4)

| | |
| --- | --- |
| | Judith Jarvis Thomson A Defense of Abortion |

175
(11)

| | |
| --- | --- |
| | Don Marquis Why Abortion Is Immoral |

186
(8)
194
(1)
194
(1)
195
(2)
197
(23)

| | |
| --- | --- |
| | Conceptual Problems: What Is and Is Not Sexual |

199
(1)
200
(1)

| | |
| --- | --- |
| | Sexual Morality and Ethical Theories |

200
(4)

| | |
| --- | --- |
| | Consequentialist or Utilitarian Considerations |

201
(1)

| | |
| --- | --- |
| | Nonconsequentialist or Kantian Considerations |

202
(1)

| | |
| --- | --- |
| | Naturalness Considerations |

202
(2)
204
(2)

| | |
| --- | --- |
| | Thomas Nagel Sexual Perversion |

206
(6)

| | |
| --- | --- |
| | Richard D. Mohr Prejudice and Homosexuality |

212
(6)
218
(1)
218
(1)
218
(2)
220
(24)

| | |
| --- | --- |
| | Liberty-Limiting Principles |

221
(5)
222
(1)

| | |
| --- | --- |
| | The Social Harm Principle |

223
(1)
224
(1)
225
(1)
225
(1)
226
(2)

| | |
| --- | --- |
| | John Stuart Mill On Libert |

228
(2)

| | |
| --- | --- |
| | Ann Garry Sex, Lies, and Respect |

230
(11)
241
(1)
242
(1)
242
(2)

| | |
| --- | --- |
| | Equality and Discrimination |

244
(26)

| | |
| --- | --- |
| | Civil Rights Laws: A Brief History |

247
(1)
248
(2)

| | |
| --- | --- |
| | The Principle of Equality |

250
(4)
250
(1)

| | |
| --- | --- |
| | Social Benefits and Harms |

251
(1)
251
(1)
251
(1)
252
(1)

| | |
| --- | --- |
| | Challenges to the Principle |

252
(2)

| | |
| --- | --- |
| | Affirmative Action and Preferential Treatment |

254
(6)

| | |
| --- | --- |
| | Consequentialist Considerations |

255
(2)

| | |
| --- | --- |
| | Nonconsequentialist Considerations |

257
(3)

| | |
| --- | --- |
| | Robert K. Fullinwider Affirmative Action and Fairness |

260
(4)

| | |
| --- | --- |
| | Lisa Newton Reverse Discrimination as Unjustified |

264
(3)
267
(1)
267
(1)
268
(2)
270
(30)

| | |
| --- | --- |
| | Process or End State Distributive Justice |

272
(1)
273
(2)

| | |
| --- | --- |
| | Political and Economic Theories |

275
(7)
275
(1)
276
(1)
276
(1)
277
(1)

| | |
| --- | --- |
| | John Rawls's Theory of Justice |

278
(2)
280
(2)

| | |
| --- | --- |
| | John Rawls Justice as Fairness |

282
(7)

| | |
| --- | --- |
| | Robert Nozick Distributive Justice |

289
(8)
297
(1)
297
(1)
298
(2)
300
(29)

| | |
| --- | --- |
| | The Nature of Legal Punishment |

302
(1)
303
(1)
303
(1)

| | |
| --- | --- |
| | The Retributivist Argument |

304
(2)
306
(1)

| | |
| --- | --- |
| | Punishment and Responsibility |

306
(2)
308
(4)
308
(1)
309
(1)
310
(2)

| | |
| --- | --- |
| | Hugo Adam Bedau A World Without Punishment |

312
(9)

| | |
| --- | --- |
| | Ernest van den Haag The Ultimate Punishment: A Defense |

321
(5)
326
(1)
327
(1)
327
(2)
329
(31)
330
(1)
331
(1)
331
(5)
332
(1)

| | |
| --- | --- |
| | Human Environmental Impact |

333
(3)
336
(2)
338
(1)
339
(1)
340
(3)

| | |
| --- | --- |
| | William F. Baxter People or Penguins: The Case for Optimal Pollution |

343
(5)

| | |
| --- | --- |
| | Bill Devall and George Sessions Deep Ecology |

348
(9)
357
(1)
357
(1)
358
(2)
360
(27)
361
(1)
362
(2)
364
(3)
367
(3)

| | |
| --- | --- |
| | Peter Singer All Animals Are Equal |

370
(8)

| | |
| --- | --- |
| | Bonnie Steinbock Speciesism and the Idea of Equality |

378
(6)
384
(1)
385
(1)
385
(2)

| | |
| --- | --- |
| | Stem-Cell Research, Cloning, and Genetic Engineering |

387
(32)
387
(2)
388
(1)
389
(5)
389
(1)
389
(2)
391
(3)
394
(3)
395
(2)

| | |
| --- | --- |
| | Genetically Modified Plants and Animals |

397
(2)
398
(1)
399
(4)
399
(1)

| | |
| --- | --- |
| | Screening and Conflicts of Interest |

400
(3)

| | |
| --- | --- |
| | Leon R. Kass The Wisdom of Repugnance |

403
(6)

| | |
| --- | --- |
| | Kerry Lynn Macintosh Illegal Beings: Human Clones and the Law |

409
(7)
416
(1)
416
(1)
416
(3)

| | |
| --- | --- |
| | Violence, Terrorism, and War |

419
(25)
419
(2)
421
(2)
422
(1)
423
(1)
424
(3)
425
(1)
426
(1)

| | |
| --- | --- |
| | Weapons of Mass Destruction |

427
(1)

| | |
| --- | --- |
| | War Crimes and Universal Human Rights |

428
(4)

| | |
| --- | --- |
| | Jean Bethke Elshtain What Is a Terrorist? |

432
(4)

| | |
| --- | --- |
| | Michael Walzer The Triumph of just War Theory (and the Dangers of Success) |

436
(6)
442
(1)
442
(1)
442
(2)

| | |
| --- | --- |
| | Global Issues and Globalization |

444
(26)
445
(5)
446
(2)
448
(2)
450
(5)
452
(1)
452
(1)
453
(2)

| | |
| --- | --- |
| | Peter Singer Famine, Affluence, and Morality |

455
(8)

| | |
| --- | --- |
| | Herman E. Daly Globalization and Its Discontents |

463
(4)
467
(1)
468
(1)
468
(2)

| | |
| --- | --- |
| | APPENDIX How to Write an Ethics Paper |

470
(13)
470
(1)
470
(3)
471
(2)

| | |
| --- | --- |
| | Grammar, Spelling, and Gender |

473
(1)
473
(2)
474
(1)

| | |
| --- | --- |
| | A Problem in Ethical Theory |

474
(1)

| | |
| --- | --- |
| | A Contemporary Moral Issue |

474
(1)
475
(1)

| | |
| --- | --- |
| | Structuring or Analyzing an Ethical Argument |

475
(2)
475
(1)

| | |
| --- | --- |
| | Types and Sources of Evidence |

476
(1)
476
(1)

| | |
| --- | --- |
| | Top-to-Bottom or Bottom-to-Top Reasoning? |

476
(1)
477
(1)
477
(6)
478
(1)

| | |
| --- | --- |
| | A Problem in Ethical Theory |

479
(2)

| | |
| --- | --- |
| | A Contemporary Ethical Issue |

481
(2)
Index
483