Note: Supplemental materials are not guaranteed with Rental or Used book purchases.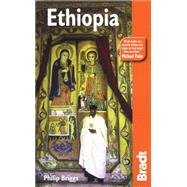 Summary
While the world taps its feet, Ethiopia breakdances with its shoulders. This is an uplifting, inspirational country which confounds expectations. It's no featureless desert but a land of majestic landscapes surrounding a vast, fertile plateau. The rock-hewn churches in its medieval capital, Lalibela, are regarded by many as the eighth wonder of the world. Its people are welcoming, proud and besotted by their own culture and history. Bradt's "Ethiopia" is the most thorough guide available to this country rich in culture, history and dramatic scenery, and has been highly praised by both travel press and readers. 'Thorough and reassuring, it provides all the practical and background information to make readers leap from their armchairs and visit this vast, magical country' "The Daily Telegraph ""(UK)"
Author Biography
Based in South Africa, Philip Briggs has travelled extensively throughout the continent. He is the author of Bradt's Ghana, Malawi, Mozambique, Northern Tanzania: The Bradt Safari Guide with Kilimanjaro and Zanzibar, Tanzania and Uganda; and is the co-author of Rwanda. This edition is updated by Brian Blatt.
Excerpts
Chat
I don't know where else to put this, and youdoeat it!Chatis a mildly stimulating leaf that is traditionally popular with Muslims (who are forbidden from drinking alcohol) and is now chewed throughout Ethiopia. For readers who have visited Kenya, it is pretty similar tomiraa, though I gather not exactly the same plant (and you see few Ethiopians with the manically glazed eyes I've come to associate withmiraa-ed out Kenyans).
Chatceremony is generally a social thing. The idea is for a few people to gather in a room, where you each grab a few branches, pick off the greenest leaves, pop them into your mouth one by one, mush it all up into a cud, chew for a few hours and then, with whatever strength is left in your jaw, spit out the remaining pulp. Ideally, you devote the afternoon to group mastication, then go for a few beers to neutralise the sleeplessness that the leaves induce. The leaves taste very bitter so a spoonful of sugar helps it all go down. Now, I must admit that to me the effort involved in spending the afternoon chewing myself into foul-tasting oblivion holds little appeal – especially when all sorts of cheap, pleasant-tasting, no-effort-required alcoholic substances are available in Ethiopia – butchathas its devotees among travellers. It must be said that not everybody will spend their spare Ethiopian afternoons dashing about towns, plotting maps and checking out hotel rooms. As an Ethiopian friend says: 'chatceremony is good for killing time'.
---

Excerpted from Ethiopia by Philip Briggs
All rights reserved by the original copyright owners. Excerpts are provided for display purposes only and may not be reproduced, reprinted or distributed without the written permission of the publisher.