Note: Supplemental materials are not guaranteed with Rental or Used book purchases.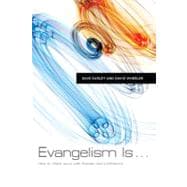 Summary
Evangelism is joyfully intoxicating, the real business of life, pursuing lost people. It is telling good news and helping people exchange their religion for a relationship. Evangelism is following the example of Jesus, washing feet, being yourself. It is sharing your story, working together, and leaving a legacy.
Author Biography
Dave Earley is chairman of the Department of Pastoral Ministries and Church Expansion as well as director of the Center for Ministry Training and director of the Center for Church Planting at Liberty Baptist Theological Seminary in Lynchburg, Virginia.David Wheeler is a North American Mission Board national missionary and associate director of the Center for Church Planting at Liberty Baptist Theological Seminary.
Table of Contents
Preface
p. v
Motive
Evangelism Is...
Joyfully Intoxicating
p. 3
The Real Business of Life
p. 11
Obedience to the Great Commission
p. 17
The Supreme Challenge of This Generation
p. 26
Pursuing Lost People
p. 35
Shaking and Shining
p. 44
Meaning
Evangelism Is...
Telling Good News
p. 53
Helping People Become Good Enough
p. 60
Leading People to True Conversion
p. 69
A Process Leading to an Event
p. 77
Spiritual Farming
p. 85
Helping People Lose Their Religion
p. 93
Being a Missionary, Not a Mission Field
p. 101
Releasing a Virus
p. 110
Manner
Evangelism Is...
Following the Example of Jesus
p. 121
Not Following the Example of the Disciples
p. 129
Cooperating with the Holy Spirit
p. 138
Washing Feet
p. 147
Spiritual Warfare
p. 156
Praying Prodigals Home
p. 165
Being Yourself
p. 172
A Lifestyle
p. 181
Winning Three Battles so Jesus Can Win the War
p. 188
Reaching People Through Relationships
p. 196
Hanging Out with a Purpose
p. 204
Incarnational Living
p. 212
Being the Change You Wish to See in the World
p. 220
Learning to Listen
p. 228
Kmpathy with Action
p. 235
Methods
Evangelism Is...
Sharing Your Story
p. 245
Sharing Jesus Without Fear
p. 252
Sharing Your Recovery Testimony
p. 260
Answering Common Questions Seekers Ask
p. 268
Giving a Logical Defense of Your Faith
p. 276
Asking for a Response
p. 283
Volunteering
p. 291
Creating Opportunities for Gospel Conversations
p. 299
Working Together
p. 307
A Family Affair
p. 315
Leaving a Legacy
p. 324
Appendixes
Sample Methods for Sharing Your Faith
p. 331
Ten Reasons to Plant a Church
p. 338
Evangelism in the Early Church
p. 350
Table of Contents provided by Ingram. All Rights Reserved.