Note: Supplemental materials are not guaranteed with Rental or Used book purchases.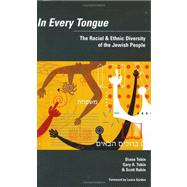 Summary
In Every Tongue explodes the myth of a single authentic Judaism and shines a bright light on the thousands of ethnically and racially diverse Jews in the United States who live full and rich Jewish lives. This book imagines a vibrant and daring future for the Jewish people: becoming who they have always been.
Author Biography
Diane Kaufmann Tobin is the associate director of the Institute for Jewish & Community Research. She manages the projects of the Institute and is the director of Be'chol Lashon (In Every Tongue), the initiative on ethnic and racial diversity in the Jewish community. She is the co-author of Jewish Family Foundations. Before joining the Institute in 1991, she was the owner and president of Kaufmann Design for more than fifteen years, which specialized in design and production of corporate and non-profit identity. Diane and her husband Gary have six children, Adam, 35; Amy, 31; Sarah, 29; Aryeh, 26; Mia, 23; and Jonah, 8.Gary A. Tobin, Ph.D., is president of the Institute for Jewish & Community Research and is also director of the Leonard and Madlyn Abramson Program at the University of Judaism in Los Angeles. He was the director of the Center for Modern Jewish Studies at Brandeis University for fourteen years, after spending eleven years on faculty at Washington University, St. Louis. He is the editor of two volumes about race in America, What Happened to the Urban Crisis? and Divided Neighborhoods. His books include Jewish Perceptions of Antisemitism, Rabbis Talk About Intermarriage, and Opening The Gates: How Proactive Conversion Can Revitalize The Jewish Community.Scott Rubin is a senior research associate at the Institute for Jewish & Community Research. He writes about issues of interest to the Jewish community, including anti-Semitism, conversion, and philanthropy. Mr. Rubin formerly lived in Madrid, Spain, where he founded Grupo Perla, a cross-cultural communications consulting firm. He has been an interpreter for the U.S. Department of Justice, the Royal Navy of Spain, and many multinational corporations. He has also been a freelance writer specializing in politics and culture. His writing has appeared in many publications, including Vogue Espaħa, Los Angeles, Smithsonian, and The Michelin Guide to San Francisco. He lives in San Francisco with his partner, Stephen, their five-year-old son, Zeke, and one-year-old daughter, Stella.