Note: Supplemental materials are not guaranteed with Rental or Used book purchases.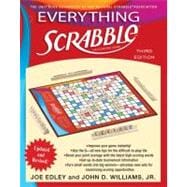 Questions About This Book?
What version or edition is this?
This is the 3rd edition with a publication date of 9/22/2009.
What is included with this book?
The New copy of this book will include any supplemental materials advertised. Please check the title of the book to determine if it should include any CDs, lab manuals, study guides, etc.
Summary
For both the beginner and the seasoned pro, this how-to book from the National Scrabble Association offers all the keys to better play: Basic board strategies for surefire results Turn the enemy -- Q -- into your best friend: a winner's list of Q words with and without U Master the terrific "twos" -- a complete list of two-letter words that can boost your scoring average by thirty to forty points Maximize your score with bonus squares and parallel play -- including triple triples, the pinnacle of SCRABBLE scoring success Make more seven-letter plays -- and earn a fifty-point bonus Secrets to getting better tiles How to get your words' worth with high-point tiles J, X, and Z Words with no vowels How the world's greatest players win -- twenty-eight examples of outstanding SCRABBLE playFeaturing a rare interview with the SCRABBLE game inventor, the late Alfred Mosher Butts, this extensively illustrated guidebook covers all facets of the game and worldwide SCRABBLE culture, including the clubs, tournaments, champions and rules, and playing SCRABBLE with children, plus a complete history of the game.Visit the Naiton Scrabble Association Web site: www.scrabble-assoc.com
Author Biography

Joe Edley is the 1980 National Scrabble Champion and is widely considered one of the foremost experts on the game today. He lives on Long Island.
Excerpts
1
LOOK IT UP: The Official SCRABBLE™ Players Dictionary, Fourth Edition
If you want to get serious about the SCRABBLE™ game, sooner or later you are going to need The Official SCRABBLE™ Players Dictionary (OSPD). It's the "bible" of SCRABBLE word game enthusiasts and, like any important book, has a story.
Back in the dark ages, if two people were playing the SCRABBLE game, chances were they occasionally had an argument about which words were acceptable. To help decide these arguments, there has always been a variety of excellent dictionaries on the market. But while Aunt Ethel from Wyoming always used one dictionary, Uncle Dave from Nebraska used another. Invariably you could watch them battle the merits of their favorite words or nonwords late into the evening.
To clear this potential word-game roadblock, Selchow & Righter, the game's manufacturer, decided in 1975 to publish an official SCRABBLE dictionary. One of the challenges facing the company was how to get the word experts to agree upon the entries. Should it be an unabridged dictionary? Or should it simply contain the words used in everyday English?
The end result -- The Official SCRABBLE™ Players Dictionary -- fell somewhere in between the two extremes. Based on listings from five popular dictionaries, it lists only two- to eight-letter words. Longer words are included as inflections of shorter words (UNLIKELIEST is the superlative of UNLIKELY). To be included in the OSPD, a word had to be found in two of the five most popular American dictionaries. At the time, that collection of five was composed of Webster's Seventh Collegiate Dictionary, Webster's New World Dictionary, Random House Collegiate Dictionary, American Heritage Dictionary, and Funk & Wagnalls College Dictionary.
When it was finally published in 1978, the OSPD included more than 100,000 words. This was a SCRABBLE game player's dream!
As one might imagine, there are arguments over why certain words are included or excluded. With the number of unusual words, some people are unconvinced that the words come solely from popular dictionaries. Yet, for all its faults, the OSPD is the breakthrough that SCRABBLE needed to surge in popularity. Now any two North Americans could play using the same word source.
There are still the occasional gripes over the brief or unusual definitions (KANE is defined as KAIN, which you then have to look up to discover is "a tax paid in produce or livestock"), and few people are certain how to pronounce many of the words, since there are no pronunciation marks in the OSPD. However, the original OSPD edition in 1978 was generally praised as an excellent reference source for settling any SCRABBLE game word disagreement.
In 1991, Hasbro, Inc., the game's new manufacturer, and Merriam Webster published The Official SCRABBLE™ Players Dictionary, 2nd edition, which was followed by the 3rd edition in 1995, and the fourth edition in 2005.
Here are some hints on using The Official SCRABBLE™ Players Dictionary, Fourth Edition:
A) Only one definition is given for each word. Often the common meaning will be bypassed to illustrate an unusual usage. For example, IMP is listed as a verb, and is defined: "to graft feathers onto a bird's wing." The verb usage is necessary to show that IMPED and IMPING are acceptable. For the purposes of the game there was no need to mention other definitions.
B) There are special RE- and UN- lists, which include hundreds of words not defined in the text. Make sure you look at both the text and the list when verifying RE- or UN- words. The lists are printed right after the text entries for RE and UN.
C) Unless an -ING word is defined as a noun, it doesn't take an S. For example, PLAY is defined as a verb. As such, PLAYING is the present participle and is acceptable. Instead of listing PLAYING separately, it is simply shown as: "PLAY -S, -ED, -ING, to engage in amusement or sport." Since there is no separate listing for PLAYING as a noun, PLAYINGS is not acceptable. However, FLYING is acceptable, as it is listed as a noun -- "
n
: pl. -S the operation of an aircraft" -- and so its plural FLYINGS is acceptable.
D) If a word is listed in boldface, or as an inflection of a boldfaced word, then it is acceptable.
Example:
FOCUS is listed and so it is acceptable. Also listed and acceptable are: FOCUSED, FOCUSING, FOCUSES, FOCUSSED, FOCUSSING, and FOCUSSES.
E) There are many verbs that take an ER at the end to form a noun. After all, if you can PLAY, then there can be a PLAYER. One can BAKE, and s/he is a BAKER. However, not all verbs can be so altered. One may PART, but there is no PARTER listed in the
OSPD4
. All cases in which verbs may be made into nouns by adding ER are listed in the
OSPD4
.
F) Although foreign words are not generally considered acceptable, there are many words in the
OSPD4
that seem foreign. That's because if a word has no adequate equivalent in English, then the original foreign word is considered acceptable. For example, almost all names of foreign coins are acceptable; you will find words like PESETA (a monetary unit of Spain) and XU (a Vietnamese coin) acceptable. Also, foreign titles are acceptable, such as QAID (a Muslim leader) and SAHIB (sir; master -- used as a term of respect in colonial India).
G) Some words are listed in boldface more than once. For instance, BRITTLE is listed as an adjective and shows the inflections BRITTLER and BRITTLEST. If someone challenges BRITTLED, an inexperienced word judge might assume, after seeing this entry, that BRITTLED is unacceptable. Wrong! BRITTLE is
also
listed separately as a verb and can be inflected as BRITTLED, BRITTLING, and BRITTLES. So when you can't find an entry, be sure you check before and after the expected alphabetic positioning of a word for an alternate listing.
H) Occasionally someone will play an uninflected, acceptable word of more than eight letters, such as PETROLEUM. The National SCRABBLE™ Association uses, both at tournament and club play,
Merriam-Webster's Collegiate Dictionary
, 11th edition, to verify words of nine letters or more.
While there may always be discussions about which words should or should not be acceptable, we must always defer to the OSPD4, so that we are all playing by the same rules. We should not forget that the OSPD4 allows equal chances to all players.
Now that you've been introduced to the OSPD4, let's look at a few basic SCRABBLE game rules that you'll need to know.
One last comment for those who once used the OSPD2: DA, DEI, DES, KEV, VIN(S) and VON were all removed from the OSPD3. These words were reviewed and ultimately rejected as unacceptable by both the Merriam-Webster Company and the NSA's Dictionary Committee. For the OSPD4 EMF was deemed a mistake as well, and so removed. Original edition copyright © 1994, 2001, 2009 by John D. Williams, Jr., and Joe Edley