Note: Supplemental materials are not guaranteed with Rental or Used book purchases.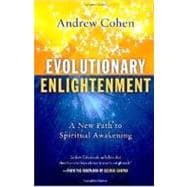 Evolutionary Enlightenment
ISBN13:
9781590792094
by
Cohen, Andrew
Summary
In Evolutionary Enlightenment we are presented with an authentic spiritual innovation: a new philosophy, path, and practice of spiritual enlightenment for the twenty-first century, forged through more than two decades of transformative spiritual work with men and women around the world and in serious conversation with leading luminaries from almost every religious and spiritual tradition, both ancient and modern. Andrew Cohen, founder and editor-in-chief of the award-winning quarterly magazine EnlightenNext, has re-envisioned spiritual enlightenment in a completely new context. This context is, as he writes, nothing less than "the fourteen-billion-year epic of our cosmic evolution-a vast perspective that enhances and enlarges to almost infinite proportions our sense of the significance of what it means to be human."Evolutionary Enlightenment takes readers on an experiential journey into this new perspective, path, and practice. Taken from direct transcriptions of Cohen's talks and retreats, and meticulously edited by Cohen himself, the chapters in this book combine the powerful transmission of a mystic with the clarity and precision of an original and creative thinker.
Table of Contents
Foreword
p. ix
Acknowledgments
p. xvii
A Cosmic Journey
p. 1
Prologue: A Longing to Evolve
p. 3
Back to Before the Beginning
p. 7
Nonduality
p. 15
We Were There When It All Began
p. 23
A Big Yes
p. 31
Awakening to Evolution
p. 39
The Universe Project
p. 47
Understanding the Territory
p. 55
Introduction to Part II
p. 57
The Self: Relative and Absolute
p. 59
Enlightening the Choosing Faculty
p. 69
The Postmodern Predicament
p. 77
A Moral Imperative
p. 85
The Path and the Goal
p. 95
Introduction to Part III
p. 97
The Art and Science of Stillness
p. 99
Clarity of Intention
p. 111
The Power of Volition
p. 125
Face Everything and Avoid Nothing135
The Process Perspective
p. 145
Cosmic Conscience
p. 157
Enlightenment and the Evolution of Culture
p. 169
Introduction to Part IV
p. 171
A Higher We
p. 173
Catalyzing Emergence
p. 181
Creating the Future
p. 191
The Edge of Evolution
p. 201
About the Author
p. 209
Books by Andrew Cohen
p. 213
Table of Contents provided by Ingram. All Rights Reserved.