Note: Supplemental materials are not guaranteed with Rental or Used book purchases.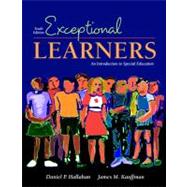 Questions About This Book?
What version or edition is this?
This is the 10th edition with a publication date of 1/1/2006.
What is included with this book?
The Used copy of this book is not guaranteed to include any supplemental materials. Typically, only the book itself is included.
Related Products
Summary
There are good reasons why Exceptional Learners has been the introductory text trusted to prepare hundreds of thousands of special education and general education teachers. Its depth, lucidity, clarity, and coherence combine to make a text appropriate for students at all levels: graduate and undergraduate, from introductory to advanced. Continuing its reputation as the standard bearer in the field for accuracy, currency, and reliability, the tenth edition increases its coverage of Autism Spectrum Disorders, collaboration and co-teaching, research-proven classroom applications, and references to professional standards (CEC and INTASC), and includes information on the 2004 IDEA reauthorization and its implications.
Table of Contents
Preface
xxiii

| | |
| --- | --- |
| | Exceptionality and Special Education |

2
(36)

| | |
| --- | --- |
| | Getting Oriented to Exceptionality and Special Education |

4
(4)
4
(3)

| | |
| --- | --- |
| | The Importance of Abilities |

7
(1)

| | |
| --- | --- |
| | Disability Versus Handicap |

7
(1)

| | |
| --- | --- |
| | Disability Versus Inability |

8
(1)

| | |
| --- | --- |
| | Educational Definition of Exceptional Learners |

8
(3)

| | |
| --- | --- |
| | Prevalence of Exceptional Learners |

11
(2)

| | |
| --- | --- |
| | High-Incidence and Low-Incidence Categories |

12
(1)

| | |
| --- | --- |
| | Definition of Special Education |

13
(1)

| | |
| --- | --- |
| | Providing Special Education |

14
(4)
18
(5)

| | |
| --- | --- |
| | Relationship Between General and Special Education |

18
(1)

| | |
| --- | --- |
| | Special Education and Students at Risk |

18
(1)

| | |
| --- | --- |
| | The Inclusion Controversy |

19
(1)

| | |
| --- | --- |
| | Expectations for All Educators |

19
(3)

| | |
| --- | --- |
| | Expectations for Special Educators |

22
(1)

| | |
| --- | --- |
| | Origins of Special Education |

23
(4)
24
(2)
26
(1)

| | |
| --- | --- |
| | Legislation and Litigation |

27
(3)
27
(2)
29
(1)

| | |
| --- | --- |
| | The Intent of Special Education Law: Individualized Education for Students with Disabilities |

30
(5)

| | |
| --- | --- |
| | Our Perspective on the Progress of Special Education |

35
(1)
36
(2)

| | |
| --- | --- |
| | Current Trends and Jssues |

38
(40)

| | |
| --- | --- |
| | Integration into the Larger Society |

40
(4)
40
(2)
42
(1)
43
(1)
44
(10)
44
(1)
44
(10)

| | |
| --- | --- |
| | Collaboration and Participation in General Education Classrooms |

54
(4)

| | |
| --- | --- |
| | Prereferral Teams and Response to Intervention |

54
(1)

| | |
| --- | --- |
| | Collaborative Consultation |

55
(1)
55
(1)

| | |
| --- | --- |
| | Curricula and Instructional Strategies |

56
(1)

| | |
| --- | --- |
| | Accommodations and Adaptations |

57
(1)
57
(1)

| | |
| --- | --- |
| | Participation in General Assessments of Progress: IDEA and NCLB |

58
(5)
58
(3)
61
(2)

| | |
| --- | --- |
| | Access to New Technologies |

63
(2)
64
(1)
65
(1)
65
(4)
67
(1)
68
(1)
69
(1)
69
(5)
70
(1)
71
(2)
73
(1)

| | |
| --- | --- |
| | Discipline of Students with Disabilities |

74
(2)
74
(1)
75
(1)

| | |
| --- | --- |
| | Some Concluding Thoughts Regarding Trends and Issues |

76
(1)
76
(2)

| | |
| --- | --- |
| | Multicultural and Bilingual Aspects of Special Education |

78
(26)

| | |
| --- | --- |
| | Universality of Cultural Pride and Shame |

80
(2)

| | |
| --- | --- |
| | America and Multiculturalism |

82
(3)

| | |
| --- | --- |
| | Education and Cultural Diversity |

85
(4)

| | |
| --- | --- |
| | Multicultural and Bilingual Special Education |

89
(14)
91
(2)
93
(6)
99
(4)
103
(1)
104
(26)

| | |
| --- | --- |
| | Professionals' Changing Views of Parents |

106
(2)

| | |
| --- | --- |
| | The Effects of a Child with a Disability on the Family |

108
(8)
109
(5)
114
(2)

| | |
| --- | --- |
| | Family Involvement in Treatment and Education |

116
(12)
117
(4)

| | |
| --- | --- |
| | Social Support for Families |

121
(1)

| | |
| --- | --- |
| | Positive Behavioral Support for Challenging Behaviors |

122
(1)

| | |
| --- | --- |
| | Communication Between Parents and Professionals |

123
(4)
127
(1)
128
(1)
129
(1)

| | |
| --- | --- |
| | Learners with Mental Retardation |

130
(36)
134
(3)
135
(2)

| | |
| --- | --- |
| | Classification of Mental Retardation |

137
(1)
137
(1)
138
(7)
138
(5)
143
(1)
144
(1)
145
(1)
145
(1)
146
(1)

| | |
| --- | --- |
| | Psychological and Behavioral Characteristics |

146
(2)

| | |
| --- | --- |
| | Linking Genetic Syndromes to Particular Behavioral Phenotypes |

147
(1)

| | |
| --- | --- |
| | Educational Considerations |

148
(7)

| | |
| --- | --- |
| | Inclusion and Useful Skills |

149
(1)
149
(3)
152
(3)
155
(1)
155
(3)

| | |
| --- | --- |
| | Early Childhood Programs Designed for Prevention |

155
(3)

| | |
| --- | --- |
| | Early Childhood Programs Designed to Further Development |

158
(1)
158
(6)
159
(2)
161
(2)
163
(1)
164
(2)

| | |
| --- | --- |
| | Learners with Learning Disabilities |

166
(40)
168
(5)
171
(1)

| | |
| --- | --- |
| | The National Joint Committee for Learning Disabilities Definition |

171
(2)

| | |
| --- | --- |
| | Identification Procedures |

173
(2)

| | |
| --- | --- |
| | Achievement-Ability Discrepancy |

173
(1)

| | |
| --- | --- |
| | Response to Intervention or Response to Treatment |

173
(2)
175
(1)
175
(1)
175
(1)
176
(2)
177
(1)
178
(1)
178
(1)
178
(4)

| | |
| --- | --- |
| | Standardized Achievement Assessment |

178
(1)
179
(1)
180
(1)
181
(1)

| | |
| --- | --- |
| | Psychological and Behavioral Characteristics |

182
(9)

| | |
| --- | --- |
| | Interindividual Variation |

182
(1)

| | |
| --- | --- |
| | Intraindividual Variation |

182
(1)

| | |
| --- | --- |
| | Academic Achievement Problems |

183
(3)

| | |
| --- | --- |
| | Perceptual, Perceptual-Motor, and General Coordination Problems |

186
(1)

| | |
| --- | --- |
| | Disorders of Attention and Hyperactivity |

187
(1)

| | |
| --- | --- |
| | Memory, Cognitive, Metacognitive Problems |

187
(2)

| | |
| --- | --- |
| | Social-Emotional Problems |

189
(1)
190
(1)

| | |
| --- | --- |
| | The Child with Learning Disabilities as an Inactive Learner with Strategy Deficits |

191
(1)

| | |
| --- | --- |
| | Educational Considerations |

191
(6)
191
(2)
193
(1)

| | |
| --- | --- |
| | Best Practices in Teaching Students with Learning Disabilities |

194
(2)
196
(1)
197
(2)
199
(7)

| | |
| --- | --- |
| | Factors Related to Successful Transition |

200
(1)
201
(1)

| | |
| --- | --- |
| | Postsecondary Programming |

202
(1)
203
(3)

| | |
| --- | --- |
| | Learners with Attention Deficit Hyperactivity Disorder |

206
(38)
208
(4)

| | |
| --- | --- |
| | Still's Children with ``Defective Moral Control'' |

208
(3)

| | |
| --- | --- |
| | Goldstein's Brain-Injured Soldiers of World War I |

211
(1)
211
(1)
211
(1)

| | |
| --- | --- |
| | Minimal Brain Injury and Hyperactive Child Syndrome |

212
(1)
212
(1)
212
(3)
215
(2)
217
(3)

| | |
| --- | --- |
| | Areas of the Brain Affected: Frontal Lobes, Basal Ganglia, and Cerebellum |

218
(1)

| | |
| --- | --- |
| | Neurotransmitters Involved: Dopamine and Norepinephrine |

219
(1)
219
(1)

| | |
| --- | --- |
| | Toxins and Medical Factors |

219
(1)

| | |
| --- | --- |
| | Psychological and Behavioral Characteristics |

220
(5)
220
(4)
224
(1)

| | |
| --- | --- |
| | Problems Socializing with Peers |

224
(1)
225
(1)

| | |
| --- | --- |
| | Educational Considerations |

225
(5)

| | |
| --- | --- |
| | Classroom Structure and Teacher Direction |

226
(1)

| | |
| --- | --- |
| | Functional Behavioral Assessment and Contingency-Based Self-Management |

227
(2)
229
(1)

| | |
| --- | --- |
| | Medication Considerations |

230
(7)
233
(1)
233
(2)

| | |
| --- | --- |
| | Cautions Regarding Medication |

235
(2)
237
(1)
237
(4)
237
(1)
238
(2)
240
(1)
241
(3)

| | |
| --- | --- |
| | Learners with Emotional or Behavioral Disorders |

244
(40)
248
(1)
249
(2)
249
(1)
249
(2)
251
(2)
253
(1)
254
(6)
255
(1)
256
(1)
257
(2)
259
(1)
260
(2)

| | |
| --- | --- |
| | Psychological and Behavioral Characteristics |

262
(8)

| | |
| --- | --- |
| | Educational Considerations |

270
(7)

| | |
| --- | --- |
| | Balancing Behavioral Control with Academic and Social Learning |

270
(1)

| | |
| --- | --- |
| | Importance of Integrated Services |

271
(1)
271
(1)
272
(3)

| | |
| --- | --- |
| | Instructional Considerations |

275
(1)

| | |
| --- | --- |
| | Special Disciplinary Considerations |

276
(1)
277
(3)
280
(2)
282
(2)

| | |
| --- | --- |
| | Learners with Communication Disorders |

284
(34)
286
(3)
289
(1)
289
(2)
291
(7)

| | |
| --- | --- |
| | Classification of Language Disorders |

294
(4)
298
(5)
299
(1)
299
(1)
300
(1)
301
(1)
302
(1)
303
(1)

| | |
| --- | --- |
| | Educational Considerations |

304
(5)

| | |
| --- | --- |
| | Facilitating the Social Use of Language |

304
(1)

| | |
| --- | --- |
| | Question-Asking Strategies |

305
(3)

| | |
| --- | --- |
| | Teaching Written Language |

308
(1)
309
(5)

| | |
| --- | --- |
| | Early Development and Early Intervention |

309
(1)

| | |
| --- | --- |
| | Early Intervention in Delayed Language Development |

310
(1)
311
(3)
314
(1)
315
(3)

| | |
| --- | --- |
| | Learners Who Are Deaf or Hard of Hearing |

318
(38)

| | |
| --- | --- |
| | Definition and Classification |

322
(1)
323
(1)

| | |
| --- | --- |
| | Anatomy and Physiology of the Ear |

324
(2)
324
(1)
325
(1)
325
(1)

| | |
| --- | --- |
| | Measurement of Hearing Ability |

326
(2)
326
(1)
326
(1)
327
(1)

| | |
| --- | --- |
| | Tests for Young and Hard-to-Test Children |

327
(1)
328
(1)

| | |
| --- | --- |
| | Conductive, Sensorineural, and Mixed Hearing Impairment |

328
(1)

| | |
| --- | --- |
| | Hearing Impairment and the Outer Ear |

328
(1)

| | |
| --- | --- |
| | Hearing Impairment and the Middle Ear |

328
(1)

| | |
| --- | --- |
| | Hearing Impairment and the Inner Ear |

328
(1)

| | |
| --- | --- |
| | Psychological and Behavioral Characteristics |

329
(11)

| | |
| --- | --- |
| | Spoken Language and Speech Development |

329
(1)
330
(3)
333
(1)
334
(1)
335
(5)

| | |
| --- | --- |
| | Educational Considerations |

340
(9)

| | |
| --- | --- |
| | Oral Approaches: The Auditory-Verbal Approach and the Auditory-Oral Approach |

340
(2)
342
(2)

| | |
| --- | --- |
| | The Bicultural-Bilingual Approach |

344
(1)
344
(1)
345
(4)
349
(1)
350
(3)
350
(2)
352
(1)
353
(3)

| | |
| --- | --- |
| | Learners with Blindness or Low Vision |

356
(38)

| | |
| --- | --- |
| | Definition and Classification |

361
(1)
361
(1)
361
(1)
361
(1)

| | |
| --- | --- |
| | Anatomy and Physiology of the Eye |

362
(1)

| | |
| --- | --- |
| | Measurement of Visual Ability |

363
(1)
363
(3)

| | |
| --- | --- |
| | Physiological and Behavioral Characteristics |

366
(6)
366
(1)
366
(2)
368
(1)
369
(1)
369
(3)
372
(1)

| | |
| --- | --- |
| | Educational Considerations |

372
(13)
373
(3)
376
(1)
377
(1)

| | |
| --- | --- |
| | Orientation and Mobility (O & M) Training |

378
(4)
382
(3)
385
(1)
385
(3)
388
(3)
388
(2)
390
(1)
391
(3)

| | |
| --- | --- |
| | Learners with Autism Spectrum Disorders |

394
(34)

| | |
| --- | --- |
| | Historical Context: Kanner's and Asperger's Papers |

396
(2)
398
(1)
398
(1)

| | |
| --- | --- |
| | Definition of Autism Spectrum Disorders |

398
(2)
399
(1)

| | |
| --- | --- |
| | Asperger Syndrome Defined |

400
(1)
400
(1)
401
(5)
401
(2)
403
(3)
406
(1)

| | |
| --- | --- |
| | Psychological and Behavioral Characteristics |

407
(5)
407
(1)
408
(3)

| | |
| --- | --- |
| | Attempts to Construct a Unifying Theory of Autism Spectrum Disorders |

411
(1)

| | |
| --- | --- |
| | Educational Considerations |

412
(9)

| | |
| --- | --- |
| | Educational Programming Principles for Students with Autism Spectrum Disorders |

413
(4)

| | |
| --- | --- |
| | Educational Strategies for Teaching Social Skills to Students with Asperger Syndrome |

417
(4)
421
(1)
421
(2)
423
(3)

| | |
| --- | --- |
| | Transition Programming for People with Autism |

423
(1)

| | |
| --- | --- |
| | Transition Programming for People with Asperger Syndrome |

423
(3)
426
(2)

| | |
| --- | --- |
| | Learners with Low-Incidence, Multiple, and Severe Disabilities |

428
(36)

| | |
| --- | --- |
| | Definition and Prevalence |

430
(2)
432
(1)

| | |
| --- | --- |
| | Definition and Characteristics |

432
(2)
434
(1)
435
(1)

| | |
| --- | --- |
| | Educational Considerations |

435
(4)
437
(1)

| | |
| --- | --- |
| | Social and Emotional Problems |

438
(1)
439
(1)
440
(1)
440
(1)
441
(1)

| | |
| --- | --- |
| | Genetic/Chromosomal Syndromes |

441
(1)
442
(1)
442
(1)

| | |
| --- | --- |
| | Psychological and Behavioral Characteristics |

442
(4)

| | |
| --- | --- |
| | Problems Accessing Information |

442
(2)
444
(1)

| | |
| --- | --- |
| | Problems Navigating the Environment |

444
(2)

| | |
| --- | --- |
| | Educational Considerations |

446
(3)

| | |
| --- | --- |
| | The Importance of Direct Teaching |

446
(1)

| | |
| --- | --- |
| | The Importance of Structured Routines |

446
(1)
446
(2)
448
(1)

| | |
| --- | --- |
| | Special Considerations for Students with Usher Syndrome |

449
(1)

| | |
| --- | --- |
| | Considerations for Many Students with Low-Incidence, Multiple, and Severe Disabilities |

449
(1)

| | |
| --- | --- |
| | Augmentative or Alternative Communication |

449
(6)
455
(2)
455
(1)
455
(1)
456
(1)
456
(1)

| | |
| --- | --- |
| | Lack of Daily Living Skills |

456
(1)

| | |
| --- | --- |
| | Functional Behavioral Assessment and Positive Behavioral Support |

456
(1)
457
(3)

| | |
| --- | --- |
| | Research- or Value-Based Practices |

459
(1)

| | |
| --- | --- |
| | Family-Centered Practices |

459
(1)

| | |
| --- | --- |
| | Multicultural Perspective |

459
(1)

| | |
| --- | --- |
| | Cross-Disciplinary Collaboration |

459
(1)

| | |
| --- | --- |
| | Developmentally and Chronologically Age-Appropriate Practices |

460
(1)

| | |
| --- | --- |
| | Principle of Normalization |

460
(1)
460
(3)
461
(1)
462
(1)

| | |
| --- | --- |
| | Community and Domestic Living Skills |

462
(1)
463
(1)

| | |
| --- | --- |
| | Learners with Physical Disabilities and Other Impairments |

464
(32)

| | |
| --- | --- |
| | Definition and Classification |

466
(2)
468
(1)
469
(5)
469
(2)

| | |
| --- | --- |
| | Seizure Disorder (Epilepsy) |

471
(2)

| | |
| --- | --- |
| | Spina Bifida and Other Spinal Cord Injuries |

473
(1)

| | |
| --- | --- |
| | Orthopedic and Musculoskeletal Disorders |

474
(1)

| | |
| --- | --- |
| | Other Conditions Affecting Health or Physical Ability |

474
(3)

| | |
| --- | --- |
| | Prevention of Physical Disabilities |

477
(1)

| | |
| --- | --- |
| | Psychological and Behavioral Characteristics |

478
(2)
478
(1)

| | |
| --- | --- |
| | Personality Characteristics |

478
(2)

| | |
| --- | --- |
| | Prosthetics, Orthotics, and Adaptive Devices for Daily Living |

480
(2)

| | |
| --- | --- |
| | Educational Considerations |

482
(7)
483
(1)
484
(1)

| | |
| --- | --- |
| | Educational Goals and Curricula |

485
(2)

| | |
| --- | --- |
| | Links with Other Disciplines |

487
(2)
489
(1)
489
(5)
492
(1)
493
(1)
494
(2)

| | |
| --- | --- |
| | Learners with Special Gifts and Talents |

496
(30)
500
(4)
504
(1)
504
(2)

| | |
| --- | --- |
| | Identification of Giftedness |

506
(1)

| | |
| --- | --- |
| | Psychological and Behavioral Characteristics |

507
(1)

| | |
| --- | --- |
| | Cultural Values Regarding Students with Special Gifts and Talents and Their Education |

508
(2)

| | |
| --- | --- |
| | Neglected Groups of Students with Special Gifts and Talents |

510
(6)

| | |
| --- | --- |
| | Underachievers with Special Gifts and Talents |

510
(1)

| | |
| --- | --- |
| | Students Low in Socioeconomic Status and Those Living in Remote Areas |

511
(1)

| | |
| --- | --- |
| | Students with Special Gifts from Cultural- and Ethnic-Minority Groups |

511
(1)

| | |
| --- | --- |
| | Students with Disabilities and Special Gifts and Talents |

512
(3)

| | |
| --- | --- |
| | Females with Special Gifts and Talents |

515
(1)

| | |
| --- | --- |
| | Educational Considerations |

516
(5)
519
(1)
519
(2)
521
(1)
522
(2)
524
(2)
Appendix: CEC Content Standards and Intasc Core Principles
526
(4)
Glossary
530
(13)
References
543
(40)
Author Index
583
(11)
Subject Index
594