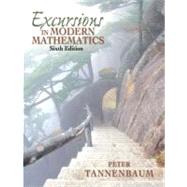 List Price: $121.90
Hurry!
Only one copy
in stock at this price.
In Stock Usually Ships in 24 Hours.
Questions About This Book?
Why should I rent this book?
Renting is easy, fast, and cheap! Renting from eCampus.com can save you hundreds of dollars compared to the cost of new or used books each semester. At the end of the semester, simply ship the book back to us with a free UPS shipping label! No need to worry about selling it back.
How do rental returns work?
Returning books is as easy as possible. As your rental due date approaches, we will email you several courtesy reminders. When you are ready to return, you can print a free UPS shipping label from our website at any time. Then, just return the book to your UPS driver or any staffed UPS location. You can even use the same box we shipped it in!
What version or edition is this?
This is the 6th edition with a publication date of 1/1/2007.
What is included with this book?
The Used copy of this book is not guaranteed to inclue any supplemental materials. Typically, only the book itself is included.
The Rental copy of this book is not guaranteed to include any supplemental materials. You may receive a brand new copy, but typically, only the book itself.
Summary
For undergraduate courses in Liberal Arts Mathematics, Quantitative Literacy, and General Education. This very successful liberal arts mathematics textbook is a collection of "excursions" into the real-world applications of modern mathematics. The excursions are organized into four independent parts: 1) The Mathematics of Social Choice, 2) Management Science, 3) Growth and Symmetry, and 4) Statistics. Each part consists of four chapters plus a mini-excursion (new feature in 6/e). The book is written in an informal, very readable style, with pedagogical features that make the material both interesting and clear. The presentation is centered on an assortment of real-world examples and applications specifically chosen to illustrate the usefulness, relevance, and beauty of liberal arts mathematics.
Table of Contents
Preface
xv

| | |
| --- | --- |
| | part 1 The Mathematics of Social Choice |

| | |
| --- | --- |
| | The Mathematics of Voting |

2
(46)

| | |
| --- | --- |
| | The Paradoxes of Democracy |

| | |
| --- | --- |
| | Preference Ballots and Preference Schedules |

4
(2)
6
(4)
10
(2)

| | |
| --- | --- |
| | The Plurality-with-Elimination Method (Instant Runoff Voting) |

12
(5)

| | |
| --- | --- |
| | The Method of Pairwise Comparisons (Copeland's Method) |

17
(6)
23
(25)

| | |
| --- | --- |
| | Conclusion: Elections, Fairness, and Arrow's Impossibility Theorem |

28
(1)

| | |
| --- | --- |
| | Profile: Kenneth J. Arrow |

29
(1)
30
(1)
30
(11)
41
(1)

| | |
| --- | --- |
| | Appendix 1: Breaking Ties |

42
(1)

| | |
| --- | --- |
| | Appendix 2: A Sampler of Elections in the Real World |

43
(3)

| | |
| --- | --- |
| | References and Further Readings |

46
(2)
48
(36)
50
(3)
53
(8)

| | |
| --- | --- |
| | Applications of Banzhaf Power |

61
(2)

| | |
| --- | --- |
| | The Shapley-Shubik Power Index |

63
(5)

| | |
| --- | --- |
| | Applications of Shapley-Shubik Power |

68
(16)
70
(1)

| | |
| --- | --- |
| | Profile: Lloyd S. Shapley |

71
(1)
72
(1)
72
(7)
79
(1)

| | |
| --- | --- |
| | Appendix: Power in the Electoral College |

80
(2)

| | |
| --- | --- |
| | References and Further Readings |

82
(2)
84
(44)

| | |
| --- | --- |
| | The Mathematics of Sharing |

86
(2)

| | |
| --- | --- |
| | Two Players: The Divider-Chooser Method |

88
(1)
89
(6)
95
(3)

| | |
| --- | --- |
| | The Last-Diminisher Method |

98
(5)

| | |
| --- | --- |
| | The Method of Sealed Bids |

103
(3)
106
(22)
109
(1)
110
(1)
111
(1)
111
(15)
126
(1)

| | |
| --- | --- |
| | References and Further Readings |

127
(1)

| | |
| --- | --- |
| | The Mathematics of Apportionment |

128
(32)
129
(5)

| | |
| --- | --- |
| | Hamilton's Method and the Quota Rule |

134
(2)

| | |
| --- | --- |
| | The Alabama and Other Paradoxes |

136
(5)
141
(3)
144
(1)
145
(15)
147
(2)

| | |
| --- | --- |
| | Historical Note: A Brief History of Apportionment in the United States |

149
(1)
150
(1)
150
(5)
155
(2)

| | |
| --- | --- |
| | References and Further Readings |

157
(3)

| | |
| --- | --- |
| | part 2 Management Science |

160
(36)

| | |
| --- | --- |
| | The Circuit Comes to Town |

162
(3)
165
(3)

| | |
| --- | --- |
| | Graph Concepts and Terminology |

168
(2)
170
(1)
171
(3)
174
(5)
179
(17)
183
(1)
184
(1)
185
(1)
185
(9)
194
(1)

| | |
| --- | --- |
| | References and Further Readings |

194
(2)

| | |
| --- | --- |
| | The Traveling Salesman Problem |

196
(38)

| | |
| --- | --- |
| | Hamilton Joins the Circuit |

| | |
| --- | --- |
| | Hamilton Circuits and Hamilton Paths |

199
(1)
200
(4)

| | |
| --- | --- |
| | Traveling Salesman Problems |

204
(3)

| | |
| --- | --- |
| | Simple Strategies for Solving TSPs |

207
(3)

| | |
| --- | --- |
| | The Brute-Force and Nearest-Neighbor Algorithms |

210
(2)
212
(1)

| | |
| --- | --- |
| | The Repetitive Nearest-Neighbor Algorithm |

213
(1)

| | |
| --- | --- |
| | The Cheapest-Link Algorithm |

214
(20)
218
(2)

| | |
| --- | --- |
| | Profile: Sir William Rowan Hamilton |

220
(1)
221
(1)
221
(9)
230
(2)

| | |
| --- | --- |
| | References and Further Readings |

232
(2)

| | |
| --- | --- |
| | The Mathematics of Networks |

234
(40)

| | |
| --- | --- |
| | The Cost of Being Connected |

236
(4)
240
(2)
242
(2)

| | |
| --- | --- |
| | The Shortest Network Connecting Three Points |

244
(6)

| | |
| --- | --- |
| | Shortest Networks for Four or More Points |

250
(24)
257
(1)

| | |
| --- | --- |
| | Profile: Evangelista Torricelli |

258
(1)
258
(1)
259
(9)
268
(3)

| | |
| --- | --- |
| | Appendix: The Soap-Bubble Solution |

271
(1)

| | |
| --- | --- |
| | References and Further Readings |

272
(2)

| | |
| --- | --- |
| | The Mathematics of Scheduling |

274
(38)

| | |
| --- | --- |
| | Directed Graphs and Critical Paths |

| | |
| --- | --- |
| | The Basic Elements of Scheduling |

276
(5)

| | |
| --- | --- |
| | Directed Graphs (Digraphs) |

281
(2)

| | |
| --- | --- |
| | Scheduling with Priority Lists |

283
(6)

| | |
| --- | --- |
| | The Decreasing-Time Algorithm |

289
(2)
291
(3)

| | |
| --- | --- |
| | The Critical-Path Algorithm |

294
(2)

| | |
| --- | --- |
| | Scheduling with Independent Tasks |

296
(16)
299
(1)

| | |
| --- | --- |
| | Profile: Ronald L. Graham |

300
(1)
300
(1)
301
(8)
309
(1)

| | |
| --- | --- |
| | References and Further Readings |

309
(3)

| | |
| --- | --- |
| | part 3 Growth and Symmetry |

312
(26)

| | |
| --- | --- |
| | Fibonacci Numbers and the Golden Ratio |

313
(4)
317
(1)
318
(6)
324
(14)
327
(1)

| | |
| --- | --- |
| | Profile: Leonardo Fibonacci |

328
(1)
329
(1)
329
(6)
335
(1)

| | |
| --- | --- |
| | References and Further Readings |

336
(2)

| | |
| --- | --- |
| | The Mathematics of Population Growth |

338
(34)

| | |
| --- | --- |
| | There Is Strength in Numbers |

| | |
| --- | --- |
| | The Dynamics of Population Growth |

339
(3)
342
(6)

| | |
| --- | --- |
| | The Exponential Growth Model |

348
(9)

| | |
| --- | --- |
| | The Logistic Growth Model |

357
(15)
363
(1)
363
(1)
364
(1)
364
(6)
370
(1)

| | |
| --- | --- |
| | References and Further Readings |

371
(1)
372
(38)

| | |
| --- | --- |
| | Mirror, Mirror Off the Wall... |

373
(2)
375
(2)
377
(3)
380
(1)
381
(2)

| | |
| --- | --- |
| | Symmetry as a Rigid Motion |

383
(5)
388
(22)
393
(1)

| | |
| --- | --- |
| | Profile: Sir Robert Penrose |

393
(1)
394
(1)
394
(11)
405
(1)

| | |
| --- | --- |
| | Appendix: The 17 Wallpaper Symmetry Types |

406
(3)

| | |
| --- | --- |
| | References and Further Readings |

409
(1)

| | |
| --- | --- |
| | The Geometry of Fractal Shapes |

410
(36)
412
(6)
418
(3)
421
(1)

| | |
| --- | --- |
| | The Twisted Sierpinski Gasket |

422
(3)
425
(21)
432
(1)

| | |
| --- | --- |
| | Profile: Benoit Mandelbrot |

433
(1)
434
(1)
434
(8)
442
(1)

| | |
| --- | --- |
| | References and Further Readings |

443
(3)

| | |
| --- | --- |
| | Collecting Statistical Data |

446
(30)

| | |
| --- | --- |
| | Censuses, Surveys, and Clinical Studies |

448
(4)
452
(5)
457
(2)

| | |
| --- | --- |
| | Sampling: Terminology and Key Concepts |

459
(1)

| | |
| --- | --- |
| | The Capture-Recapture Method |

460
(1)
461
(15)
465
(1)
466
(1)
467
(1)
467
(7)
474
(1)

| | |
| --- | --- |
| | References and Further Readings |

475
(1)
476
(34)

| | |
| --- | --- |
| | Graphing and Summarizing Data |

| | |
| --- | --- |
| | Graphical Descriptions of Data |

477
(4)
481
(6)

| | |
| --- | --- |
| | Numerical Summaries of Data |

487
(8)
495
(15)
498
(1)

| | |
| --- | --- |
| | Profile: W. Fdwards Deming |

498
(1)
499
(1)
499
(9)
508
(1)

| | |
| --- | --- |
| | References and Further Readings |

509
(1)

| | |
| --- | --- |
| | Chances, Probabilities, and Odds |

510
(30)

| | |
| --- | --- |
| | Random Experiments and Sample Spaces |

511
(3)
514
(2)

| | |
| --- | --- |
| | Permutations and Combinations |

516
(3)
519
(4)
523
(3)
526
(14)
528
(1)
529
(1)
530
(1)
531
(6)
537
(1)

| | |
| --- | --- |
| | References and Further Readings |

538
(2)
540
(27)

| | |
| --- | --- |
| | Everything Is Back to Normal (Almost) |

| | |
| --- | --- |
| | Approximately Normal Distributions of Data |

542
(2)

| | |
| --- | --- |
| | Normal Curves and Normal Distributions |

544
(2)

| | |
| --- | --- |
| | Standardizing Normal Data |

546
(2)
548
(1)

| | |
| --- | --- |
| | Normal Curves as Models of Real-Life Data Sets |

549
(2)

| | |
| --- | --- |
| | Distributions of Random Events |

551
(2)
553
(14)
557
(1)

| | |
| --- | --- |
| | Profile: Carl Friedrich Gauss |

557
(1)
558
(1)
558
(7)
565
(1)

| | |
| --- | --- |
| | References and Further Readings |

566
(1)
Answers to Selected Problems
567
(42)
Index
609
(10)
Photo Credits
619