Note: Supplemental materials are not guaranteed with Rental or Used book purchases.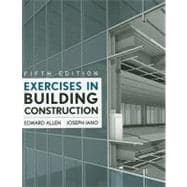 Summary
Problem-solving assignments in Building ConstructionThis essential companion to Fundamentals of Building Construction, Fifth Edition, involves students in the types of everyday issues faced by professional building architects.Updated to reflect changes in the core text-such as compliance with new building codes and the use of MasterFormat 2004-Exercises in Building Construction, Fifth Edition engages students in hands-on application of the material learned. It features:Forty-six real-world construction problems, including a new problem on Green Building Rating SystemsClear instructions for each exerciseInformative, concise illustrationsAmple space to work out answersComplete with online resources for students and instructors, Exercises in Building Construction, Fifth Edition provides expert developmental guidance from the industry's leading authorial team.
Author Biography
Edward Allen, FAIS, has taught for more than thirty-five years as a faculty member at Yale University and the Massachusetts Institute of Technology, and as an invited guest at institutions in the United States, South America, Europe, and Asia. He has designed more than fifty constructed buildings and is the best-selling author of The Architect's Studio Companion, Architectural Detailing, Form and Forces, and Fundamentals of Residential Construction, all published by Wiley.
Joseph Iano is an author, illustrator, and architect whose experience includes professional practice, teaching design and technology in numerous schools of architecture, and work in the construction trades. He has collaborated with Edward Allen on numerous publications over a span of more than twenty-five years. Currently, he heads a Seattle firm that provides technical and quality management consulting to architects and others in the design and construction industry.
Table of Contents
Getting Started with the Exercises
Making Buildings
Building Code Restrictions
Green Building Rating Systems
Observing Construction
The Project Team
Foundations
Waterproofing and Drainage
Soil Types and Bearing Capacities
Foundation and Slope Support Systems
Wood
Working with Wood-Part I
Working with Wood-Part II
Heavy Timber Frame Construction
Heavy Timber Framing
Wood Light Frame Construction
Laying Out Floor Framing
Laying Out Wall Framing
Working with Pitched Roofs
Designing Roof Framing
Exterior Finishes for Wood Light Frame Construction
Exterior Detailing
Interior Finishes for Wood Light Frame Construction
Proportioning Fireplaces
Proportioning Stairs
Platform Frame Design Project
Brick Masonry
Selecting Bricks and Mortar
Brick Bonds
Masonry Dimensioning
Lintels and Arches
Stone and Concrete Masonry
Selecting Concrete Masonry Units
Stone Masonry
Masonry Wall Construction
Movement Joints in Masonry Construction
Masonry Cavity Wall Detailing
Steel Frame Construction
Steel Structural Shapes
Steel Framing Plans
Detailing Steel Constructions
Steel Frame Design Exercise
Light Gauge Steel Frame Construction
Light Gauge Steel Framing Details
Concrete Construction
Detailing Concrete Reinforcing Bars
Sitecast Concrete Framing Systems
Sitecast Concrete Framing Systems
Architectural Concrete
Precast Concrete Framing Systems
Precast Concrete Framing Systems
Detailing Precast Concrete Framing
Roofing
Low-Slope Roof Drainage
Low-Slope Roof Detailing
Glass and Glazing
Selecting Glass and Glazing
Windows and Doors
Selecting Windows and Doors
Designing Exterior Wall Systems
Rainscreen Cladding and Scalant Joint Design
Cladding with Masonry and Concrete
Masonry Cladding Design
Cladding with Metal and Glass
Aluminum Extrusions
Selecting Interior Finishes
Selecting Interior Finish Systems
Interior Walls and Partitions
Detailing Wall Finishes
Finish Ceilings and Floors
Detailing Floor and Ceiling Finishes
Teach Yourself to Build rated Reservoir
Simulation Of Multiphase Flow And Transport
1-D Two-Phase Flow and Transport
2-D Two-Phase Flow and Transport
2-D Single-Phase Flow and Transport
Base-Case
Effect of Inflow
Impactofwell Discharge
Effec
Table of Contents provided by Publisher. All Rights Reserved.