Note: Supplemental materials are not guaranteed with Rental or Used book purchases.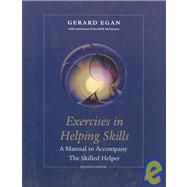 Exercises in Helping Skills for Eganís The Skilled Helper: A Problem-Management and Opportunity-Development Approach to Helping, 7th
ISBN13:
9780534367329
by
Egan, Gerard
Questions About This Book?
What version or edition is this?
This is the 7th edition with a publication date of 7/16/2001.
What is included with this book?
The New copy of this book will include any supplemental materials advertised. Please check the title of the book to determine if it should include any CDs, lab manuals, study guides, etc.
Summary
Written by Gerard Egan, with assistance from Rich McGourty, this manual parallels the main text, THE SKILLED HELPER, Seventh Edition, and allows students to practice communication skills and each of the steps of the model in private before using them in actual face-to-face helping interactions with others. In this edition, self-development items have been added to every chapter. To bundle with the text use this ISBN: 0534693687
Table of Contents
Introduction to the Exercises
1
(4)
PART I. LAYING THE GROUNDWORK
5
(14)
5
(5)

| | |
| --- | --- |
| | Understanding What Helping Is All About |

5
(1)

| | |
| --- | --- |
| | Preparing to Play the Role of Client: Strengths and Soft Spots in My Life |

6
(1)

| | |
| --- | --- |
| | Turning Problems into Opportunities |

7
(1)
8
(1)

| | |
| --- | --- |
| | Spotting Unused Opportunities |

9
(1)

| | |
| --- | --- |
| | An Overview of the Helping Process |

10
(6)

| | |
| --- | --- |
| | Explaining What Helping Involves |

10
(3)

| | |
| --- | --- |
| | Preparing to Tell Your Story -Problems |

13
(1)

| | |
| --- | --- |
| | Preparing to Tell Your Story -Unused Opportunities |

14
(2)

| | |
| --- | --- |
| | The Helping Relationship: Values Inaction |

16
(3)
16
(1)

| | |
| --- | --- |
| | Your Preliminary Statement of Values |

17
(1)

| | |
| --- | --- |
| | Building and Maintaining Opportunities |

17
(2)
Part II. THE BASIC SKILLS OF THERAPEUTIC COMMUNICATION
19
(48)

| | |
| --- | --- |
| | Communication Skills I-Dialogue and Visibly Tuning in |

20
(4)

| | |
| --- | --- |
| | Understanding Four Requirements of True Dialogs |

20
(1)

| | |
| --- | --- |
| | Dialogue in Everyday Life |

21
(1)

| | |
| --- | --- |
| | Visibly Tuning in to Others in Everyday Dialogues |

21
(2)

| | |
| --- | --- |
| | Observing and Giving Feedback on Quality of Presence |

23
(1)
24
(14)

| | |
| --- | --- |
| | Listening to Yourself as a Problem Solver |

24
(1)

| | |
| --- | --- |
| | Listening to Your Own Feelings and Emotions |

25
(1)

| | |
| --- | --- |
| | Processing What You Hear -Thoughtful Listening |

26
(1)

| | |
| --- | --- |
| | Listening for Core Messages |

27
(4)

| | |
| --- | --- |
| | Listening for Reasons, Implications, and Feelings |

31
(3)

| | |
| --- | --- |
| | Listening to Key Opportunities |

34
(2)

| | |
| --- | --- |
| | Using Context for Thoughtful Processing |

36
(1)

| | |
| --- | --- |
| | Your Listening and Processing Style and Its Shadow Side |

36
(2)

| | |
| --- | --- |
| | Seeking Understanding: Sharing Empathic Highlights |

38
(13)

| | |
| --- | --- |
| | Identifying Core Messages in Clients' Stories |

38
(3)

| | |
| --- | --- |
| | Using a Formula to Express Empathic Highlights |

41
(4)

| | |
| --- | --- |
| | Using Your Own Words in Empathic Highlights |

45
(3)

| | |
| --- | --- |
| | Empathic Highlights with Clients Facing Dilemmas |

48
(2)

| | |
| --- | --- |
| | Sharing Empathic Highlights in Everyday Life |

50
(1)

| | |
| --- | --- |
| | Using Probes and Summarizing |

51
(16)

| | |
| --- | --- |
| | Speaking Concretely about Problems |

51
(1)

| | |
| --- | --- |
| | Speaking Concretely about Unused Opportunities |

52
(2)

| | |
| --- | --- |
| | Probing for Key Issues and Clarity |

54
(3)

| | |
| --- | --- |
| | Empathic Highlights and Two Kinds of Probes |

57
(3)
60
(2)

| | |
| --- | --- |
| | Using Probes to Help Others Communicate Better |

62
(1)

| | |
| --- | --- |
| | Summarizing as a Way of Providing Focus |

63
(1)

| | |
| --- | --- |
| | Helping Others Engage in Dialog |

64
(3)
Part III. STAGE I OF THE HELPING MODEL AND ADVANCED COMMUNICATION SKILLS
67
(48)

| | |
| --- | --- |
| | Step I-A Helping Clients Tell their Stories |

67
(5)

| | |
| --- | --- |
| | Helping One Another to Tell Your Stories |

67
(1)

| | |
| --- | --- |
| | Talking Productively about the Past |

68
(1)

| | |
| --- | --- |
| | Linking Storytelling to Action |

68
(3)

| | |
| --- | --- |
| | Taking Action in Your Own Life |

71
(1)

| | |
| --- | --- |
| | Managing Reluctance and Resistance |

72
(5)
72
(1)

| | |
| --- | --- |
| | My Own Experience of Resistance |

73
(1)

| | |
| --- | --- |
| | Your Own Ways of Causing Resistance |

74
(1)

| | |
| --- | --- |
| | Dealing with Resisting Clients |

75
(2)

| | |
| --- | --- |
| | Step I-B-Helping Clients Challenge Themselves |

77
(9)

| | |
| --- | --- |
| | Reviewing Some Basic Developmental Tasks |

77
(5)

| | |
| --- | --- |
| | Identifying Different Areas Needing Challenge |

82
(4)

| | |
| --- | --- |
| | The Skills of Effective Challenging |

86
(19)

| | |
| --- | --- |
| | Advanced Accurate Empathy-Hunches about Yourself |

87
(2)

| | |
| --- | --- |
| | Advanced Versus Basic Empathic Highlights |

89
(5)

| | |
| --- | --- |
| | Information Leading to New Perspectives and Action |

94
(4)

| | |
| --- | --- |
| | Challenging Normative Dishonesties in One's Own Life |

98
(2)

| | |
| --- | --- |
| | Experiences of Mine That Might Be Helpful to Others |

100
(2)

| | |
| --- | --- |
| | Responding to Situations Calling for Immediacy |

102
(2)

| | |
| --- | --- |
| | Immediacy with the Other Members of Your Training Group |

104
(1)

| | |
| --- | --- |
| | The Wisdom of Challenging |

105
(4)

| | |
| --- | --- |
| | Effective Versus Ineffective Challenge |

105
(1)

| | |
| --- | --- |
| | Challenging One's Own Strengths |

105
(2)

| | |
| --- | --- |
| | Tentativeness in the Use of Challenging Skills |

107
(1)

| | |
| --- | --- |
| | The Challenge Round Robin |

107
(2)

| | |
| --- | --- |
| | Step I-C-Leverage: Helping Clients Work on the Right Things |

109
(6)

| | |
| --- | --- |
| | Myself as a Decision Maker |

109
(1)
109
(1)

| | |
| --- | --- |
| | Choosing Issues that Make a Difference |

110
(1)

| | |
| --- | --- |
| | Counseling Yourself: An Exercise in Stage |

111
(4)
PART IV. STAGE II OF THE HELPING MODEL
115
(30)

| | |
| --- | --- |
| | Introduction to Stage II-Solution-Focused Helping |

115
(3)

| | |
| --- | --- |
| | The Value of Goal Setting |

115
(1)

| | |
| --- | --- |
| | How Goal Oriented Are You? |

115
(1)

| | |
| --- | --- |
| | Your Decision-Making Style |

116
(2)

| | |
| --- | --- |
| | Step Ii A-Helping Clients Create a Better Future |

118
(9)

| | |
| --- | --- |
| | Problems and Opportunities in the Social Settings of Life |

118
(3)

| | |
| --- | --- |
| | Brainstorming Possibilities for a Better Future--Cases |

121
(3)
124
(1)

| | |
| --- | --- |
| | Helping Another Develop Possibilities for a Better Future |

125
(2)
127
(12)

| | |
| --- | --- |
| | Turning Possibilities into Goals -A Case |

127
(1)

| | |
| --- | --- |
| | Turning Personal Possibilities into Personal Goals |

128
(1)

| | |
| --- | --- |
| | Helping Clients Turn Possibilities into Goals |

129
(2)

| | |
| --- | --- |
| | Shaping -Making Goals Specific |

131
(3)

| | |
| --- | --- |
| | Shaping Goals -Making Sure That They Are Workable |

134
(1)

| | |
| --- | --- |
| | Helping Learning Partners Set Workable Goals |

135
(1)

| | |
| --- | --- |
| | Relating Goal Choice to Action |

136
(3)

| | |
| --- | --- |
| | Step II-C-Commitment to Goals |

139
(6)

| | |
| --- | --- |
| | Managing Your Commitment to Your Goals |

139
(2)

| | |
| --- | --- |
| | Reviewing Benefits Versus Costs in Choosing Goals |

141
(1)
142
(3)
Part V. STAGE III OF THE HELPING MODEL
145
(20)

| | |
| --- | --- |
| | Step III-A Action Strategies |

145
(9)

| | |
| --- | --- |
| | Assessing Critical Skills for Effective Living |

145
(3)

| | |
| --- | --- |
| | Brainstorming Action Strategies for Your Own Goals |

148
(2)

| | |
| --- | --- |
| | Action Strategies: Putting Yourself in the Client's Shoes |

150
(2)

| | |
| --- | --- |
| | Helping Others Brainstorm Strategies for Action |

152
(2)

| | |
| --- | --- |
| | Step III-B-Best Fit Strategies |

154
(5)

| | |
| --- | --- |
| | A Preliminary Scan of Best-Fit Strategies for Yourself |

154
(1)

| | |
| --- | --- |
| | Best-Fit Strategies: Putting Yourself in the Client's Shoes |

155
(1)

| | |
| --- | --- |
| | Using Criteria to Choose Best-Fit Strategies |

156
(1)

| | |
| --- | --- |
| | Choosing Best-Fit Strategies: The Balance-Sheet Method |

157
(2)

| | |
| --- | --- |
| | Step III-C-Helping Clients Make Plans |

159
(6)

| | |
| --- | --- |
| | Developing Your Own Action Plan |

159
(1)

| | |
| --- | --- |
| | Sharing and Shaping Plans |

160
(1)

| | |
| --- | --- |
| | Formulating Plans for the Major Steps of a Complex Goal |

161
(2)

| | |
| --- | --- |
| | Developing the Resources to Implement Your Plans |

163
(2)
Part VI. THE ACTION ARROW-MAKING IT ALL HAPPEN
165

| | |
| --- | --- |
| | The Action Arrow-Making it All Happen |

165

| | |
| --- | --- |
| | Exploring Your Own Tendency to Procrastinate |

166

| | |
| --- | --- |
| | Exploring the Self-Starter in Yourself |

167
169

| | |
| --- | --- |
| | Identifying and Coping with Obstacles to Action |

171

| | |
| --- | --- |
| | Identifying Facilitating Forces |

173

| | |
| --- | --- |
| | Dealing with Restraining Forces |

175

| | |
| --- | --- |
| | Using Supportive and Challenging Relationships |

176