Note: Supplemental materials are not guaranteed with Rental or Used book purchases.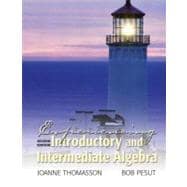 Questions About This Book?
Why should I rent this book?
Renting is easy, fast, and cheap! Renting from eCampus.com can save you hundreds of dollars compared to the cost of new or used books each semester. At the end of the semester, simply ship the book back to us with a free UPS shipping label! No need to worry about selling it back.
How do rental returns work?
Returning books is as easy as possible. As your rental due date approaches, we will email you several courtesy reminders. When you are ready to return, you can print a free UPS shipping label from our website at any time. Then, just return the book to your UPS driver or any staffed UPS location. You can even use the same box we shipped it in!
What version or edition is this?
This is the 2nd edition with a publication date of 1/1/2003.
What is included with this book?
The Used copy of this book is not guaranteed to include any supplemental materials. Typically, only the book itself is included.
The Rental copy of this book is not guaranteed to include any supplemental materials. You may receive a brand new copy, but typically, only the book itself.
Related Products
Summary
This book bridges the gap between traditional algebra texts and reform texts, written to promote the AMATYC standards published as Crossroads in Mathematics. It provides users with a sound traditional mathematical foundation, fully integrates graphing calculator technology, and encourages computer activities. This book includes key topics in algebra such as linear equations and inequalities with one variable, systems of equations, polynomial functions and equations, quadratic functions and equations, exponential functions and equations, logarithmic functions an equations, and rational and radical expressions. For professionals who wish to brush up on their algebra skills or enhance them with the use of graphing calculators and computers.
Table of Contents
Preface
xi
1
(94)

| | |
| --- | --- |
| | Rational Numbers and the Number Line |

2
(13)
15
(13)

| | |
| --- | --- |
| | Multiplication and Division |

28
(16)
44
(16)
60
(10)

| | |
| --- | --- |
| | Properties of Real Numbers and Order of Operations |

70
(25)
80
(1)

| | |
| --- | --- |
| | Section-by-Section Review |

81
(8)
89
(2)
91
(2)
93
(2)

| | |
| --- | --- |
| | Variables, Expressions, Equations, and Formulas |

95
(48)

| | |
| --- | --- |
| | Variables and Algebraic Expressions |

96
(7)

| | |
| --- | --- |
| | Simplifying Algebraic Expressions |

103
(9)
112
(8)
120
(23)
133
(1)

| | |
| --- | --- |
| | Section-by-Section Review |

133
(4)
137
(2)
139
(1)
140
(3)

| | |
| --- | --- |
| | Relations, Functions, and Graphs |

143
(74)

| | |
| --- | --- |
| | Tables of Values, Ordered Pairs, and Relations |

144
(11)

| | |
| --- | --- |
| | Rectangular Coordinate System and Graphing |

155
(19)

| | |
| --- | --- |
| | Functions and Function Notation |

174
(10)
184
(33)
200
(1)

| | |
| --- | --- |
| | Section-by-Section Review |

200
(8)
208
(2)
210
(2)
212
(2)

| | |
| --- | --- |
| | Chapter 1-3 Cumulative Review |

214
(3)

| | |
| --- | --- |
| | Linear Equations in One Varible |

217
(82)

| | |
| --- | --- |
| | Solving Equations Numerically and Graphically |

218
(17)

| | |
| --- | --- |
| | Solving Equations by Using Addition and Multiplication |

235
(11)

| | |
| --- | --- |
| | Solving Equations by Using a Combination of Properties |

246
(12)

| | |
| --- | --- |
| | Solving Equations or Formulas for a Specified Variable |

258
(8)
266
(10)

| | |
| --- | --- |
| | Solving Linear Absolute-Value Equations |

276
(23)
286
(1)

| | |
| --- | --- |
| | Section-by-Section Review |

286
(6)
292
(2)
294
(1)
295
(4)

| | |
| --- | --- |
| | Linear Equations and Functions |

299
(86)

| | |
| --- | --- |
| | Graphing by Using Ordered Pairs |

300
(18)

| | |
| --- | --- |
| | Graphing by Using the Slope-Intercept Method |

318
(22)

| | |
| --- | --- |
| | Coinciding, Parallel, and Perpendicular Lines |

340
(11)

| | |
| --- | --- |
| | Writing Linear Equations from Given Data |

351
(34)
367
(1)

| | |
| --- | --- |
| | Section-by-Section Review |

368
(6)
374
(3)
377
(2)
379
(3)

| | |
| --- | --- |
| | Chapter 1--5 Cumulative Review |

382
(3)

| | |
| --- | --- |
| | Systems of Linear Equations |

385
(76)

| | |
| --- | --- |
| | Solving Systems of Two Equations Graphically |

386
(12)

| | |
| --- | --- |
| | Solving Systems of Two Equations by Using Substitution |

398
(11)

| | |
| --- | --- |
| | Solving Systems of Two Equations by Using Elimination |

409
(12)
421
(14)

| | |
| --- | --- |
| | Solving Systems of Linear Equations in Three Variables |

435
(26)
448
(1)

| | |
| --- | --- |
| | Section-by-Section Review |

448
(6)
454
(2)
456
(2)
458
(3)
461
(70)

| | |
| --- | --- |
| | Introduction to Linear Inequalities |

462
(12)

| | |
| --- | --- |
| | Linear Inequalities in One Variable |

474
(16)

| | |
| --- | --- |
| | Linear Inequalities in Two Variables |

490
(15)

| | |
| --- | --- |
| | Systems of Linear Inequalities in Two Variables |

505
(26)
517
(1)

| | |
| --- | --- |
| | Section-by-Section Review |

518
(5)
523
(2)
525
(2)
527
(1)

| | |
| --- | --- |
| | Chapter 1-7 Cumulative Review |

528
(3)
531
(62)

| | |
| --- | --- |
| | Introduction to Polynomials |

532
(10)

| | |
| --- | --- |
| | Polynomial Functions and Their Graphs |

542
(13)

| | |
| --- | --- |
| | Quadratic Functions and Their Graphs |

555
(14)

| | |
| --- | --- |
| | Writing Quadratic Functions |

569
(24)
571
(9)

| | |
| --- | --- |
| | Section-by-Section Review |

580
(6)
586
(2)
588
(2)
590
(3)

| | |
| --- | --- |
| | Exponents and Polynomials |

593
(56)

| | |
| --- | --- |
| | Operations Involving Nonnegative Exponents |

594
(12)

| | |
| --- | --- |
| | Operations Involving Negative Exponents |

606
(8)

| | |
| --- | --- |
| | Polynomial Addition and Subtraction |

614
(6)

| | |
| --- | --- |
| | Polynomial Multiplication |

620
(10)
630
(19)
639
(1)

| | |
| --- | --- |
| | Section-by-Section Review |

639
(4)
643
(2)
645
(1)
646
(3)
649
(58)
650
(12)

| | |
| --- | --- |
| | Factoring Perfect-Square Trinomials, Differences of Squares, and Sums and Differences of Cubes |

662
(8)

| | |
| --- | --- |
| | Factoring Trinomials by Using the Trial-and-Error Method |

670
(13)

| | |
| --- | --- |
| | Factoring Trinomials by Using the Grouping Method |

683
(8)

| | |
| --- | --- |
| | General Strategies for Factoring |

691
(16)
698
(1)

| | |
| --- | --- |
| | Section-by-Section Review |

699
(3)
702
(1)
703
(1)
704
(3)

| | |
| --- | --- |
| | Quadratic and Other Polynomial Equations and Inequalities |

707
(92)

| | |
| --- | --- |
| | Solving Equations Numerically and Graphically |

708
(11)

| | |
| --- | --- |
| | Solving Equations Algebraically by Factoring |

719
(10)

| | |
| --- | --- |
| | Solving Quadratic Equations by Using Square Roots |

729
(12)

| | |
| --- | --- |
| | Solving Quadratic Equations by Completing the Square |

741
(8)

| | |
| --- | --- |
| | Solving Quadratic Equations by Using the Quadratic Formula |

749
(12)
761
(8)

| | |
| --- | --- |
| | Solving Quadratic Inequalities |

769
(30)
784
(1)

| | |
| --- | --- |
| | Section-by-Section Review |

784
(7)
791
(2)
793
(1)
794
(3)

| | |
| --- | --- |
| | Chapters 1--11 Cumulative Review |

797
(2)

| | |
| --- | --- |
| | Rational Expressions, Functions, and Equations |

799
(78)

| | |
| --- | --- |
| | Rational Expressions and Functions |

800
(15)

| | |
| --- | --- |
| | Multiplication and Division of Rational Expressions |

815
(12)

| | |
| --- | --- |
| | Addition and Substraction of Rational Expressions |

827
(16)

| | |
| --- | --- |
| | Solving Rational Equations in One Variable |

843
(12)
855
(22)
865
(1)

| | |
| --- | --- |
| | Section-by-Section Review |

865
(6)
871
(2)
873
(1)
874
(3)

| | |
| --- | --- |
| | Radical Expressions, Functions, and Equations |

877
(96)

| | |
| --- | --- |
| | Radical Expressions, Functions, and Graphs |

878
(13)
891
(11)

| | |
| --- | --- |
| | Properties of Rational Exponents |

902
(7)
909
(11)
920
(8)

| | |
| --- | --- |
| | Solving Radical Equations in One Variable |

928
(12)

| | |
| --- | --- |
| | Equations with Imaginary-Number Solutions |

940
(33)
956
(1)

| | |
| --- | --- |
| | Section-by-Section Review |

957
(7)
964
(2)
966
(2)
968
(2)

| | |
| --- | --- |
| | Chapter 1--13 Cumulative Review |

970
(3)

| | |
| --- | --- |
| | Exponential and Logarthmic Functions and Equations |

973
(67)
974
(12)
986
(11)
997
(13)
1010
(6)

| | |
| --- | --- |
| | Solving Exponential and Logarithmic Equations |

1016
(24)
1027
(1)

| | |
| --- | --- |
| | Section-by-Section Review |

1027
(6)
1033
(2)
1035
(1)
1036
(2)

| | |
| --- | --- |
| | Chapter 1--14 Cumulative Review |

1038
(2)
Photo Credits
1040
Selected Answers
1
(1)
Index
1
Excerpts
The second edition ofExperiencing Introductory and Intermediate Algebracontinues to embrace the goal of promoting a new approach to teaching and learning developmental mathematics. This approach combines a traditional model with the reform movements presented in the National Council of Teachers of Mathematics (NCTM) standards and the American Mathematical Association of Two-Year Colleges (AMATYC) standards. The NCTM goals state that in our present technological society, students should learn to value mathematics, reason and communicate mathematically, become confident of their mathematical abilities, and become mathematical problem solvers. The AMATYC standards for intellectual development state that students will model real-world situations, connect mathematics with other disciplines, and use appropriate technology. In this second edition, we have incorporated recommendations and suggestions from instructors and reviewers of the text. Instructors who currently use the text valued the real-world application feature and encouraged us to expand it. At the same time, they recommended that the text be streamlined to reduce its volume. The contents of this edition are still organized by families of functions, according to the AMATYC standards. Consequently, the first seven chapters of the text focus on linear expressions, equations, and functions. The next four chapters, Chapters 8 through 11, focus on polynomial expressions, equations, and functions. Chapter 12 presents rational expressions, equations, and functions, Chapter 13 examines radical expressions, equations, and functions, and Chapter 14 features exponential and logarithmic expressions, equations, and functions. We have condensed the discussion of the real-number system into a review of pre-algebra numeric topics that may be taught as a whole or by sections of choice. We have combined Chapters 1 and 2 of the previous edition into one chapter, postponing the discussion of rational exponents to a later chapter. Also, the coverage of radicals in the combined chapter is limited to square roots and cube roots. In the previous edition, exponents and polynomials were presented together with factoring, all within one chapter. We have now separated this material into two chapters. The first of the two, Chapter 9, focuses on exponents and polynomial operations. We have added a separate section on polynomial division that outlines polynomial long division in greater detail. Feedback from reviewers indicated a need for expanding and strengthening the discussion of factoring, so we have created a separate chapter on the subject, Chapter 10. In this new chapter, we offer more examples, more exercises, and a different ordering of topics. In the previous edition, there was a separate chapter on complex numbers. In this edition, complex numbers and equations with imaginary solutions have been placed at the end of Chapter 13, following the discussion of radical expressions, equations, and functions. We believe that that is the appropriate place for complex numbers for two major reasons: students will have just learned the algebra of radicals, and the new location provides a perfect opportunity to revisit the quadratic formula, thereby reinforcing their understanding of the concept. However, the section on complex numbers and equations with imaginary solutions has been written as a stand-alone section, and if an instructor so chooses, it could be presented after the discussion of the quadratic formula in Chapter 11. The first half of the text presents a balanced discussion of algebraic, numerical, and graphical methods for solving linear equations, so that students have a solid understanding of what the concepts represent. In the second half, the discussion of polynomial equations continues to utilize the same algebraic, numerical, and graphical techniques. This approach provides an opportunity for students who enter the sequence at that late point t