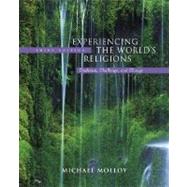 Experiencing the World's Religions: Tradition, Challenge, and Change with PowerWeb: World Religions
by
MOLLOY MICHAEL
McGraw-Hill Humanities/Social Sciences/Languages
List Price: $78.72
Usually Ships in 3-5 Business Days
Questions About This Book?
What version or edition is this?
This is the 3rd edition with a publication date of 6/28/2004.
What is included with this book?
The Used copy of this book is not guaranteed to inclue any supplemental materials. Typically, only the book itself is included.
Summary
This leading seller successfully addresses what a person should know about religions, and why. In an exceptionally clear and compelling account of the teaching of the world's religions, the text goes beyond traditional approaches to personally connect students with the vitality of the great religions. The third edition has been thoroughly updated in both content and illustration, to address recent world events.
Author Biography
Appreciation for religion was programmed into me when I was young--before I had any chance to resist its fascination. My grandmothers were my first teachers. When my mother's mother was 19 she went to Paris to study painting and to experience cultural life there. She stayed in Paris for two years, and it was a turning point in her life. She returned home to create paintings, which surrounded me as I grew up in Los Angeles. She also returned with hundreds of photographs of religious statues, paintings, and other objects, as well as a thirst to take her grandchildren to museums and churches. My other grandmother was a choir director, and I remember many hours spent in the choir loft, which vibrated from the pedal notes of the organ music. It was through art and music that I discovered the richness of religion. Early experiences like these led me to leave the country after college in order to see the world, and my travels made me recognize how much people and their cultures are shaped by religions. When I returned, I studied religion formally. My MA degree (at St. John's University) allowed me to study the images of darkness in Jewish and Christian mystical literature. I received a scholarship from the East-West Center in Hawai`i, and in Hawai`i my life began to be influenced by the thought of Asia. For my Ph.D. (at the University of Hawai`i) I wrote on the Hindu and Buddhist mysticism to be found in the writings of Aldous Huxley. I had the pleasure of meeting Huxley's wife Laura in Los Angeles, interviewing people who knew him, and reading his original manuscripts at UCLA. I did graduate work at Banaras Hindu University, and later studied traditional Japanese arts--including kendo, tea ceremony, ceramics, and calligraphy--in Kyoto. I have practiced meditation at Christian and Buddhist monasteries in Asia, Europe, and the United States. I am currently writing a book for McGraw-Hill on Christianity. I live in Honolulu.
Table of Contents
1. Understanding Religion
Why is there Religion?
Patterns Among Religions
Multidisciplinary Approaches to the Study of Religion
Key Critical Questions
Why Study the Major Religions of the World?
The Pilgrimage
2. Oral Religions Discovering Oral Religions Studying Oral Religions: Learning from Patterns Sacred Practices in Oral Religions Oral Religions Today 3. Hinduism The Origins of Hinduism The Upanishads and the Axis Age Living Spiritually in the Everyday World Devotional Hinduism Hinduism and the Arts Hinduism: Modern Challenges 4. Buddhism The Beginnings of Buddhism: The Life of the Buddha The Basic Teachings of Buddhism The Influence of Indian Thought on Early Buddhist Teachings The Early Development of Buddhism Theravada Buddhism: The Way of the Elders Mahayana Buddhism: The "Big Vehicle" Zen Buddhism: Enlightenment Through Experience Vajrayana Buddhism: The "Diamond Vehicle" Buddhism, the West, and Modern Challenges 5. Jainism and Sikhism Shared Origins Jainism Background Mahavira and the Origins of Jainism Worldview Jain Ethics The Development of Jainism and Its Branches Jain Practices Jain Scriptures Jain Art and Architecture Sikhism Background Nanak and the Origins of Sikhism The Worldview and Teachings of Nanak The Development of Sikhism Sikh Scriptures Sikhism and the Modern World 6. Taoism and Confucianism Basic Elements of Traditional Chinese Beliefs Taoism The Origins of Philosophical Taoism The Basic Teachings of Philosophical Taoism Taoism and the Quest for Longevity Religious Taoism Taoism and the Arts Taoism and the Modern World Confucianism The Tao in Confucianism The Life of Confucius Living According to Confucian Values Confucian Literature The Development of Confucianism Confucianism and the Arts Confucianism and the Modern World 7. Shinto The Origins of Shinto The Historical Development of Shinto Essentials of Shinto Belief Shinto Religious Practice Shinto and the Arts Shinto Offshoots: The New Religions Shinto and the Modern World 8. Judaism An Overview of Jewish History The Hebrew Bible Biblical History Cultural Conflict during the Second-Temple Era The Development of Rabbinical Judaism Questioning and Reform Judaism and the Modern World Jewish Belief Religious Practice Divisions within Contemporary Judaism The Contributions of Judaism Jewish Identity and the Future of Judaism 9. Christianity The Life and Teachings of Jesus Early Christian Beliefs and History The Essential Christian Worldview The Early Spread of Christianity Influences on Christianity at the End of the Roman Empire The Eastern Orthodox Church Christianity in the Middle Ages The Protestant Reformation The Development of Christianity Following the Protestant Reformation Christian Practice Christianity and the Arts Christianity Faces the Modern World 10. Islam The Life and Teachings of Muhammad Essentials of Islam The Historical Development of Islam Sufism: Islamic Mysticism Islamic Law and Philosophy Islam and the Arts Islam and the Modern World 11. Alternative Paths Origins of New Religions Neo-Paganism: Wicca and Druidism Religions of the Yoruba Tradition: Santería, Voodoo, and Candomblé Theosophy Scientology Falun Gong Cao Dai Rastafarianism Baha'i New Religious Movements: A Special Role 12. The Religious Search in the Modern World Modern Influences on the Future of Religion The Recurring Challenge of Change Naturism: A New Religious Phenomenon? Eclectic SpiritualityNotes CreditsIndex