Note: Supplemental materials are not guaranteed with Rental or Used book purchases.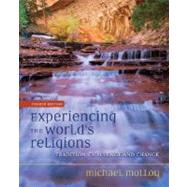 Experiencing the World's Religions : Tradition, Challenge, and Change
ISBN13:
9780073535647
by
Molloy, Michael
McGraw-Hill Humanities/Social Sciences/Languages
Questions About This Book?
What version or edition is this?
This is the 4th edition with a publication date of 12/12/2006.
What is included with this book?
The Used copy of this book is not guaranteed to include any supplemental materials. Typically, only the book itself is included.
Summary
Experiencing the World's Religionsprovides a clear and compelling account of religion as a diverse, lived experience by peoples around the world. Global in its coverage, the text conveys the vitality and richness of the world's religions as a living cultural wellspring that not only concerns systems of belief but how those beliefs are expressed in ceremonies, food, clothing, art, architecture, pilgrimage, scripture, and music. The text demonstrates why an understanding of the world's religions enriches our lives. In an engaging narrative emphasizing the experience of religion, the text takes students on a personal voyage through doctrines, history, the religiously inspired arts, ceremonies, and everyday expressions of belief and combines these with powerful photographs from around the globe. The text goes beyond traditional approaches to personally connect students with the vitality of the great religions and how they reach into the lives of individuals and the culture at large. This fourth edition has been thoroughly updated in both content and illustration, to address recent world events and political changes, and provide additional insight into current theory and practice.
Table of Contents
Preface
xii
1
(30)
1
(1)
2
(8)

| | |
| --- | --- |
| | Key Characteristics of Religion |

3
(2)
5
(1)
6
(1)

| | |
| --- | --- |
| | Speculations on the Sources of Religions |

7
(3)
10
(7)

| | |
| --- | --- |
| | First Pattern: Focus of Beliefs and Practices |

11
(1)

| | |
| --- | --- |
| | Second Pattern: Views of the World and Life |

12
(2)

| | |
| --- | --- |
| | Third Pattern: Views of Male and Female |

14
(3)

| | |
| --- | --- |
| | Multidisciplinary Approaches to the Study of Religion |

17
(2)
19
(4)

| | |
| --- | --- |
| | Why Study the Major Religions of the World? |

23
(2)
25
(6)
31
(42)
31
(2)

| | |
| --- | --- |
| | Discovering Indigenous Religions |

33
(4)

| | |
| --- | --- |
| | Past Obstacles to the Appreciation of Indigenous Religions |

34
(1)

| | |
| --- | --- |
| | The Modern Recovery of Indigenous Religions |

34
(3)

| | |
| --- | --- |
| | Studying Indigenous Religions: Learning from Patterns |

37
(9)

| | |
| --- | --- |
| | Human Relationships with the Natural World |

37
(2)

| | |
| --- | --- |
| | Sacred Time and Sacred Space |

39
(1)

| | |
| --- | --- |
| | Respect for Origins, Gods, and Ancestors |

40
(6)

| | |
| --- | --- |
| | Sacred Practices in Indigenous Religions |

46
(16)
47
(4)
51
(5)

| | |
| --- | --- |
| | Shamanism, Trance, and Spiritual Powers |

56
(4)

| | |
| --- | --- |
| | Artifacts and Artistic Expression in Indigenous Religions |

60
(2)

| | |
| --- | --- |
| | Personal Experience: Gods in Hawai'i |

62
(3)

| | |
| --- | --- |
| | Indigenous Religions Today |

65
(8)
73
(50)
73
(2)
75
(5)

| | |
| --- | --- |
| | The Earliest Stage of Indian Religion |

76
(2)

| | |
| --- | --- |
| | The Religion of the Vedic Period |

78
(2)
80
(1)

| | |
| --- | --- |
| | The Upanishads and the Axis Age |

80
(6)

| | |
| --- | --- |
| | The Origin of the Upanishads |

82
(1)

| | |
| --- | --- |
| | Important Concepts of the Upanishads |

82
(4)

| | |
| --- | --- |
| | Living Spiritually in the Everyday World |

86
(8)
87
(1)
88
(1)
89
(1)
90
(1)
90
(4)
94
(10)

| | |
| --- | --- |
| | The Trimurti: Brahma, Vishnu, and Shiva |

95
(5)

| | |
| --- | --- |
| | Worship of the Divine Feminine: Devi |

100
(1)

| | |
| --- | --- |
| | The Guru as Object of Devotion |

101
(1)
102
(2)

| | |
| --- | --- |
| | Other Forms of Religious Devotion |

104
(1)

| | |
| --- | --- |
| | Personal Experience: A Cremation in Bali |

104
(3)
107
(1)

| | |
| --- | --- |
| | Hinduism: Modern Challenges |

108
(15)
111
(2)
113
(2)

| | |
| --- | --- |
| | Hindu Influence beyond India |

115
(8)
123
(68)
123
(1)

| | |
| --- | --- |
| | The Beginnings of Buddhism: The Life of the Buddha |

124
(6)

| | |
| --- | --- |
| | The Basic Teachings of Buddhism |

130
(6)

| | |
| --- | --- |
| | The Three Marks of Reality |

130
(2)

| | |
| --- | --- |
| | The Four Noble Truths and the Noble Eightfold Path |

132
(4)

| | |
| --- | --- |
| | The Influence of Indian Thought on Early Buddhist Teachings |

136
(4)
136
(1)
137
(2)
139
(1)

| | |
| --- | --- |
| | The Early Development of Buddhism |

140
(3)

| | |
| --- | --- |
| | Theravada Buddhism: The Way of the Elders |

143
(7)

| | |
| --- | --- |
| | Theravada Teachings and Literature |

147
(1)

| | |
| --- | --- |
| | Theravada Art and Architecture |

148
(2)

| | |
| --- | --- |
| | Mahayana Buddhism: The ``Big Vehicle'' |

150
(22)

| | |
| --- | --- |
| | New Ideals: Compassion and the Bodhisattva |

150
(2)

| | |
| --- | --- |
| | Mahayana Thought and Worldview |

152
(4)
156
(2)

| | |
| --- | --- |
| | The Spread of Mahayana in East Asia |

158
(3)

| | |
| --- | --- |
| | Some Major Schools of Mahayana |

161
(11)

| | |
| --- | --- |
| | Vajrayana Buddhism: The ``Diamond Vehicle'' |

172
(6)

| | |
| --- | --- |
| | Origins, Practice, and Literature of Tibetan Buddhism |

172
(3)
175
(3)

| | |
| --- | --- |
| | Personal Experience: The Monks and the Pond |

178
(2)

| | |
| --- | --- |
| | Buddhism and the Modern World |

180
(11)
191
(24)
191
(1)
192
(1)
193
(1)
193
(1)

| | |
| --- | --- |
| | Mahavira and the Origins of Jainism |

194
(1)
195
(2)
197
(2)

| | |
| --- | --- |
| | The Development of Jainism and Its Branches |

199
(2)
200
(1)
200
(1)
200
(1)
201
(1)
201
(1)
202
(1)

| | |
| --- | --- |
| | Jain Art and Architecture |

203
(1)
204
(1)
204
(1)

| | |
| --- | --- |
| | Nanak and the Origins of Sikhism |

204
(1)

| | |
| --- | --- |
| | The Worldview and Teachings of Nanak |

205
(1)

| | |
| --- | --- |
| | The Development of Sikhism |

206
(2)
208
(2)

| | |
| --- | --- |
| | Sikhism and the Modern World |

210
(1)

| | |
| --- | --- |
| | Personal Experience: A Visit to the Golden Temple |

210
(5)
215
(50)
215
(1)

| | |
| --- | --- |
| | Basic Elements of Traditional Chinese Beliefs |

216
(4)
220
(1)
220
(7)
221
(1)
221
(4)
225
(2)
227
(1)

| | |
| --- | --- |
| | Daoism and the Quest for Longevity |

228
(1)

| | |
| --- | --- |
| | The Development of Daoism |

229
(3)
232
(4)

| | |
| --- | --- |
| | Daoism and the Modern World |

236
(1)
237
(1)
237
(1)
238
(1)

| | |
| --- | --- |
| | Living According to Confucian Values |

239
(8)

| | |
| --- | --- |
| | The Five Great Relationships |

240
(4)
244
(3)
247
(2)

| | |
| --- | --- |
| | The Development of Confucianism |

249
(5)
249
(2)

| | |
| --- | --- |
| | The Development of Confucianism as a Religious System |

251
(3)

| | |
| --- | --- |
| | Confucianism and the Arts |

254
(2)

| | |
| --- | --- |
| | Personal Experience: Qing Ming, a Ceremony in Spring |

256
(2)

| | |
| --- | --- |
| | Confucianism and the Modern World |

258
(7)
265
(28)
265
(1)
266
(3)

| | |
| --- | --- |
| | The Historical Development of Shinto |

269
(4)

| | |
| --- | --- |
| | Accommodation with Buddhism and Confucianism |

269
(2)

| | |
| --- | --- |
| | Shinto and Japanese National Identity |

271
(2)

| | |
| --- | --- |
| | Essentials of Shinto Belief |

273
(2)

| | |
| --- | --- |
| | Shinto Religious Practice |

275
(5)
275
(3)

| | |
| --- | --- |
| | Celebration of the New Year |

278
(1)

| | |
| --- | --- |
| | Observances of the Seasons and Nature |

279
(1)
280
(1)

| | |
| --- | --- |
| | Personal Experience: A Temple High above Kyoto |

280
(2)
282
(3)
283
(1)
284
(1)

| | |
| --- | --- |
| | Shinto Offshoots: The New Religions |

285
(3)

| | |
| --- | --- |
| | Shinto and the Modern World |

288
(5)
293
(58)
293
(2)

| | |
| --- | --- |
| | An Overview of Jewish History |

295
(2)
297
(2)
299
(17)

| | |
| --- | --- |
| | In the Beginning: Stories of Origins |

299
(3)

| | |
| --- | --- |
| | The World of the Patriarchs and Matriarchs |

302
(3)
305
(7)
312
(1)
313
(1)

| | |
| --- | --- |
| | Return to Jerusalem and the Second Temple |

314
(2)

| | |
| --- | --- |
| | Cultural Conflict during the Second Temple Era |

316
(3)
316
(1)

| | |
| --- | --- |
| | Responses to Outside Influences |

317
(2)

| | |
| --- | --- |
| | The Development of Rabbinical Judaism |

319
(5)

| | |
| --- | --- |
| | The Canon of Scripture and the Talmud |

319
(2)

| | |
| --- | --- |
| | Islam and Medieval Judaism |

321
(1)
321
(1)

| | |
| --- | --- |
| | Christianity and Medieval Judaism |

322
(2)
324
(1)

| | |
| --- | --- |
| | Judaism and the Modern World |

325
(3)
325
(2)

| | |
| --- | --- |
| | Creation of the State of Israel |

327
(1)

| | |
| --- | --- |
| | Personal Experience: A Visit to Anne Frank's House |

328
(1)
329
(1)
330
(7)
331
(1)
331
(4)
335
(1)

| | |
| --- | --- |
| | Other Religious Practices |

335
(2)

| | |
| --- | --- |
| | Divisions within Contemporary Judaism |

337
(5)

| | |
| --- | --- |
| | Culturally Based Divisions |

337
(2)

| | |
| --- | --- |
| | Observance-Based Divisions |

339
(3)

| | |
| --- | --- |
| | The Contributions of Judaism |

342
(3)

| | |
| --- | --- |
| | Jewish Identity and the Future of Judaism |

345
(6)
351
(86)
351
(3)

| | |
| --- | --- |
| | The Life and Teachings of Jesus |

354
(7)

| | |
| --- | --- |
| | Jesus in the New Testament Gospels |

357
(3)

| | |
| --- | --- |
| | The Two Great Commandments |

360
(1)

| | |
| --- | --- |
| | Early Christian Beliefs and History |

361
(12)

| | |
| --- | --- |
| | Paul and Pauline Christianity |

362
(3)

| | |
| --- | --- |
| | The New Testament: Its Structure and Artistry |

365
(6)
371
(2)

| | |
| --- | --- |
| | The Early Spread of Christianity |

373
(5)

| | |
| --- | --- |
| | Influences on Christianity at the End of the Roman Empire |

378
(4)
378
(1)

| | |
| --- | --- |
| | Benedict and the Monastic Ideal |

379
(3)

| | |
| --- | --- |
| | The Eastern Orthodox Church |

382
(4)
382
(1)

| | |
| --- | --- |
| | Monasticism in the Eastern Church |

383
(1)
384
(2)

| | |
| --- | --- |
| | Personal Experience: Inside the Monasteries on Mount Athos |

386
(2)

| | |
| --- | --- |
| | Christianity in the Middle Ages |

388
(6)
389
(2)

| | |
| --- | --- |
| | The Crusades, the Inquisition, and the Founding of Religious Orders |

391
(2)
393
(1)

| | |
| --- | --- |
| | The Protestant Reformation |

394
(7)
395
(1)
396
(5)

| | |
| --- | --- |
| | The Development of Christianity Following the Protestant Reformation |

401
(8)

| | |
| --- | --- |
| | The Catholic Reformation (Counter Reformation) |

401
(1)

| | |
| --- | --- |
| | The International Spread of Christianity |

402
(3)

| | |
| --- | --- |
| | Nontraditional Christianity |

405
(4)
409
(8)

| | |
| --- | --- |
| | Sacraments and Other Rituals |

410
(1)
411
(4)
415
(2)

| | |
| --- | --- |
| | Christianity and the Arts |

417
(8)
417
(3)
420
(3)
423
(2)

| | |
| --- | --- |
| | Christianity Faces the Modern World |

425
(12)

| | |
| --- | --- |
| | The Challenges of Science and Secularism |

425
(1)

| | |
| --- | --- |
| | Contemporary Influences and Developments |

426
(11)
437
(64)
437
(1)

| | |
| --- | --- |
| | The Life and Teachings of Muhammad |

438
(5)
443
(13)

| | |
| --- | --- |
| | The Five Pillars of Islam |

445
(6)

| | |
| --- | --- |
| | Additional Islamic Religious Practices |

451
(3)
454
(2)

| | |
| --- | --- |
| | The Historical Development of Islam |

456
(9)

| | |
| --- | --- |
| | Expansion and Consolidation |

457
(3)

| | |
| --- | --- |
| | The Shiite and Sunni Division within Islam |

460
(5)

| | |
| --- | --- |
| | Sufism: Islamic Mysticism |

465
(7)
468
(2)

| | |
| --- | --- |
| | Al-Ghazali and Sufi Brotherhoods |

470
(1)
470
(2)

| | |
| --- | --- |
| | Personal Experience: Ramadan in Morocco |

472
(3)

| | |
| --- | --- |
| | Islamic Law and Philosophy |

475
(3)

| | |
| --- | --- |
| | Islamic Law and Legal Institutions |

475
(1)

| | |
| --- | --- |
| | Islamic Philosophy and Theology |

476
(2)
478
(7)
478
(5)
483
(2)

| | |
| --- | --- |
| | Islam and the Modern World |

485
(16)

| | |
| --- | --- |
| | Islam and Contemporary Life |

485
(5)

| | |
| --- | --- |
| | Islam in the West and Beyond |

490
(11)
501
(36)
501
(1)
502
(2)

| | |
| --- | --- |
| | Contemporary Paganism: Wicca and Druidism |

504
(5)

| | |
| --- | --- |
| | Religions of the Yoruba Tradition: Santeria, Voodoo, and Candomble |

509
(4)
513
(2)
515
(2)
517
(2)
519
(2)
521
(4)
525
(3)

| | |
| --- | --- |
| | New Religious Movements: A Special Role |

528
(1)

| | |
| --- | --- |
| | Personal Experience: Celebrating the Goddess |

529
(8)
537
537
(1)

| | |
| --- | --- |
| | Modern Influences on the Future of Religion |

538
(18)
539
(2)

| | |
| --- | --- |
| | Multiculturalism and Interfaith Dialogue |

541
(1)
542
(2)

| | |
| --- | --- |
| | Reassessment of Human Sexuality |

544
(3)
547
(2)

| | |
| --- | --- |
| | Science and Ethical Issues |

549
(3)
552
(2)
554
(2)

| | |
| --- | --- |
| | The Recurring Challenge of Change |

556
(3)

| | |
| --- | --- |
| | Environmentalism: A Religious Phenomenon? |

559
(4)
563
(9)
566
(2)
568
(2)
570
(2)

| | |
| --- | --- |
| | Personal Experience: A New Religion |

572
Notes
1
(1)
Credits
1
(1)
Index
1