Note: Supplemental materials are not guaranteed with Rental or Used book purchases.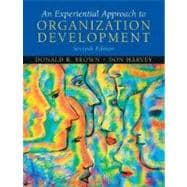 Questions About This Book?
What version or edition is this?
This is the 7th edition with a publication date of 1/1/2011.
What is included with this book?
The Used copy of this book is not guaranteed to include any supplemental materials. Typically, only the book itself is included.
Related Products
Summary
For courses in Organization Development, Organizational Behavior and Organizational Change. An Experiential Approach to Organization Development provides both a conceptual and experiential approach to the study of Organizational Development with a focus on developing interpersonal skills. It gives students a comprehensive, realistic, innovative, and practical introduction to the field, which makes it the most student friendly text on the market.
Table of Contents
Preface
xix

| | |
| --- | --- |
| | PART 1: ANTICIPATING CHANGE |

1
(94)

| | |
| --- | --- |
| | Organization Development and Reinventing the Organization |

1
(32)

| | |
| --- | --- |
| | The Challenge for Organizations |

2
(1)

| | |
| --- | --- |
| | What Is Organization Development? |

3
(4)

| | |
| --- | --- |
| | The Characteristics of Organization Development |

4
(2)

| | |
| --- | --- |
| | Why Organization Development? |

6
(1)
7
(1)

| | |
| --- | --- |
| | The Only Constant Is Change |

7
(2)

| | |
| --- | --- |
| | The Organization of the Future |

7
(2)

| | |
| --- | --- |
| | The Evolution of Organization Development |

9
(1)

| | |
| --- | --- |
| | NTL Laboratory-Training Methods |

9
(1)

| | |
| --- | --- |
| | Survey Research and Feedback |

10
(1)

| | |
| --- | --- |
| | The Extent of OD Applications |

10
(1)

| | |
| --- | --- |
| | Who Does Organization Development? |

10
(1)
11
(1)

| | |
| --- | --- |
| | The Socialization Process |

12
(2)

| | |
| --- | --- |
| | New Employee Expectations |

12
(1)

| | |
| --- | --- |
| | Encounter Organization's Culture |

13
(1)

| | |
| --- | --- |
| | Adjustment to Cultural Norms |

13
(1)
13
(1)
14
(1)

| | |
| --- | --- |
| | A Model for Organizational Development |

14
(3)

| | |
| --- | --- |
| | Stage One: Anticipate a Need for Change |

15
(1)

| | |
| --- | --- |
| | Stage Two: Develop the Practitioner-Client Relationship |

15
(1)

| | |
| --- | --- |
| | Stage Three: The Diagnostic Phase |

16
(1)

| | |
| --- | --- |
| | Stage Four: Action Plans, Strategies, and Techniques |

16
(1)

| | |
| --- | --- |
| | Stage Five: Self-Renewal, Monitor, and Stabilize |

16
(1)
17
(1)
17
(1)
18
(1)
18
(1)

| | |
| --- | --- |
| | OD Skills Simulation 1.1 Auditioning for the Saturday Night Live Guest Host Spot |

19
(2)

| | |
| --- | --- |
| | OD Skills Simulation 1.2 The Psychological Contract |

21
(7)
28
(1)
28
(1)

| | |
| --- | --- |
| | Objectives of the Case Method |

28
(1)
28
(1)
28
(3)
31
(2)

| | |
| --- | --- |
| | Organization Renewal: The Challenge of Change |

33
(34)
34
(1)
34
(1)
35
(1)

| | |
| --- | --- |
| | Organization Renewal: Adapting to Change |

35
(4)
37
(1)

| | |
| --- | --- |
| | A Model of Adaptive Orientation |

37
(1)

| | |
| --- | --- |
| | Sluggish-Thermostat Management (Stable Environment, Low Adaptation) |

37
(1)

| | |
| --- | --- |
| | Satisficing Management (Stable Environment, High Adaptation) |

38
(1)

| | |
| --- | --- |
| | Reactive Management (Hyperturbulent Environment, Low Adaptation) |

38
(1)

| | |
| --- | --- |
| | Renewing/Transformational Management (Hyperturbulent Environment, High Adaptation |

39
(1)

| | |
| --- | --- |
| | The Systems Approach: Finding New Ways to Work Together |

39
(3)

| | |
| --- | --- |
| | The Organization as a System |

40
(1)
41
(1)

| | |
| --- | --- |
| | The Sociotechnical System |

42
(2)
44
(1)

| | |
| --- | --- |
| | The Contingency Approach: No One Best Way |

44
(1)
44
(4)

| | |
| --- | --- |
| | Organization Transformation and Development |

48
(1)

| | |
| --- | --- |
| | OD: The Planned Change Process |

48
(2)
48
(1)
49
(1)

| | |
| --- | --- |
| | Organization Effectiveness |

49
(1)
50
(1)
50
(1)
50
(2)

| | |
| --- | --- |
| | OD Skills Simulation 2.1 OD Practitioner Behavior Profile I |

52
(9)
61
(4)
65
(2)
67
(28)

| | |
| --- | --- |
| | Creating a Concept for Change |

68
(1)

| | |
| --- | --- |
| | Understanding Corporate Culture |

68
(5)

| | |
| --- | --- |
| | What Is Corporate Culture? |

69
(2)

| | |
| --- | --- |
| | The Corporate Culture and Success |

71
(1)

| | |
| --- | --- |
| | The Impact of Key Factors |

72
(1)

| | |
| --- | --- |
| | Cultural Resistance to Change |

73
(1)
74
(2)
74
(1)
75
(1)
75
(1)

| | |
| --- | --- |
| | The Goals and Values of OD |

76
(3)

| | |
| --- | --- |
| | OD Professional Values and Ethics |

77
(1)
77
(1)
78
(1)
78
(1)

| | |
| --- | --- |
| | Determining the Priority of the Goals |

79
(1)
79
(1)
80
(1)
80
(1)

| | |
| --- | --- |
| | OD Skills Simulation 3.1 Downsizing: A Consensus-Seeking Activity |

81
(8)

| | |
| --- | --- |
| | Case: The Dim Lighting Co. |

89
(3)
92
(3)

| | |
| --- | --- |
| | PART 2: UNDERSTANDING THE OD PROCESS |

95
(90)

| | |
| --- | --- |
| | Role and Style of the OD Practitioner |

95
(31)

| | |
| --- | --- |
| | Haphazard versus Planned Change |

96
(1)

| | |
| --- | --- |
| | External and Internal Practitioners |

97
(3)

| | |
| --- | --- |
| | The External Practitioner |

97
(1)

| | |
| --- | --- |
| | The Internal Practitioner |

98
(1)

| | |
| --- | --- |
| | The External-Internal Practitioner Team |

99
(1)
100
(3)
100
(1)
100
(1)
101
(1)
101
(1)
101
(2)
103
(3)

| | |
| --- | --- |
| | The Readiness of the Organization for OD |

103
(1)
103
(1)
104
(1)

| | |
| --- | --- |
| | The OD Practitioner Role in the Intervention |

104
(1)

| | |
| --- | --- |
| | OD Practitioner Skills and Activities |

105
(1)

| | |
| --- | --- |
| | Forming the Practitioner-Client Relationship |

106
(6)
107
(2)
109
(1)

| | |
| --- | --- |
| | Developing a Trust Relationship |

110
(1)

| | |
| --- | --- |
| | Creating a Climate for Change |

110
(1)

| | |
| --- | --- |
| | Practitioner-Client Relationship Modes |

111
(1)

| | |
| --- | --- |
| | The Formalization of Operating Ground Rules |

112
(1)

| | |
| --- | --- |
| | Red Flags in the Practitioner-Client Relationship |

113
(1)

| | |
| --- | --- |
| | The Level of Commitment to Change |

113
(1)

| | |
| --- | --- |
| | The Degree of Leverage or Power to Influence Change |

113
(1)

| | |
| --- | --- |
| | The Client's Manipulative Use of the Practitioner |

113
(1)
114
(1)
114
(1)
114
(1)

| | |
| --- | --- |
| | OD Skills Simulation 4.1 Practitioner Style Matrix |

115
(5)

| | |
| --- | --- |
| | OD Skills Simulation 4.2 Conflict Styles |

120
(2)

| | |
| --- | --- |
| | OD Skills Simulation 4.3 Perception |

122
(1)

| | |
| --- | --- |
| | Case: The Grayson Chemical Company |

123
(2)
125
(1)
126
(29)
127
(1)
127
(4)
129
(1)
129
(2)

| | |
| --- | --- |
| | The Data Collection Process |

131
(5)

| | |
| --- | --- |
| | The Definition of Objectives |

132
(1)

| | |
| --- | --- |
| | The Selection of Key Factors |

132
(1)

| | |
| --- | --- |
| | The Selection of a Data-Gathering Method |

133
(3)

| | |
| --- | --- |
| | The Implementation of Data Collection |

136
(3)
137
(1)

| | |
| --- | --- |
| | Evaluating the Effectiveness of Data Collection |

138
(1)
139
(3)
139
(1)

| | |
| --- | --- |
| | The Emergent-Group Behavior Model |

139
(1)

| | |
| --- | --- |
| | The Management Practitioner Model |

140
(1)

| | |
| --- | --- |
| | The Sociotechnical Systems Model |

140
(1)

| | |
| --- | --- |
| | Cause Maps and Social Network Analysis Model |

140
(1)

| | |
| --- | --- |
| | The Force-Field Analysis Model |

140
(2)

| | |
| --- | --- |
| | Red Flags in the Diagnosis |

142
(1)
142
(1)
142
(1)
142
(1)

| | |
| --- | --- |
| | The Threatening and Overwhelming Diagnosis |

142
(1)

| | |
| --- | --- |
| | The Practitioner's Favorite Diagnosis |

142
(1)

| | |
| --- | --- |
| | The Diagnosis of Symptoms |

143
(1)
143
(1)
144
(1)
144
(1)

| | |
| --- | --- |
| | OD Skills Simulation 5.1 The Acquisition Decision |

145
(7)

| | |
| --- | --- |
| | Case: The Old Family Bank |

152
(2)
154
(1)

| | |
| --- | --- |
| | Overcoming Resistance to Change |

155
(30)
156
(1)

| | |
| --- | --- |
| | The Life Cycle of Resistance to Change |

157
(2)
157
(1)
157
(1)
157
(1)
157
(1)
157
(2)
159
(1)
159
(1)
159
(1)
159
(1)
160
(1)
160
(1)
160
(1)

| | |
| --- | --- |
| | Driving Forces toward Acceptance of a Change Program |

161
(2)

| | |
| --- | --- |
| | Dissatisfaction with the Present Situation |

161
(1)

| | |
| --- | --- |
| | External Pressures toward Change |

161
(2)
163
(1)
163
(1)

| | |
| --- | --- |
| | Restraining Forces Blocking Implementation of Change Programs |

163
(2)

| | |
| --- | --- |
| | Uncertainty Regarding Change: ``The Comfort Zone'' |

163
(1)
164
(1)
164
(1)

| | |
| --- | --- |
| | Loss of Existing Benefits: ``What's in It for Me?'' |

164
(1)
164
(1)
164
(1)
165
(1)

| | |
| --- | --- |
| | Disturb Existing Social Networks |

165
(1)

| | |
| --- | --- |
| | Conformity to Norms and Culture |

165
(1)

| | |
| --- | --- |
| | Driving Forces and Restraining Forces Act in Tandem |

165
(1)

| | |
| --- | --- |
| | Strategies to Lessen Resistance |

165
(5)

| | |
| --- | --- |
| | Education and Communication |

166
(1)
167
(1)

| | |
| --- | --- |
| | Participation of Members in the Change Program |

168
(1)
168
(1)

| | |
| --- | --- |
| | Negotiation, Agreement, and Politics |

168
(1)
169
(1)
169
(1)

| | |
| --- | --- |
| | Explicit and Implicit Coercion |

170
(1)

| | |
| --- | --- |
| | Climate Conducive to Communications |

170
(1)
170
(1)
170
(1)
171
(1)
171
(1)

| | |
| --- | --- |
| | OD Skills Simulation 6.1 Downsizing in the Enigma Company |

172
(5)

| | |
| --- | --- |
| | OD Skills Simulation 6.2 Driving and Restraining Forces |

177
(2)

| | |
| --- | --- |
| | OD Skills Simulation 6.3 Strategies for Change |

179
(1)

| | |
| --- | --- |
| | Case: The Hexadecimal Company |

180
(3)
183
(2)

| | |
| --- | --- |
| | PART 3: DEVELOPING EXCELLENCE IN INDIVIDUALS |

185
(96)

| | |
| --- | --- |
| | Process Intervention Skills |

185
(29)
186
(1)
187
(1)
187
(4)
188
(1)

| | |
| --- | --- |
| | Member Roles and Functions |

188
(1)

| | |
| --- | --- |
| | Problem-Solving and Decision-Making |

189
(1)
189
(1)
190
(1)

| | |
| --- | --- |
| | Types of Process Interventions |

191
(3)

| | |
| --- | --- |
| | Clarifying and Summarizing |

191
(1)

| | |
| --- | --- |
| | Synthesizing and Generalizing |

191
(1)
192
(1)
192
(1)
192
(1)

| | |
| --- | --- |
| | Providing Support, Coaching, and Counseling |

192
(1)
192
(1)
192
(1)

| | |
| --- | --- |
| | Feeding Back Observations |

193
(1)
193
(1)

| | |
| --- | --- |
| | Results of Process Interventions |

194
(1)
194
(1)
195
(1)
195
(1)

| | |
| --- | --- |
| | OD Skills Simulation 7.1 Apex Oil Spill |

196
(7)

| | |
| --- | --- |
| | OD Skills Simulation 7.2 Trust Building |

203
(5)

| | |
| --- | --- |
| | OD Skills Simulation 7.3 Process Interventions |

208
(2)
210
(3)
213
(1)

| | |
| --- | --- |
| | OD Intervention Strategies |

214
(26)
215
(1)

| | |
| --- | --- |
| | Basic Strategies to Change |

215
(4)

| | |
| --- | --- |
| | The Integration of Change Strategies |

219
(2)
221
(2)

| | |
| --- | --- |
| | Selecting an OD Intervention |

223
(2)

| | |
| --- | --- |
| | The Major OD Intervention Techniques: An Overview |

225
(1)
226
(1)
227
(1)
227
(1)

| | |
| --- | --- |
| | OD Skills Simulation 8.1 The Franklin Company |

228
(7)
235
(3)
238
(2)

| | |
| --- | --- |
| | Employee Empowerment and Interpersonal Interventions |

240
(41)

| | |
| --- | --- |
| | Empowering the Individual |

241
(1)
241
(1)
242
(2)

| | |
| --- | --- |
| | The Objectives of Laboratory Learning |

243
(1)

| | |
| --- | --- |
| | The Use of Laboratory Learning in OD Programs |

243
(1)

| | |
| --- | --- |
| | Results of Laboratory Learning |

243
(1)

| | |
| --- | --- |
| | Interpersonal Style: The Johari Window Model |

244
(2)
244
(1)
244
(1)
245
(1)
245
(1)
246
(4)
246
(1)
247
(2)

| | |
| --- | --- |
| | Psychological Positions and Scripts |

249
(1)

| | |
| --- | --- |
| | Authentic Communication and Relationships |

249
(1)

| | |
| --- | --- |
| | Career Life Planning Interventions |

250
(1)

| | |
| --- | --- |
| | Steps in a Typical Career Life Planning Program |

250
(1)

| | |
| --- | --- |
| | The Results of Career Life Planning |

251
(1)

| | |
| --- | --- |
| | Stress Management and Burnout |

251
(7)
252
(2)
254
(1)

| | |
| --- | --- |
| | Stress Management Interventions and Coping with Stress |

254
(1)
254
(2)
256
(1)
257
(1)

| | |
| --- | --- |
| | Stress Management Training |

257
(1)
257
(1)

| | |
| --- | --- |
| | Results of Stress Management Interventions |

257
(1)
258
(1)
258
(1)
259
(1)

| | |
| --- | --- |
| | OD Skills Simulation 9.1 SACOG |

260
(7)

| | |
| --- | --- |
| | OD Skills Simulation 9.2 Johari Window |

267
(6)

| | |
| --- | --- |
| | OD Skills Simulation 9.3 Career Life Planning |

273
(1)
274
(3)
277
(4)

| | |
| --- | --- |
| | PART 4: DEVELOPING HIGH PERFORMANCE IN TEAMS |

281
(120)

| | |
| --- | --- |
| | Team Development Interventions |

281
(34)
281
(1)
282
(2)

| | |
| --- | --- |
| | The Need for Team Development |

284
(4)

| | |
| --- | --- |
| | Categories of Team Interaction |

285
(1)

| | |
| --- | --- |
| | Operating Problems of Work Teams |

286
(2)

| | |
| --- | --- |
| | Cohesiveness and Groupthink |

288
(1)

| | |
| --- | --- |
| | The Purpose of Team Development |

289
(1)

| | |
| --- | --- |
| | The Team Development Process |

290
(4)

| | |
| --- | --- |
| | Step 1: Initiating the Team Development Meeting |

291
(1)

| | |
| --- | --- |
| | Step 2: Setting Objectives |

291
(1)
291
(1)

| | |
| --- | --- |
| | Step 4: Planning the Meeting |

291
(1)

| | |
| --- | --- |
| | Step 5: Conducting the Meeting |

291
(1)

| | |
| --- | --- |
| | Step 6: Evaluating the Team Development Process |

292
(1)

| | |
| --- | --- |
| | Results of Team Development Meetings |

292
(2)

| | |
| --- | --- |
| | Outdoor Experiential Laboratory Training |

294
(3)
295
(1)

| | |
| --- | --- |
| | Cautions When Using Outdoor Labs |

296
(1)
296
(1)
297
(1)
297
(1)
298
(1)
299
(1)
299
(1)

| | |
| --- | --- |
| | OD Skills Simulation 10.1 Organization Task and Process |

300
(6)

| | |
| --- | --- |
| | OD Skills Simulation 10.2A Team Development |

306
(3)

| | |
| --- | --- |
| | OD Skills Simulation 10.2B Role Analysis Team Development |

309
(1)
310
(3)
313
(2)

| | |
| --- | --- |
| | Intergroup Development Interventions |

315
(30)
316
(1)

| | |
| --- | --- |
| | Collaboration and Conflict |

317
(3)

| | |
| --- | --- |
| | Intergroup Operating Problems |

320
(3)
321
(1)
321
(1)

| | |
| --- | --- |
| | Perceived Power Imbalance between Groups |

322
(1)

| | |
| --- | --- |
| | Role Conflict, Role Ambiguity |

322
(1)
322
(1)

| | |
| --- | --- |
| | Cooperation versus Competition |

323
(1)
324
(5)
325
(1)
326
(1)
327
(1)
328
(1)
329
(1)
330
(1)
330
(1)

| | |
| --- | --- |
| | OD Skills Simulation 11.1 The Disarmament Game |

331
(8)

| | |
| --- | --- |
| | OD Skills Simulation 11.2 Intergroup Team Building |

339
(1)

| | |
| --- | --- |
| | Case: The Exley Chemical Company |

340
(3)
343
(2)

| | |
| --- | --- |
| | Goal Setting for Effective Organizations |

345
(23)

| | |
| --- | --- |
| | Goal Setting Can Drive the Bottom Line |

346
(1)
346
(3)

| | |
| --- | --- |
| | More Difficult Goals Produce Better Performance |

347
(1)

| | |
| --- | --- |
| | Specific Hard Goals Are Better Than ``Do Your Best'' Goals |

347
(1)

| | |
| --- | --- |
| | People May Abandon Goals If They Become Too Hard |

347
(1)

| | |
| --- | --- |
| | Participation in Setting Goals Increases Commitment and Attainment of Goals |

347
(1)

| | |
| --- | --- |
| | Feedback and Goals Improve Performance |

347
(1)

| | |
| --- | --- |
| | Individual Differences Tend Not to Affect Goal Setting |

347
(1)

| | |
| --- | --- |
| | Goal Setting in Teams Deserves Special Consideration |

348
(1)

| | |
| --- | --- |
| | Managerial Support Is Critical |

348
(1)
349
(1)
350
(1)
350
(5)

| | |
| --- | --- |
| | The Purposes of MBO Programs |

351
(1)
351
(2)
353
(1)
354
(1)
355
(1)
355
(1)
355
(1)

| | |
| --- | --- |
| | OD Skills Simulation 12.1 Organization Goal Setting |

356
(6)

| | |
| --- | --- |
| | OD Skills Simulation 12.2 Managing by Objectives |

362
(2)

| | |
| --- | --- |
| | Case: Western Utilities Company |

364
(2)
366
(2)
368
(33)

| | |
| --- | --- |
| | Continuous Improvement Processes |

369
(1)
370
(4)
370
(1)

| | |
| --- | --- |
| | Job Characteristics Theory |

371
(2)

| | |
| --- | --- |
| | Results of Job Design Programs |

373
(1)

| | |
| --- | --- |
| | Total Quality Management (TQM) |

374
(3)

| | |
| --- | --- |
| | The Characteristics of TQM |

374
(1)
375
(1)

| | |
| --- | --- |
| | Malcolm Baldridge National Quality Award |

375
(2)

| | |
| --- | --- |
| | Compatibility of TQM and OD |

377
(1)
377
(7)

| | |
| --- | --- |
| | The Characteristics of Self-Managed Work Teams |

378
(1)
379
(1)

| | |
| --- | --- |
| | New Organizational Structures |

380
(1)

| | |
| --- | --- |
| | Management and Leadership Behavior |

381
(1)
382
(1)
383
(1)
383
(1)

| | |
| --- | --- |
| | Results of Self-Managed Teams |

383
(1)
384
(1)
385
(1)
385
(1)

| | |
| --- | --- |
| | OD Skills Simulation 13.1 Paper House Production |

386
(6)

| | |
| --- | --- |
| | OD Skills Simulation 13.2 TQM in the University Setting |

392
(3)
395
(3)
398
(3)

| | |
| --- | --- |
| | PART 5: DEVELOPING SUCCESS IN ORGANIZATIONS |

401
(92)

| | |
| --- | --- |
| | High-Performing Systems and the Learning Organization |

401
(30)

| | |
| --- | --- |
| | System-Wide Interventions |

402
(1)

| | |
| --- | --- |
| | Survey Research and Feedback |

402
(2)

| | |
| --- | --- |
| | The Steps in Survey Feedback |

403
(1)

| | |
| --- | --- |
| | The Results of Survey Research and Feedback |

404
(1)

| | |
| --- | --- |
| | The Learning Organizations |

404
(3)

| | |
| --- | --- |
| | Learning Organizations Are Pragmatic |

404
(2)
406
(1)

| | |
| --- | --- |
| | Characteristics of Learning Organizations |

406
(1)

| | |
| --- | --- |
| | Reengineering: A Radical Redesign |

407
(1)
408
(2)

| | |
| --- | --- |
| | High-Performing Systems (HPS) |

410
(1)
410
(1)
410
(1)
411
411
(1)

| | |
| --- | --- |
| | Phase 2: Teamwork Development |

412
(1)

| | |
| --- | --- |
| | Phase 3: Intergroup Development |

412
(1)

| | |
| --- | --- |
| | Phase 4: Development of an Ideal Strategic Model |

412
(1)

| | |
| --- | --- |
| | Phase 5: Implementing the Ideal Strategic Model |

412
(1)

| | |
| --- | --- |
| | Phase 6: Systematic Critique |

413
(1)

| | |
| --- | --- |
| | The Results of Grid OD Programs |

413
(1)

| | |
| --- | --- |
| | The Third-Wave Organization |

xxx
413
(1)
413
(1)
414
(1)
415
(1)
416
(1)
416
(1)

| | |
| --- | --- |
| | OD Skills Simulation 14.1 The Brentwood Division |

417
(6)

| | |
| --- | --- |
| | Case: Tucker Knox Corporation |

423
(6)
429
(2)

| | |
| --- | --- |
| | Organization Transformation and Strategic Change |

431
(27)

| | |
| --- | --- |
| | Strategy and Transformation |

432
(1)

| | |
| --- | --- |
| | Organization Transformation |

433
(3)

| | |
| --- | --- |
| | Directive Approaches to Change |

433
(1)
434
(2)
436
(7)
436
(1)
437
(1)
438
(1)

| | |
| --- | --- |
| | Strong versus Weak Cultures |

439
(1)

| | |
| --- | --- |
| | The Strategy-Culture Matrix |

439
(4)

| | |
| --- | --- |
| | Strategic Change Management |

443
(1)

| | |
| --- | --- |
| | Changing the Corporate Culture |

444
(1)
445
(1)
445
(1)
445
(1)

| | |
| --- | --- |
| | OD Skills Simulation 15.1 The Gentech Company |

446

| | |
| --- | --- |
| | Case: The Space Electronics Corporation |

445
(12)
457
(1)

| | |
| --- | --- |
| | The Challenge and the Future for Organizations |

458
(35)

| | |
| --- | --- |
| | The Organizations of the Future |

459
(1)

| | |
| --- | --- |
| | Monitor and Stabilize Action Programs |

460
(7)
461
(1)
461
(1)

| | |
| --- | --- |
| | Evaluation of OD Programs |

462
(1)

| | |
| --- | --- |
| | Termination of the Practitioner-Client Relationship |

462
(1)

| | |
| --- | --- |
| | Developing a Self-Renewal Capacity |

463
(1)

| | |
| --- | --- |
| | Termination and Disengagement from the Client System |

463
(1)

| | |
| --- | --- |
| | Some Conditions for Success of OD Efforts |

464
(3)

| | |
| --- | --- |
| | Emerging Issues and Values |

467
(2)
467
(1)
468
(1)

| | |
| --- | --- |
| | Future Trends in Organization Development |

469
(2)
470
(1)
470
(1)
471
(1)
471
(2)
473
(1)
474
(1)
474
(1)

| | |
| --- | --- |
| | OD Skills Simulation 16.1 OD Practitioner Behavior Profile II |

475
(7)

| | |
| --- | --- |
| | OD Skills Simulation 16.2 The OD Practitioner |

482
(1)
483
(7)
490
(3)
Index
493