Note: Supplemental materials are not guaranteed with Rental or Used book purchases.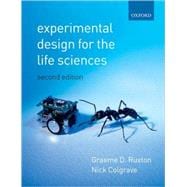 Related Products
Summary
At the core of good research lies the careful design of experiments. Yet all too often a successful design comes only after a painful trial-and-error process, wasting valuable time and valuable resources. Experimental Design for the Life Sciencesteaches the reader how to effectively design experiments, to ensure that today's students are equipped with the skills they need to be the researchers of tomorrow. With a refreshingly approachable and articulate style, the book explains the essential elements of experimental design in clear, practical terms, so that the reader can grasp and apply even the most challenging concepts, including power analysis and pseudoreplication. Emphasizing throughout the inter-relatednedd of experimental design, statistics, and ethical considerations, the book ensures that the reader really understands experimental design in the broader context of biological research, using examples drawn from the primary literature to show to the student how the theory is applied in active research. Above all,Experimental Design for the Life Sciencesshows how good experimental design is about clear thinking and biological understanding, not mathematical or statistical complexity - putting it at the heart of any biosciences student's education.
Author Biography

Graeme Ruxton obtained a first degree in Physics before getting a PhD in Statistics and Modelling Science. After his PhD he worked for several years with the Scottish Agricultural Statistical Service in Edinburgh. He then got a lectureship in Ecology at the University of Glasgow, where he has been ever since.
Nick Colegrave trained as an evolutionary biologist, obtaining his first degree at the University of Sussex, and his PhD on the evolution of competition strategies at the University of Sheffield. Since then he has held a number of postdoctoral research positions at a range of universities including, McGill, St Andrews, Glasgow and Edinburgh, working on various aspects of evolutionary biology, with a range of organisms. At various points he has also held the post of zoology demonstrator at the University of Edinburgh, teaching experimental design to zoology students and advising on statistics. He is now lecturer in Invertebrate Zoology at Edinburgh.

Table of Contents
| | |
| --- | --- |
| | Why you need to care about design |

| | |
| --- | --- |
| | Why experiments need to be designed |

1
(2)
3
(2)
3
(1)
4
(1)

| | |
| --- | --- |
| | The relationship between experimental design and statistics |

5
(1)

| | |
| --- | --- |
| | Why good experimental design is particularly important to life scientists |

5
(4)
6
(1)
6
(1)
7
(2)

| | |
| --- | --- |
| | Starting with a well-defined hypothesis |

| | |
| --- | --- |
| | Why your experiment should be focused: questions, hypotheses and predictions |

9
(5)

| | |
| --- | --- |
| | An example of moving from a question to hypotheses, and then to an experimental design |

11
(1)

| | |
| --- | --- |
| | An example of multiple hypotheses |

11
(3)

| | |
| --- | --- |
| | Producing the strongest evidence with which to challenge a hypothesis |

14
(3)
15
(1)

| | |
| --- | --- |
| | Considering all possible outcomes of an experiment |

16
(1)

| | |
| --- | --- |
| | Satisfying sceptics: the Devil's advocate |

17
(1)

| | |
| --- | --- |
| | The importance of a pilot study and preliminary data |

18
(4)

| | |
| --- | --- |
| | Making sure that you are asking a sensible question |

18
(2)

| | |
| --- | --- |
| | Making sure that your techniques work |

20
(2)

| | |
| --- | --- |
| | Experimental manipulation versus natural variation |

22
(8)

| | |
| --- | --- |
| | An example of a hypothesis that could be tackled by either manipulation or correlation |

22
(1)

| | |
| --- | --- |
| | Arguments for doing a correlational study |

23
(2)

| | |
| --- | --- |
| | Arguments for doing a manipulative study |

25
(3)

| | |
| --- | --- |
| | Situations where manipulation is impossible |

28
(2)

| | |
| --- | --- |
| | Deciding whether to work in the field or the laboratory |

30
(2)

| | |
| --- | --- |
| | In vivo versus in vitro studies |

32
(1)

| | |
| --- | --- |
| | There is no perfect study |

33
(3)
34
(2)

| | |
| --- | --- |
| | Between-individual variation, replication and sampling |

| | |
| --- | --- |
| | Between-individual variation |

36
(1)
37
(6)
43
(11)

| | |
| --- | --- |
| | Explaining what pseudoreplication is |

43
(2)

| | |
| --- | --- |
| | Common sources of pseudoreplication |

45
(4)

| | |
| --- | --- |
| | Dealing with pseudoreplication |

49
(2)

| | |
| --- | --- |
| | Accepting that sometimes pseudoreplication is unavoidable |

51
(1)

| | |
| --- | --- |
| | Pseudoreplication, third variables and confounding variables |

52
(1)

| | |
| --- | --- |
| | Cohort effects, confounding variables and cross-sectional studies |

53
(1)
54
(6)

| | |
| --- | --- |
| | Why you often want a random sample |

55
(1)
56
(1)
57
(1)

| | |
| --- | --- |
| | Some pitfalls associated with randomization procedures |

58
(1)

| | |
| --- | --- |
| | Randomizing the order in which you treat replicates |

58
(1)

| | |
| --- | --- |
| | Random samples and representative samples |

59
(1)

| | |
| --- | --- |
| | Selecting the appropriate number of replicates |

60
(9)
61
(1)
61
(1)

| | |
| --- | --- |
| | Factors affecting the power of an experiment |

62
(1)

| | |
| --- | --- |
| | Relationship between power and type I and type II errors |

63
(5)
68
(1)

| | |
| --- | --- |
| | Different experimental designs |

69
(7)

| | |
| --- | --- |
| | Different types of control |

70
(2)
72
(1)

| | |
| --- | --- |
| | Making sure that the control is as reliable as possible |

73
(1)

| | |
| --- | --- |
| | The ethics of controlling |

74
(1)

| | |
| --- | --- |
| | Situations where a control is not required |

75
(1)

| | |
| --- | --- |
| | Completely randomized and factorial experiments |

76
(7)

| | |
| --- | --- |
| | Experiments with several factors |

77
(1)

| | |
| --- | --- |
| | Confusing levels and factors |

78
(3)

| | |
| --- | --- |
| | Pros and cons of complete randomization |

81
(2)
83
(6)

| | |
| --- | --- |
| | Blocking on individual characters, space and time |

85
(1)

| | |
| --- | --- |
| | The pros and cons of blocking |

86
(1)
87
(1)
87
(1)
88
(1)
89
(6)

| | |
| --- | --- |
| | The advantages of a within-subject design |

90
(1)

| | |
| --- | --- |
| | The disadvantages of a within-subject design |

91
(1)

| | |
| --- | --- |
| | Isn't repeatedly measuring the same individual pseudoreplication? |

92
(1)

| | |
| --- | --- |
| | With multiple treatments, within-subject experiments can take a long time |

93
(1)

| | |
| --- | --- |
| | Which sequences should you use? |

94
(1)

| | |
| --- | --- |
| | Split-plot designs (sometimes called split-unit designs) |

95
(2)

| | |
| --- | --- |
| | Thinking about the statistics |

97
(5)
100
(2)
102
(1)

| | |
| --- | --- |
| | Inaccuracy and imprecision |

103
(2)

| | |
| --- | --- |
| | Intra-observer variability |

105
(4)
105
(1)
106
(1)
106
(2)

| | |
| --- | --- |
| | Remember, you can be consistent but still consistently wrong |

108
(1)

| | |
| --- | --- |
| | Inter-observer variability |

109
(1)
109
(1)
109
(1)
110
(1)
110
(2)
112
(2)

| | |
| --- | --- |
| | Don't try to record too much information at once |

112
(1)

| | |
| --- | --- |
| | Beware of shorthand codes |

112
(1)

| | |
| --- | --- |
| | Keep more than one copy of your data |

113
(1)

| | |
| --- | --- |
| | Write out your experimental protocol formally and in detail, and keep a detailed field journal or lab book |

113
(1)
113
(1)

| | |
| --- | --- |
| | Computers and automated data collection |

114
(1)

| | |
| --- | --- |
| | Floor and ceiling effects |

114
(2)
116
(1)

| | |
| --- | --- |
| | Taking measurements of humans and animals in the laboratory |

116
(3)
117
(2)

| | |
| --- | --- |
| | How to select the levels for a treatment |

119
(2)

| | |
| --- | --- |
| | Subsampling: more woods or more trees? |

121
(2)

| | |
| --- | --- |
| | Using unbalanced groups for ethical reasons |

123
(2)
125
(4)
126
(1)
126
(1)
127
(2)
129
(1)
130
(4)

| | |
| --- | --- |
| | Covariates can interact too |

130
(2)

| | |
| --- | --- |
| | The importance of interactions (and the interaction fallacy) |

132
(2)

| | |
| --- | --- |
| | Dealing with human subjects |

134
(8)
136
(1)

| | |
| --- | --- |
| | Collecting data without permission |

137
(1)
137
(1)
138
(1)
138
(1)
139
(1)
139
(1)

| | |
| --- | --- |
| | There is no perfect study: a reprise |

140
(1)
140
(2)
Sample answers to self-test questions
142
(11)
Flow chart on experimental design
153
(5)
Bibliography
158
(3)
Index
161