Note: Supplemental materials are not guaranteed with Rental or Used book purchases.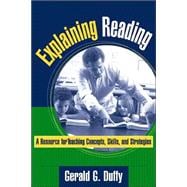 Explaining Reading A Resource for Teaching Concepts, Skills, and Strategies
by
Duffy, Gerald G.
Related Products
Summary
Exemplary teacher research has established that explicit teaching plays a vital role in the K-8 classroom, with particular benefits for struggling readers. This book is a practical resource for explaining reading to students who do not learn to read easily. Identified are 22 major skills and strategies associated with vocabulary development, comprehension, word recognition, and fluency. Ways to explain each skill or strategy are illustrated with abundant concrete examples, which teachers can use as starting points for developing lessons tailored to the needs, strengths, and interests of their own students. The book also shows how to move from the teacher's explanation to the student's independent use of new concepts, and how to embed explicit teaching within a context of rich, engaging literacy experiences.
Author Biography
Gerald G. Duffy, EdD, is a former classroom teacher and Professor Emeritus at Michigan State University, where he spent 25 years as a reading educator and researcher in classroom reading instruction. Since retiring from Michigan State, he has continued working in classrooms with teachers and children, both in the United States and overseas. A past president of the National Reading Conference and a member of the Reading Hall of Fame, he has written and edited a number of books on reading instruction, and has published well over 100 articles and research studies on reading strategy instruction and reading teacher effectiveness.
Table of Contents
| | |
| --- | --- |
| | PART I. Background to Explaining |

| | |
| --- | --- |
| | The Foundation: A Literate Environment |

3
(6)
9
(5)
14
(25)
39
(176)

| | |
| --- | --- |
| | PART II. Examples of How to Explain |

| | |
| --- | --- |
| | Examples for Explaining Vocabulary |

57
(6)

| | |
| --- | --- |
| | Categories of Word Meaning |

63
(8)

| | |
| --- | --- |
| | Using Context to Figure Out Word Meanings |

71
(10)

| | |
| --- | --- |
| | Examples for Explaining Comprehension Strategies |

81
(6)

| | |
| --- | --- |
| | Monitoring, Questioning, and Repredicting |

87
(8)
95
(7)
102
(7)

| | |
| --- | --- |
| | Look-Backs as Fix-It Strategies |

109
(8)
117
(8)
125
(8)
133
(8)
141
(8)
149
(10)

| | |
| --- | --- |
| | Examples for Explaining Word Recognition |

| | |
| --- | --- |
| | Attending to Print Detail |

159
(5)
164
(6)
170
(6)

| | |
| --- | --- |
| | Letter--Sound Association |

176
(5)
181
(6)

| | |
| --- | --- |
| | Context and Phonics in Combination |

187
(6)
193
(8)

| | |
| --- | --- |
| | Examples for Explaining Fluency |

| | |
| --- | --- |
| | Quick Recognition of Look-Alike Words |

201
(6)
207
(8)

| | |
| --- | --- |
| | Decision, Decisions, Decisions! |

215
(8)
Appendix: Additional Practical Teaching Resources
223
(2)
Index
225