Note: Supplemental materials are not guaranteed with Rental or Used book purchases.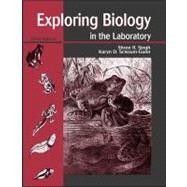 Summary
EXPLORING BIOLOGY IN THE LABORATORY was written for students taking introductory biology course. The manual contains twenty-four laboratory sections ranging from the basic scientific inquiry to animal biology and organ systems, thus this manual can be used for a two-part biology course. The sequence of laboratory exercises follow majority of biology textbooks. Each laboratory contains simple and meaningful exercises that teach basic concepts. Most of the supplies used in the experiments are cheap and available from scientific vendors. The laboratory exercises begin with a brief introduction of the concepts and then there are 2-3 experiments that can be completed in a two-hour lab session. At the end of each lab there are multiple choice "Review Questions". This lab manual contains a "Lab Assignment" section at the end of each lab section that students can complete after lab experiments and turn in to their instructors as part of the lab assignment. The lab assignment section is designed to test student's critical thinking and writing ability.
Table of Contents
Scientific Inquiry
Measurements and Chemical Solutions
Microscopy
Cell Structure and Function
Diffusion and Osmosis
Photosynthesis
Mitosis and Meiosis
DNA – The Genetic Material
Mendelian and Human Genetics
Molecular Biology
Recombinant DNA Technology
Bacteria, Protista and Fungi
Seedless Plants
Seed Plants
Sponges, Cnidaria, Flatworms, and Roundworms
Mollusks, Annelids, and Arthropods
Echinoderms and Chordata
Animal Organization
Basic Mammalian Anatomy I
Musculoskeletal System
Homeostasis
Circulatory System
Features of the Circulatory System
Nervous System and Senses
Basic Mammalian Anatomy II
Table of Contents provided by Publisher. All Rights Reserved.