Note: Supplemental materials are not guaranteed with Rental or Used book purchases.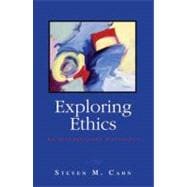 Exploring Ethics An Introductory Anthology
ISBN13:
9780195342000
by
Cahn, Steven M.
Related Products
Summary
Exploring Ethics: An Introductory Anthology is a remarkably accessible, concise, and engaging introduction to moral philosophy. Steven M. Cahn brings together a rich, balanced, and wide-ranging collection of forty classic and contemporary readings. Most importantly, he has carefully edited thearticles so that they will be exceptionally clear and understandable to undergraduate students. The selections are organized into three parts, providing instructors with flexibility in designing and teaching a variety of ethics courses. The first part, Challenges to Morality, considers the overlysimple answers ideas that beginning students may bring to moral questions. The second part, Moral Theories, provides selections from the most influential ethical theories of the past along with commentary by contemporary thinkers. The third part, Moral Problems, offers opposing perspectives on ninecontroversial issues: abortion, euthanasia, world hunger, terrorism, pornography, affirmative action, animal rights, the environment, and capital punishment. Exploring Ethics features selections from Plato, Aristotle, Hobbes, Kant, Mill, Nietzsche, Thomas Nagel, James Rachels, John Rawls, Tom Regan, Peter Singer, Susan Wolf, and many others. Each reading is preceded by a detailed introduction and followed by study questions that encourage studentsto think philosophically. Ideal for courses in introduction to ethics or contemporary moral problems, this unique anthology can be used independently or as a companion to a single-authored text. An Instructor's Manual and Companion Website accompany the text.
Table of Contents
Preface
Introduction
Morality and Moral Philosophy
Crito, Plato
Challenges to Morality
How Not to Answer Moral Questions
God and Morality
Right and Wrong
The Challenge of Cultural Relativism
Egoism and Moral Scepticism
The Nature of Ethical Disagreement
Happiness and Morality
Moral Theories
The Categorical Imperative
A Simplified Account of Kant's Ethics
Utilitarianism
Strengths and Weaknesses of Utilitarianism
The Nature of Virtue
Ethics and the Moral Life
Master Morality and Slave Morality
Moral Saints
The Social Contract
A Theory of Justice
The Idea of a Female Ethic
Moral Problems
A Defense of Abortion
On the Moral and Legal Status of Abortion
Why Abortion is Immoral
Active and Passive Euthanasia
Active and Passive Euthanasia: A Reply to Rachels
Famine, Affluence, and Morality
World Hunger and Moral Obligation: The Case Against Singer
Terrorism
Is Terrorism Distinctively Wrong?
Pornography, Oppression and Freedom: A Closer Look
The Feminist Case Against Pornography
Two Concepts of Affirmative Action
What Good Am I?
The Case for Animal Rights
Why Animals Have No Rights
We Are What We Eat , Tom Regan
People or Penguins: The Case for Optimal Pollution
In Defense of the Death Penalty
Capital Punishment
Conclusion
Letter from a Birmingham Jail
Table of Contents provided by Publisher. All Rights Reserved.